Today I adjusted my ePaper Comparison Table so that the product images are to scale with one another.
Essentially, this means that 7.8″ tablets will be represented by a smaller image than 10.3″ tablets, which will have a smaller image than 13.3″ tablets.
Hopefully this will allow visitors to visually discriminate between the different sizes of tablet, without having to check the full specs (previously, all images were the same size, regardless of the tablet's actual screen size).
In addition, I've also made it clearer which tablets I would personally recommend. I don't think there is a single tablet that is best for all use cases but my subjective favourites are now clearly marked.
I've also flagged the tablets that I do not recommend, as well as those that I think are okay (but not great) and those that I have yet to review.
I hope this makes choosing the right tablet a little easier for eWritable users.
I plan to make further enhancements to the comparison table over the coming weeks – if you have any suggestions, please contact me via dan@ewritable.com.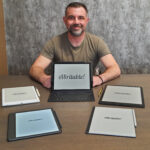 Dan Dutton is passionate about E-ink writing tablets, which bring together the pleasure of writing on paper with the power of digital technology. When he bought his first tablet, he realised that there wasn't a lot of unbiased information available for people that were considering buying an E-ink tablet, and so he built eWritable.