Setting up email on a Supernote A5 X or A6 X can be a bit of a ballache.
You have to set up an app password within your Google Account settings and then input the IMAP and SMTP servers on the Supernote. And even when you've done that the email client front end is not all that great and doesn't filter emails into Social and Promotional tabs like GMail does.
So, I don't use the above method to access my GMail on my Supernote – this is the alternative solution I use.
A better Gmail for Supernote
Step 1: Open or create a notebook
Step 2: Write 'E-Mail' or a similar identifying label and select it with the lasso tool
Step 3: Tap the 'Insert Link' option, followed by 'Web Page'
Step 4: Enter the web address as https://gmail.com and tap OK
Step 5: Tap on the link and the secret Supernote web browser will open and you can use the full mobile version of GMail in all its glory.
NOTE: The first time that you tap on the link you made, you will have to type in your Gmail username and password. After this, your credentials will be cached and you will not need to input them again (even after a reboot of the tablet).
Going Further with the Secret Supernote Web Browser
Of course, this method is not just useful for GMail, but also for any other cloud-based email service.
As far as I can see there is no other way to access the secret Supernote web browser, which is a shame because it's actually pretty decent (far better than the awful browser on the Kindle Scribe).
However, its presence does open up the possibility of getting more out of your Supernote.
For example, I've used the same method to create a page of bookmarks for regular websites that I visit so that I can access them from my Supernote.
Let me know if you've found this useful in the comments below 🙂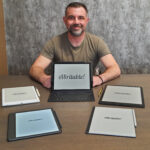 Dan Dutton is passionate about E-ink writing tablets, which bring together the pleasure of writing on paper with the power of digital technology. When he bought his first tablet, he realised that there wasn't a lot of unbiased information available for people that were considering buying an E-ink tablet, and so he built eWritable.