The first real update was released at the end of Feb 2023 – you can read about it here.
It seems that Amazon have quietly updated the eraser tool on their Kindle Scribe.
I believe that when I first received my Kindle Scribe, the erase tool was very basic, however when I used the device today, I noticed that there are now additional options to erase a selection (by drawing a ring around it) and to erase an entire page.
According to the device info, I am still running firmware version 5.16.1 (the same version as when it was shipped); however, I'm almost certain that these options were not previously available – if anyone can confirm or deny this, I'd be very grateful!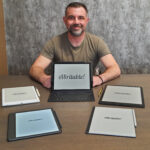 Dan Dutton is passionate about E-ink writing tablets, which bring together the pleasure of writing on paper with the power of digital technology. When he bought his first tablet, he realised that there wasn't a lot of unbiased information available for people that were considering buying an E-ink tablet, and so he built eWritable.