BigMe, the tech startup known for their innovative e-ink products, have just launched a Kickstarter campaign for their latest device – the Galy E-Ink Tablet.
This tablet features a Gallery 3 screen, which is an advanced form of e-ink technology that displays sharper colours at 300dpi. Bigme may be the first manufacturer to release a tablet with a Gallery 3 screen.
This device has some pretty impressive specs, including an 8″ screen, Wacom stylus support, dual cameras (5MP front, 8MP rear), frontlight, microSD card slot, fingerprint sensor, dual speakers and microphone. It's also got a 2.3GHz octa-core CPU with 6Gb RAM and 128Gb storage.
It runs Android 11 and the Google Play Store can be installed to expand on its capabilities.
The tablet is being funded through a Kickstarter campaign, so there is an element of risk if you pledge to buy one, however, Bigme have previously funded many projects in this way and have always delivered.
At the time of writing, Bigme had already raised more than $150K. The unit price is $699 but is currently available for $539 under the Early Bird offer. However, this does not include tax, customs or shipping, so this should be factored in before making a purchase.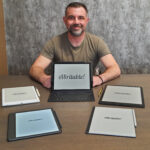 Dan Dutton is passionate about E-ink writing tablets, which bring together the pleasure of writing on paper with the power of digital technology. When he bought his first tablet, he realised that there wasn't a lot of unbiased information available for people that were considering buying an E-ink tablet, and so he built eWritable.