It's Black Friday/Cyber Monday week and many e-ink tablet manufacturers are offering deals on their products.
Here is a list of all the deals that I'm aware of (to be updated if more offers become available):
Kindle Scribe
reMarkable
Bigme
Note: Additional discounts may be available but I have been unable to verify them
Supernote
Ratta Supernote do not usually take part in Black Friday sales.
Boox
Boox hyped up a sale on Prime Day 2023 but it was a bit of a misfire (ill-conceived afterthought). This Black Friday, I expect them to either go all in or (more likely) ignore Black Friday altogether.
UPDATE 24/11: Not so much a Black Friday deal (or even that great a deal altogether imo) but the official Boox Store and the official Boox Europe Store are offering a $40/€40 discount for any orders over $800/€800 (5%). This high threshold means that the deal will only really appeal to those that are buying multiple devices or the 13.3″ Tab X. The deal will be running until the 23rd December.
Any more?
If you're aware of any other Black Friday 2023 deals on e-ink tablets, please let me know in the comments below 🙂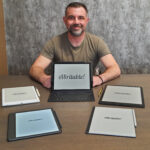 Dan Dutton is passionate about E-ink writing tablets, which bring together the pleasure of writing on paper with the power of digital technology. When he bought his first tablet, he realised that there wasn't a lot of unbiased information available for people that were considering buying an E-ink tablet, and so he built eWritable.