NOTE: Since writing this, Quirklogic has gone out of business.
Quirklogic, the company behind the Papyr e-ink tablet, is having a Black Friday sale. The tablet is now available for $579USD, a $20 discount from its regular price.
This is a great opportunity to get your hands on Quirklogic's flagship product. The Papyr tablet has a paper-like display that is easy on the eyes, making it perfect for reading and writing. It's also lightweight and portable, so you can take it with you wherever you go.
Check out the full specs here and our review here.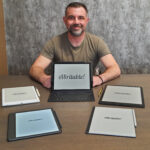 Dan Dutton is passionate about E-ink writing tablets, which bring together the pleasure of writing on paper with the power of digital technology. When he bought his first tablet, he realised that there wasn't a lot of unbiased information available for people that were considering buying an E-ink tablet, and so he built eWritable.