Today, Boox announced their newest 10.3″ tablet, the Tab Ultra. This E-ink tablet comes with an optional detachable keyboard and a refreshed design. In addition, the Tab Ultra boasts a fast and flexible refresh rate, using Boox's new 'Super Refresh' GPU.
Let's take a closer look at the features of the Tab Ultra.
Hardware
The Boox Tab Ultra is a powerful tablet designed for productivity.
It is equipped with a 1.8 GHz Qualcomm octa-core processor and 4 GB of RAM, making it capable of handling demanding tasks.
The 128 GB of storage ensures plenty of room for all of your files, and the MicroSD slot allows you to expand the storage if needed.
The 10.3″ screen is large enough to provide a great experience when working on documents or browsing the web, and the 16 MP camera makes it easy to scan documents.
The thin touch layer provides less latency and more comfortable writing, and the speakers and microphone provide good audio quality for listening to audiobooks or recording audio notes.
The G-sensor ensures that the screen automatically rotates when needed.
Design
The first thing you'll notice about the Tab Ultra is its sleek, minimalist design. The bezels are narrow, giving the tablet a modern look. The chassis is made of aluminium, making it both durable and lightweight. And at just 10 inches, the Tab Ultra is easy to take with you on the go.
Keyboard
The Tab Ultra comes with an optional detachable keyboard. This keyboard connects magnetically to the tablet, making it easy to attach and detach as needed. The keyboard has a standard layout and supports several keyboard shortcuts, including adjusting the warm and cold light and taking screenshots.
Super Refresh Rate
One of the most impressive features of the Tab Ultra is its super-fast refresh rate. Screen refresh has always been an issue with E-ink tablets, and ghosting of previous pages is something that we have learned to live with. But now, Boox has put the screen refresh functionality into a dedicated GPU chip, which opens several opportunities to comfortably do more from an E-ink device than ever before.
Software
Like previous Boox devices, the Operating System is Android 11.0, but it has been revamped to give the Tab Ultra more flexibility, with homepage buttons and widgets that can be customized according to personal preferences.
First-look Verdict
The Tab Ultra is Boox's newest tablet, and it's sure to turn heads with its sleek design, detachable keyboard, and super-fast refresh rate. If you're looking for a new tablet, check out the Tab Ultra from Boox (full specs here).
The Tab Ultra is available for pre-order in the US and will be shipped in November 2022. Shipping to Europe is currently set for December 2022.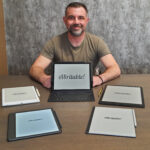 Dan Dutton is passionate about E-ink writing tablets, which bring together the pleasure of writing on paper with the power of digital technology. When he bought his first tablet, he realised that there wasn't a lot of unbiased information available for people that were considering buying an E-ink tablet, and so he built eWritable.