Today, Boox released new software (version 3.2.2) for their newer e-ink tablets:
The new firmware supports integration with several additional clouds, the option to create Text Notes, and more – these are my first impressions.
Google Drive & Other Cloud Support
Before the update, notebooks on a Boox device could be synchronised with Boox Cloud, Evernote, Onenote, Dropbox, and Youdao. Boox has now added support for OneDrive, Baidu Cloud, NutStore, and other third-party cloud storage that support the WebDAV protocol (e.g. NextCloud).
This means that when you exit a notebook, a PDF copy of it will be stored on your cloud service in a folder such as Tab-Ultra-Notepads. For existing notebooks, you will need to open them on your Boox device and then close them to trigger the first transfer.
In addition, you can now access other files on your preferred cloud storage through the Boox Library. By tapping on the Cloud Button, you can browse files and folders on the cloud as if they were part of the local filesystem. You can also open PDF files in NeoReader straight from the cloud and scribble on them, with the new scribbles being added to the cloud copy.
As someone that has workflows that are heavily ingrained with Google Drive, I think these new functionalities are fantastic!
Text Notes/Word Processor
Boox has introduced a new type of notebook called Text Notes.
When you create a new notebook, you now have the option of making it a Text Notebook. The interface for text notebooks is similar to a Word Processor, with options to format text (headings, font, font size, Bold/Italic/Underline) and layout (margins, spacing, left/centre/right alignment, bullet lists). You can also insert files, images and links to websites and record voice notes.
Text Notes work really well with the Boox Tab Ultra Keyboard Folio. Of course, they are designed for text input only, so you can't write on them with the stylus. Although you can use the handwriting-to-text feature using the on-screen keyboard, there is no similar button/feature when the keyboard folio is connected.
Unfortunately, Text Notes do not synchronise with third-party clouds, such as Google Drive. And the only export options are as a .TXT (which loses all the formating) or a .NOTE (not sure if this is a proprietary format). It would be fantastic if they could be exported as DOC/DOCX but unfortunately this is not currently possible. So, for me, Text Notes do not really have much use outside of the Boox ecosystem.
Links in Notebooks
Boox already supported hyperlinks in notebooks, and the latest firmware release has made it slightly better. Linking has been integrated with the lasso selection tool, so you can now attach links to notebooks, specific notebook pages, files and websites from your handwriting.
Other updates
In addition to the aforementioned changes, other updates include:
In Neoreader, highlights and underlines in colours
In Neoreader, annotations in the Table of Contents can be filtered by type
Dictionaries can be downloaded more easily
Work profiles for apps – you can install separate instances of apps that can then be used under different profiles (e.g. work/personal accounts)
Customise physical page-turn buttons for scrolling or volume adjustment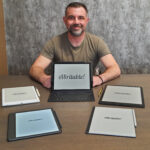 Dan Dutton is passionate about E-ink writing tablets, which bring together the pleasure of writing on paper with the power of digital technology. When he bought his first tablet, he realised that there wasn't a lot of unbiased information available for people that were considering buying an E-ink tablet, and so he built eWritable.