Boox has announced that it is rolling out version 3.5 of their firmware to older e-ink tablets (and e-readers) in their product range.
Which devices can get Boox firmware v3.5?
V3.5 has been available on the newly-released Note Air3C and Tab Ultra C Pro for a number of weeks.
It is now also being rolled out to:
Tab Ultra
Tab Ultra C
Tab X
Tab Mini C
Max Lumi2
Note Air2 Plus
Note Air2
Palma
Page
Note5
Nova Air C
However, the Nova Air2 and Poke5 are not on the update list – hopefully they will be added at a future date.
Also note, that this is only an upgrade of the software, not the operating system. Tablets that are running Android 11 (and older) will not be upgraded to Android 12.
How to install Boox Firmware 3.5
To update the firmware on your Boox tablet, click on Settings, followed by Firmware Updates. Then click the Check for updates button.
Please be aware that the new firmware may not be available immediately and you may have to wait a few days. This is because it is rolled out in batches, often based on geographical location.
What features are included with Boox Firmware 3.5?
Perhaps the most prominent feature of Boox's new firmware is the addition of several AI tools under the heading "SmartScribe".
This includes:
Strikethrough erase – scribble out some handwriting with the stylus to erase it, without having to change to the erase tool
Lasso recognition – draw around handwriting with the stylus to select it, without having to change to the lasso-selection tool
Shape perfection – keep the stylus touching the screen after drawing a line or a shape to straighten the edges
Mark recognition – underline or draw around text to select/highlight it (Neoreader only)
Double-tap recognition – double-tap handwriting to convert it to text (Neoreader only)
Content tape – block out (redact) text by scribbling over it (Neoreader only)
Other features installed with update 3.5 include:
Add blank pages to PDFs
Scroll with mouse
Back/forward buttons (for easy navigation when using Notes with hyperlinks)
Fill tool (to fill in enclosed areas in Notes)
Calendar screensaver (shows the date, time and your calendar in sleep mode)
Flexible split screen (manually set the width of each pane in split screen)
Custom system fonts
Custom mouse settings
AI Read (automatically generate book summaries)
Verdict
I have to say I am really impressed with these new features that Boox have developed, particularly the SmartScribe enhancements. Manipulating text with lasso-recognition and erasing by scribbling out feels a lot more natural and does not interrupt my flow-of-thought as was previously the case when I had to manually switch between tools.
Similarly, selecting text in ebooks using the stylus with a simple underline or selection feels a lot slicker than my previous method of long-pressing the text, then dragging the selection handles.
Adding pages to PDFs means that when I am studying/researching a PDF, I can add my own handwritten notes and the shape and line straightening tool (along with the fill tool) is useful for neatening up my diagrams.
The only thing I wasn't too impressed with was the AI Read feature. Because it has the word "read" in it, I was sort of expecting it to read the text of a book and summarise it. However, it only seems to read the title.
As an example, I have a PDF copy of Marcus Aurelius's Meditations – the personal journal of a stoic Roman Emperor from the 2nd century (translated to English, of course). I've previously renamed the file to MAM.pdf, and this is what AI Read generates as the book summary: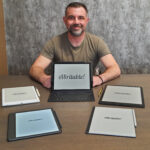 Dan Dutton is passionate about E-ink writing tablets, which bring together the pleasure of writing on paper with the power of digital technology. When he bought his first tablet, he realised that there wasn't a lot of unbiased information available for people that were considering buying an E-ink tablet, and so he built eWritable.