Today Boox launched the Tab Ultra C, an iteration of the Tab Ultra, but with a colour screen and higher resolution and pixel density.
The colour screen uses Kaleido 3 technology and has a screen resolution of 930×1240 with a 150DPI screen density.
For monochrome, the screen resolution is 1860×2480, with a 300DPI screen density – this rivals the Amazon Kindle Scribe which (at the time of writing) is the only other ~10″ e-ink tablet with a 300DPI screen.
The Tab Ultra C is currently only available from the Boox Shop but is likely to be available from Amazon within a month (based on previous product launches).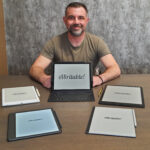 Dan Dutton is passionate about E-ink writing tablets, which bring together the pleasure of writing on paper with the power of digital technology. When he bought his first tablet, he realised that there wasn't a lot of unbiased information available for people that were considering buying an E-ink tablet, and so he built eWritable.