Boox recently launched two new products; the Note Air3 C (NA3C) and the Tab Ultra C Pro (TUCP).
With so many similarities between these two 10.3″ colour e-ink tablets, it can be difficult to decide which one to buy, so in this post I wanted to quickly go over what the main differences are and what I think are the best use cases for each device.
First the similarities…
Boox Super Refresh (powered by an onboard GPU) is something that I always thought would be reserved for Boox's Tab line of products but this feature has now also been added to the Note, further blurring the line between what Boox classify as "ePaper Tablet PCs" and "E Ink Tablets".
Both the NA3C and TUCP have a 10.3″ Kaleido screen and therefore have the same resolution and PPI specs. They are also both powered by a Qualcomm Octa-core processor , however, the NA3C has a speed of 2.4GHz, whilst the TUCP is 2.8GHz.
They both have a frontlight (with temperature settings), speakers, microphone, g-sensor, Bluetooth, Wi-fi, Fingerprint scanner, and MicroSD card slot.
They also both run Android 12 and have (almost) the same software – the user interface is slightly different but they both have the same apps and app features.
So, what are the differences?
As I just mentioned, the Note Air3 C has a slightly different user interface because it uses Boox's older app launcher – this is a left sidebar with non-customizable buttons for Library, Store, Notes, Storage, Apps, and Settings. In contrast, the launcher on the Tab Ultra C Pro is more akin to a regular Android tablet/phone with customisable app buttons and widgets.
The surface of the NA3C's screen is also different, having a paper-like screen protector installed that makes the tactile writing feel scratchier/grainier than the smoother, glossier screen of the TUCP.
In terms of hardware, the TUCP has a third more memory (6Gb rather than 4Gb) and double the storage capacity (128Gb rather than 64Gb). It also has a larger 4600mAh battery, compared to the NA3C's 3700mAh. In addition, it has a rear-facing camera (designed to be a document scanner) and an optional keyboard folio with trackpad which are not available on the NA3C.
There are some differences to the physical dimensions of the two e-ink tablets, with the Note Air3 C being slightly wider and taller, but almost a millimetre thinner. It is also around 20g lighter.
In terms of price, the TUCP costs $650 compared to the NA3C, which is $150 cheaper at $500.
Which one to buy?
At the time of writing, the NA3C was available to buy with the TUCP being available in a couple of weeks. Consequently, I've had several messages from people asking if they should buy the NA3C now or wait until the TUCP is released.
Having not tested either device yet (my NA3C is currently being shipped), it's quite difficult to answer this and will depend on each individual's use case.
I think if you will primarily be using the tablet for tasks that use stylus-based input (such as note-taking, annotating etc.) then the NA3C is going to be the better choice because it is thinner, lighter and has a more satisfying "scratchy" writing feel.
However, if your workflows require more keyboard-based input (such as emailing, word processing etc.) then the TUCP would be the best bet. With the additional memory and storage, as well as the larger capacity battery, the TUCP would also be a better choice if you plan on using more demanding apps or will be doing a lot of multi-taking. And, of course, if you want to be able to scan documents with the integrated camera, then you only have one choice.
I've been thinking about this for the last couple of days and, for me, the only thing that would make me choose the TUCP over the NA3C is if I would 100% use one of its unique features on a daily basis. Otherwise, I'd save myself $150 and get the Note Air.
For example, if document scanning was a regular part of daily work/life, then I'd make use of integrated camera (although I could also argue that I could perform the same task on my phone – perhaps even quicker and easier – and then send the scanned files to my tablet).
Similarly, if I did a lot of typing, then I might choose the TUCP. However, I could also quite easily hook up a Bluetooth keyboard to the NA3C – true, it would not be as slick as a keyboard integrated into the tablet's protective cover, and I wouldn't have the trackpad, but it would work.
The TUCP does have comparatively more memory and storage capacity but the specs of the NA3C are not poor by any standards and would be more than sufficient for the average user, in my opinion.
The only thing that really concerns me about the NA3C is the lower capacity battery. I believe that the battery on the NA3C is physically smaller than its predecessor (the Note Air 2 Plus) but it still has the same 3700mAh rating. With the added strain of powering the GPU and BSR, my worry is that battery life on the NA3C will not be very good.
Another method that might help you decide which of these tablets might suit your needs best is to think about which of your current workflows you will be using your e-ink tablet for. If the tablet will primarily be replacing tasks that you currently use pen-and-paper for, then the NA3C would probably be best. If, however, you want to primarily replace some of the tasks that you currently carry out on your laptop, then consider the TUCP.
And, remember, you don't have to get a Boox tablet at all – the Supernote A5 X, Kindle Scribe and reMarkable 2 are still credible options for those that want to substitute pen-and-paper tasks with digital note-taking.
Of course, I reserve the right to change my mind about anything I've written here once I've used both devices first-hand 🙂
Boox Note Air3 C and Boox Tab Ultra C Pro Spec Comparison
You can compare all the top e-ink tablets on my interactive comparison table.
PRODUCT
BOOX NOTE AIR3 C
BOOX TAB ULTRA C PRO
Specs & ratings info

👍 Recommended

👍 Recommended

My Rating
Price (approx)
$500

$650

Manufacturer
Onyx Boox
Onyx Boox
Release year
2023
2023
SCREEN
BOOX NOTE AIR3 C
BOOX TAB ULTRA C PRO
Screen type
Kaleido 3
Kaleido 3
Screen size
10.3"
10.3"
Screen resolution (B/W)
1860 x 2480
1860 x 2480
Screen density (B/W)
300dpi
300dpi
Colour
(Kaleido 3)
(Kaleido 3)
Screen resolution (Colour)
930 x 1240
930 x 1240
Screen density (Colour)
150dpi
150dpi
Frontlight
Wacom compatible
Buy
HARDWARE
BOOX NOTE AIR3 C
BOOX TAB ULTRA C PRO
CPU
2.4 Ghz octa-core
2.8 Ghz octa-core
RAM
4Gb
6Gb
Storage
64Gb
128Gb
Battery
3700mAh
4600mAh
Super Refresh
Keyboard folio

⨯

Speakers
Microphone
G-Sensor
Ceramic Tip

⨯

⨯

Bluetooth
Fingerprint scanner
SD card slot
Rear camera

⨯

Front camera

⨯

⨯

Waterproof

⨯

⨯

USB-C
Width
193mm
184.5mm
Height
226mm
225mm
Thickness
5.8mm
6.6mm
Weight
430g
450g
Buy
SOFTWARE
BOOX NOTE AIR3 C
BOOX TAB ULTRA C PRO
Operating system
Android 12
Android 12
Google Play Store
Kindle support
Handwriting search
Handwriting conversion
Insert shapes
Insert images
Split screen
Custom templates
No. templates
40+
40+
Brush types
Fountain Pen, Paintbrush, Ballpoint Pen, Pencil, Marker
Fountain Pen, Paintbrush, Ballpoint Pen, Pencil, Marker
Screen share
ADE support

⨯

⨯

File formats
PDF, EPUB, DOC, DOCX, PPT, PPTX, TXT, HTML, RTF, FB2, CBZ, CBR, AZW3, MOBI, PRC, DJVU, CHM, ZIP
PDF, EPUB, DOC, DOCX, PPT, PPTX, TXT, HTML, RTF, FB2, CBZ, CBR, AZW3, MOBI, PRC, DJVU, CHM, ZIP
File formats (image)
PNG, JPG, TIFF, BMP
PNG, JPG, TIFF, BMP
File formats (Audio)
WAV, MP3
WAV, MP3
Buy
BUY
BOOX NOTE AIR3 C
BOOX TAB ULTRA C PRO
Where to buy
Boox Euro Shop
Boox Shop
Reseller (CA)
Amazon BE
Amazon DE
Amazon ES
Amazon FR
Amazon IT
Amazon NL
Amazon PL
Amazon UK
Amazon US
eBay AU
eBay CA
eBay DE
eBay ES
eBay FR
eBay IE
eBay IT
eBay UK
eBay US

Boox Euro Shop
Boox Shop
Reseller (CA)
Amazon BE
Amazon DE
Amazon ES
Amazon FR
Amazon IT
Amazon NL
Amazon PL
Amazon UK
Amazon US
eBay AU
eBay CA
eBay DE
eBay ES
eBay FR
eBay IE
eBay IT
eBay UK
eBay US

PRODUCT
BOOX NOTE AIR3 C
BOOX TAB ULTRA C PRO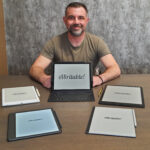 Dan Dutton is passionate about E-ink writing tablets, which bring together the pleasure of writing on paper with the power of digital technology. When he bought his first tablet, he realised that there wasn't a lot of unbiased information available for people that were considering buying an E-ink tablet, and so he built eWritable.