Today, Onyx Boox launched two new products, which we knew were coming; the Note Air3 C and the Tab Ultra C Pro.
Both are 10.3″ colour e-ink tablets, however, the Note Air3 C seems to be primarily designed for note-taking, whilst the Tab Ultra C Pro is designed to be a workhorse that has the flexibility and power to work on even more productivity tasks that may have previously been reserved for a laptop.
Boox Note Air3 C
The Note Air3 C is the successor of the Note Air2 Plus with several enhancements, including:
Faster 2.8GHz processor
Onboard GPU and Boox Super Refresh (BSR) technology
10.3″ colour (Kaleido 3) screen with 300ppi (monochrome) and 150ppi (colour)
Android 12
MicroSD Card Slot
Fingerprint Scanner
Aluminium chassis and thinner bezels
New versatile magnetic case
It retains the scratchy paper-like handwriting feel of its predecessor.
My first impressions of the Note Air3 C are that it looks very promising. My only concern is that the 3700mAh battery might run down very quickly, particularly when using it for tasks that utilise Boox Super Refresh. I've ordered one for myself and will bring you a full review following my testing.
At the time of writing, the Note Air3 C was available from the Boox Store, Amazon US, and Amazon UK – it had not yet hit any of the Amazon Stores in mainland Europe or the Boox Euro Store. It is priced at $499/£499. Amazon has the easier returns policy, however, if you buy straight from Boox, they throw in the magnetic cover for free.
Boox Tab Ultra C Pro
The Tab Ultra C Pro feels like an incremental upgrade to the Tab Ultra C (released earlier this year) rather than a full-blown product in itself. It offers several enhancements including:
Faster 2.8GHz processor
6Gb memory (the Tab Ultra C has 4Gb)
Android 12
LED Flash on the camera
Lighter weight
Volume increase/decrease buttons
New magnetic keyboard case (trackpad, more secure connection, softer keys, LED indicator on Caps Lock)
The camera bump that frustrates so many existing users of the Tab Ultra and Tab Ultra C is still present. And whilst the move to Android 12 and the improved processing power and memory are welcome, it was the lighter weight and trackpad on the new keyboard folio that excited me the most.
My first impressions are that this is a slightly enhanced Tab Ultra C. And with the 6-month old Tab Ultra C being unavailable from many outlets (including the Boox Store), I feel that the Tab Ultra C Pro is earmarked to be its replacement, rather than an optional upgrade.
The Tab Ultra C Pro will be available to buy from the Boox Store on 27th October 2023. It will cost $649/£649.
Firmware Update
Boox also announced some updates to its software, including:
Smart Scribe

Shape drawing improvements (draw a free-form shape and hold down the pen at the end and the software will straighten the edges)
Colour Fill Tool
Draw straight lines or scribble through text to delete it
Select text in NeoReader by underlining it or drawing a circle around it

AI Tools (e.g. generate a summary of a book, or discover more about the author)
Add blank pages in PDFs
Back button (to return to the previous notebook – long press shows history)
I have to admit, these new firmware updates look VERY interesting and I can't wait to try them out!
Verdict
For me, the new firmware updates were the most exciting thing about the product launch. Quick shape drawing, colour fill, quick text highlighting, the Back button and the AI tools are all features that I am very much looking forward to trying out.
The Note Air3 C looks like a cool new tablet but I will reserve my judgment until I have used it first-hand.
The Tab Ultra C Pro was a little underwhelming but it will be interesting to see how much better the improved hardware performs. And I am rather intrigued by the new keyboard folio.
Both the Note Air3 C and Tab Ultra C Pro have been added to my comparison table so you can compare and contrast them with other e-ink tablets.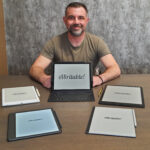 Dan Dutton is passionate about E-ink writing tablets, which bring together the pleasure of writing on paper with the power of digital technology. When he bought his first tablet, he realised that there wasn't a lot of unbiased information available for people that were considering buying an E-ink tablet, and so he built eWritable.