This offer has since expired.
Boox has significantly dropped the price of its flagship product, the Boox Tab Ultra to a shade below $500.
When it was first launched at the back end of last year, it cost around $600. Last month's release of the Tab Ultra C (a colour version of the same tablet) saw the price fall to $560, and it is now available for $499.99.
However, this is a limited-time deal between June 10th 2023 and July 17th 2023.
This is perhaps due to the colour Tab Ultra C originally costing just $40 more than the monochrome Tab Ultra – many users felt that the low $40 upgrade to a colour device with a higher resolution was a no-brainer, and I guess this resulted in a big decrease in sales of the Tab Ultra.
Now that there is a $100 difference between the two e-ink tablets, potential buyers are more likely to seriously consider the black-and-white Tab Ultra, if a colour screen is more of a bonus than a necessity.
The Boox Tab Ultra is in my Top 5 recommended e-ink tablets.
Tab Ultra Prices in other currencies
As well as being available for $499.99 USD, in the UK the price has also fallen to £499.99 GBP.
In European Amazon Stores, it costs €549.99 EUR.
Where to buy the Tab Ultra?
The current discount applies to both the official Boox Store and Amazon.
With Amazon, you get free 30-day returns.
30-day returns are available with the Boox Store, however, it is usually slower and more costly.
However, if you buy from the Boox Store, you get the standard case included in the price and can get the optional keyboard folio for less than you would pay on Amazon.
Boox Tab Ultra Review Summary
Pros
Great hardware specs
Very versatile
Sophisticated native reading & note-taking apps
Handwriting search/conversion
Google Play Store
Frontlight
Optional keyboard attachment
Onboard GPU & Boox Super Refresh Tech
Audio (speakers and microphone)
16MP rear-facing camera
MicroSD card slot
Cons
Expensive
Steeper learning curve
Some chassis design flaws
Heavy
Writing feels a little 'slippy'
GPU/Super Refresh uses more power
A powerful and versatile e-ink tablet that is as close as you can get to a regular tablet/laptop.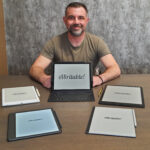 Dan Dutton is passionate about E-ink writing tablets, which bring together the pleasure of writing on paper with the power of digital technology. When he bought his first tablet, he realised that there wasn't a lot of unbiased information available for people that were considering buying an E-ink tablet, and so he built eWritable.