This offer has now expired.
---
Update 11th July 2023: Prime Day Deals.
So, halfway into Prime Day, it seems that Boox has only discounted the Boox Tab Ultra by $20 (it was $499 yesterday, and $479 today). It actually looks like a bigger discount on the Amazon Store because they increased the price to $560 yesterday for a few hours before making what is displayed as a 14% reduction – it is actually around a 4% reduction.
And, so far, Boox has not discounted the Tab Ultra C or Tab Mini C as they inferred in the run-up to Prime Day.
It's really quite sad that Boox has put itself in a position and I imagine that there are quite a few frustrated potential customers.
---
If you've been thinking about investing in a top-notch e-ink tablet and have your eyes on a powerful Boox device, wait!
Do not click that tempting "Buy Now" button on Amazon just yet – there's a special day on the horizon, one that could see you scoring your dream tablet at a dreamy price. Yes, you've guessed it, Amazon's Prime Day is around the corner, specifically on July 11th and 12th.
Why Wait for Prime Day?
First things first, let's discuss what makes Amazon Prime Day so special. This annual event presents Amazon Prime members with exclusive deals on thousands of products, from tech to books, home appliances, and more. These deals often represent some of the lowest prices you'll see all year, sometimes even outpacing Black Friday deals.
Now, how does this apply to Boox devices? Well, Amazon has a history of offering significant discounts on a broad range of electronics during Prime Day, and e-ink tablets are no exception. Boox has also confirmed that they will have a flash sale on Prime Day for the Tab Ultra, Tab Ultra C, Tab Mini C (and maybe some other tablets).
The Magic of Boox E-Ink Tablets
Boox e-ink tablets are renowned for their innovative technology and design. They offer a fantastic user experience with minimal strain on the eyes, making them an excellent choice for avid readers, students, or professionals.
The tablets' versatility, being able to double as e-readers and notepads, and the ability to install other apps from The Google Play Store adds to their appeal. You can read books, take notes, browse the web, listen to music, and do so much more. Boox devices are an investment worth making, especially when you can snag one at a reduced price.
How to Prepare for Prime Day
Now that we've established why you should wait for Prime Day to buy your Boox device, let's talk about how to prepare for the big day.
Prime Membership: First and foremost, you'll need an Amazon Prime membership. If you're not a member already, consider signing up for a free trial. You can cancel it after Prime Day if you wish.
Set up Notifications: Use the Amazon app to set up alerts for deals. You can "watch" an item and be notified when it goes on sale. Be sure to set up these notifications for your desired Boox device.
Do Your Research: Know the regular price of your chosen Boox device. It's important to be aware of the original price to ensure the deal you're getting is genuinely good.
Be Ready: Lastly, Prime Day can be overwhelming with a myriad of deals popping up. Stay focused, be ready, and remember that the best deals can go quickly.
With all this in mind, patience truly is a virtue, especially when it comes to buying your Boox e-ink tablet. Hold on for a few more days, and you might be rewarded with an amazing Prime Day deal.
Your bank account, and your eyes, will thank you!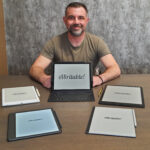 Dan Dutton is passionate about E-ink writing tablets, which bring together the pleasure of writing on paper with the power of digital technology. When he bought his first tablet, he realised that there wasn't a lot of unbiased information available for people that were considering buying an E-ink tablet, and so he built eWritable.