Regular visitors to eWritable may have noticed that the navigation menus at the top of every page have changed and there is now the option to compare e-readers.
As well as a new eReader comparison table, along with my original eNote comparison table, I have also implemented a combined eReader and eNote comparison table that allows searching for both types of device.
This was the result of feedback from several users that were not sure if they needed writing capabilities and so wanted to explore their options for both eReaders and eNotes simultaneously.
I did toy with the idea of setting up a separate website dedicated to eReaders but felt that going down this route would make it more difficult to combine the eReaders and eNotes into a single table. And the domain eReadable dot com was not available!
I have not yet written many reviews for eReaders but over the coming months, I plan to purchase more of these devices and publish more information in this area. However, e-ink tablets/eNotes will still be the main focus of eWritable.
I'd be grateful for any feedback (both good and bad) either in the comments below or via email (dan@ewritable.com).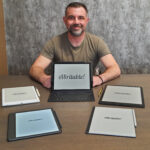 Dan Dutton is passionate about E-ink writing tablets, which bring together the pleasure of writing on paper with the power of digital technology. When he bought his first tablet, he realised that there wasn't a lot of unbiased information available for people that were considering buying an E-ink tablet, and so he built eWritable.