It's almost a year since I first launched eWritable, and over this time I've written several articles and reviews and also developed a few tools to help e-ink tablet buyers find the right device for them.
With such a large amount of content, I did notice that my writing and recommendations were sometimes inconsistent, as my subjective opinions changed over time. I also noticed quite a few mistakes and omissions, as well as some paragraphs that did not have as much clarity as I would have liked.
For this reason, I have spent the last couple of weeks reviewing and (where applicable) updating every single page on this website to ensure consistency and accuracy – this is the reason why I have not published any new content recently.
I've trawled through around 150 pages to make them better. I've also made the website a bit more visually appealing and added some additional search criteria to my e-ink tablet comparison table.
This quality assurance process is something that I intend to carry out once per year going forward to ensure that eWritable remains useful.
If you do notice any mistakes or inaccuracies that I've missed, please do contact me via dan@ewritable.com or using the comments section at the bottom of each post.
Cheers, Dan 🙂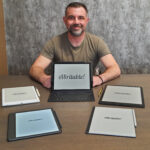 Dan Dutton is passionate about E-ink writing tablets, which bring together the pleasure of writing on paper with the power of digital technology. When he bought his first tablet, he realised that there wasn't a lot of unbiased information available for people that were considering buying an E-ink tablet, and so he built eWritable.