NOTE: This method is no longer necessary because from March 2023 Boox has now integrated Google Drive into the firmware (version 3.3.2).
I spent about half a day working out how to synchronise the notepads on my Boox Tab Ultra (currently my favourite e-ink tablet) with Google Drive, so I wanted to share my solution here to save others a bit of time.
Although the configuration is a bit convoluted and ugly, it is free and it works.
What I wanted
I wanted a way to automatically sync my notepads with my Google Drive.
The Boox flavour of Android supports synchronisation with other cloud-based services, including Dropbox, OneNote, Youdao, Evernote and their own Boox cloud. However, my workflows heavily depend on Google Drive, so I wanted all my files in one place.
I want to be clear that the solution I will present is designed to make my notepads accessible as PDFs through Google Drive so I can view them from my phone and laptop. This is not a solution for syncing reading libraries, although I do plan to share my solution for this in another article.
The first attempt with AutoSync…
After doing a little research, I found that many people recommended Autosync/Drivesync by Metactrl. I downloaded the free plugin, configured it, and it worked for the most part.
However, the issue I had is that Boox devices generate PDF files using a structure where each notepad is in its own subfolder. So, for example, if you have a notepad called 'Journal', it will be saved as /Journal/Journal.pdf. For me, this was a little frustrating because it meant one extra click to access it on my Google Drive. I just wanted my notepads shown as a list of PDFs without having to navigate through subfolders.
I accept that this is an issue that will probably only bother a minority of people, so if you don't mind each notepad PDF being in a separate subfolder, I can highly recommend the DriveSync app.
However, if you're like me, and don't want the needless subfolders, carry on to the solution below…
Solution using Dropbox and MultCloud
A better solution for me involved setting up Dropbox as an intermediary for my files (because Boox allows syncing with this service) and then using a free third-party service called MultCloud to sync my Dropbox folder with a Google Drive folder.
It may seem like a needless and complicated process but it works really well and I don't know of a better method at the moment. The good thing is that when Boox syncs with Dropbox, it doesn't use those pesky subfolders!
Step 1: Set up Dropbox
The first step is to set up a free account with Dropbox.
Then, on your Boox device, go to Setting -> Accounts. Click on Dropbox and follow the instructions to bind your Dropbox account to your Boox.
Then, press the Sync button to synchronize your notepads with Dropbox.
Step 2: Set up Google Drive
All you need to do in Google Drive is create a folder where you want your Notebooks to be stored.
Step 3: Set up MultCloud
Next, set up a free account with MultCloud.
Once logged in, click Add Cloud under My Cloud Devices and connect to your Google Drive and Dropbox.
Then click Cloud Sync and choose Real-time Sync.
In the left-hand box, select Dropbox and then navigate to the folder where your notepads are stored. This should be something along the lines of:
Apps -> onyx-knote -> TabUltra-Notepads
In the right-hand box, click Google Drive and navigate to the new folder you created in Step 2.
Finally, click the Sync Now button.
Multcloud will regularly monitor Dropbox for any changes; whenever your notepads are updated, it will automatically synchronise them with your Google Drive. It works surprisingly quickly as well – when I created a new notebook, it took less than 30 seconds to appear in my Google Drive.
And that's it! It's not the most beautiful process, but it works 🙂
A few notes…
Although I used this method for syncing with Google Drive, it can also be used to sync with other cloud services including Sharepoint, Yandex, and Amazon Web Services.
Notepads are synchronised with Dropbox when you close them, so remember to exit your notepad after you've finished using it.
The synchronisation process does not seem to automatically delete any notebooks on Dropbox that you have deleted on your Boox devices – you will have to delete them manually.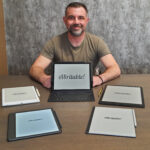 Dan Dutton is passionate about E-ink writing tablets, which bring together the pleasure of writing on paper with the power of digital technology. When he bought his first tablet, he realised that there wasn't a lot of unbiased information available for people that were considering buying an E-ink tablet, and so he built eWritable.