Huawei has filed a lawsuit against Amazon, alleging that the online retailer infringed on its patents. The lawsuit is also against Taiwanese electronics manufacturer Compal Computer Industry Co Ltd, which supplies hardware used in Amazon devices.
No details about the lawsuit are currently available, but the Suzhou Intermediate People's Court in the Chinese Province of Jiangsu will hold a hearing on December 8.
Huawei is one of the biggest patent holders in the world, with over 100,000 patents, so it isn't easy to speculate which patent or patents they have alleged was infringed upon. However, it would not be unreasonable to guess it could be related to E-ink tablets, with the recent announcement of the Amazon Kindle Scribe and Huawei's Matepad being released earlier in the year.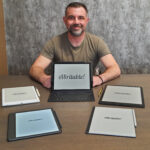 Dan Dutton is passionate about E-ink writing tablets, which bring together the pleasure of writing on paper with the power of digital technology. When he bought his first tablet, he realised that there wasn't a lot of unbiased information available for people that were considering buying an E-ink tablet, and so he built eWritable.