E-ink aficionado, Jeffrey Moss, has teamed up with eWritable to help out with our product reviews. Welcome aboard, Jeff!
Whilst I love exploring the capabilities of e-ink tablets and writing about them on this website, keeping on top of all the new product releases (particularly Boox's manic release schedule) takes a considerable toll, in terms of both the time and money I spend.
Jeff shares (and sometimes changes) my viewpoints about e-ink tablets and is far more knowledgeable than me about the technologies used in them.
In addition, he already owns and has experience with many of the tablets that are currently on my 'to buy' list, particularly products by Bigme and Mobiscribe. Therefore, to expedite the publication of helpful information on eWritable, and improve the existing content (and have another pair of eyes to spot any mistakes I make), it made perfect sense to ask Jeff to help out.
I've been a massive fan of Jeff's Youtube channel for a while and I love the practical, down-to-earth and comprehensive style of his videos. I also appreciate the way that every point is thought-out and eloquently delivered, without waffle, filler or fluff – to me, this demonstrates that he values the viewer's time.
He also manages to explain certain aspects of e-ink tablets in a way that I've never been able to express myself, even though it might have been something that I know intuitively.
For example, I've always loved the 'star' function on the Supernote but never been able to explain exactly why until I watched Jeff's video. Similarly, the reMarkable 2 is a beautifully designed tablet with a superb writing experience, yet I hardly ever use it and couldn't put my finger on exactly why – until I saw Jeff's video.
I highly recommend subscribing to Jeff's channel.
Jeff kicks off his contributions to eWritable with his Boox Tab Mini C review.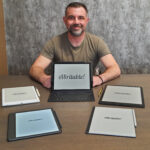 Dan Dutton is passionate about E-ink writing tablets, which bring together the pleasure of writing on paper with the power of digital technology. When he bought his first tablet, he realised that there wasn't a lot of unbiased information available for people that were considering buying an E-ink tablet, and so he built eWritable.