This is a quick post just to say a special thanks to Jeffrey Moss for covering Kit and eWritable's Spider Diagram Tool on his YouTube channel.
Here's the video:
It's great to see that the tool is being used and that it is helpful to others.
Jeff has some awesome videos relating to e-ink tablets on his Youtube channel and I highly recommend taking a look if you have time.
I particularly enjoyed his overview of the reMarkable 2, which he describes as "the best e-notetaker that I don't use". This tagline succinctly described my own views of the device that I previously hadn't been able to articulate very well!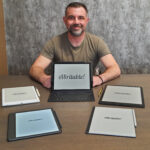 Dan Dutton is passionate about E-ink writing tablets, which bring together the pleasure of writing on paper with the power of digital technology. When he bought his first tablet, he realised that there wasn't a lot of unbiased information available for people that were considering buying an E-ink tablet, and so he built eWritable.