Whilst reviewing Boox's new Note Air3 C, I wanted to see if it was feasible to use a Bluetooth keyboard for typed input.
And then I thought I might as well compare this functionality with some other e-ink tablets at the same time, so that those who are looking for keyboard support will have an understanding of their options.
Boox Keyboard Support
Firstly, the Boox Tab Ultra series has an optional keyboard folio peripheral. This includes:
The keyboard folio connects to the tablet physically via POGO pins, which results in almost zero latency.
NOTE: Whilst the Tab Ultra and Tab Ultra C use the same keyboard folio, it is not compatible with the Tab Ultra C Pro because the location of the POGO pins have moved from the bottom edge to the rear panel. In addition, the keyboard folio for the newer Tab Ultra C pro has some other enhancements, including an integrated trackpad.
In addition, all Boox e-ink tablets, including the Tab Ultra series, can be paired with a third-party Bluetooth keyboard. Whilst this works well across Boox's range of product, it seems to work best with newer tablets that have Boox Super Refresh (BSR) technology – generally tablets that were released from November 2022 onwards, including:
All the Tab Ultras (above)
Supernote Keyboard Support
Supernote also supports pairing with Bluetooth tablets, however, there is a noticeable delay between pressing a key and it appearing on-screen (about one second).
So, whilst keyboard input is possible on Supernote e-ink tablets, the latency would probably make prolonged use very frustrating for many users.
reMarkable 2 Keyboard Support
Like the Boox Tab Ultra series, the reMarkable 2 has a dedicated keyboard folio that can be used for typed input. And, similarly, the latency is imperceptible.
However, it does not support third-party Bluetooth keyboards (it doesn't even have Bluetooth), so you are restricted in choice.
Whilst the reMarkable 2 "Type Folio" is really well-designed and works great, it is priced at $200, which some may consider a little steep for a cover with an integrated keyboard.
Kindle Scribe Keyboard Support
The Kindle Scribe does have Bluetooth support, but it was unable to pick up my Bluetooth keyboard. This is perhaps because the Scribe was really only designed to support Bluetooth audio output, such as speakers and headphones.
In addition, the limiting software on the Kindle Scribe means that even if you could connect a keyboard, there would not be a lot of places it could be utilised. You cannot add typed text to notebooks, so it would really only be used for adding text-based sticky notes to ebooks, or when using the web browser (which is a terrible experience in itself).
Verdict
I do plan to add more e-ink tablets to this page as and when I test them with a BT keyboard, however, this covers the 'Big 4' manufacturers.
If keyboard input is going to be something that you need to use regularly on your e-ink tablet, you really only have two choices; Boox or reMarkable.
In my opinion, reMarkable's implementation is very good and their keyboard folio is the best designed, however, you are restricted by the hardware and software. You can only use reMarkable's keyboard folio, and can only use reMarkable's note-taking software. And, other than reMarkable's native reading and writing software, there are no other apps (no email, web browser, calendar, Play Store etc.)
Conversely, Boox's dedicated keyboard folio (for the Tab Ultra range) is not quite so aesthetically pleasing, but neither is it an awful design. And it is just as functional.
Plus, it is possible to connect third-party Bluetooth keyboards to pretty much all Boox e-ink tablets, which provides the user with choice – if you don't want to shell out around $100 for Boox's offering, you can hook up a $25 Bluetooth keyboard instead.
And, because Boox e-ink tablets run Android and have access to the Google Play Store, they can also be used for other applications that require typed input, such as email, word processing, and even spreadsheets).
Before signing off, I'd just like to mention that I wrote this post using an Arteck Bluetooth keyboard connected to my Boox Note Air3 C and the typing experience was very nice indeed 🙂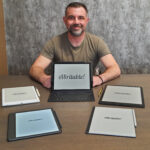 Dan Dutton is passionate about E-ink writing tablets, which bring together the pleasure of writing on paper with the power of digital technology. When he bought his first tablet, he realised that there wasn't a lot of unbiased information available for people that were considering buying an E-ink tablet, and so he built eWritable.