Amazon has released firmware version 5.16.2 for the Kindle Scribe adding some of the most requested features to the software.
Lasso Select
The lasso select tool means that you can now select a piece of handwriting (or a sketch) and cut/copy and paste it to other areas of your notebook.
Although you can paste the selection onto any page of the notebook, or even a page in a different notebook. To do this, after cutting/copying, select the pen tool to navigate to a different page or notebook, then tap the clipboard icon on the toolbar and tap where you want to paste the selection. The clipboard only supports one selection at a time.
In addition to cutting/copying and pasting, you can also move and resize the selection (but not rotate or flip).
Handwriting Recognition
The Kindle Scribe can now recognise your handwriting and convert it to text, which you can then send via email as an attached text file.
I've only had a chance to test a few sentences but the handwriting recognition seems to be very quick and accurate. Before sending the email, there is an opportunity to check the handwriting recognition and amend it using the on-screen keyboard.
At present, you cannot choose which pages to convert – the Scribe converts the whole notebook, which could result in slowness within larger notebooks.
PDF Reading Improvements
Several of Kindle's core e-reading features are now available for PDF files.
You can now select text within PDFs to make highlights, add text notes, or look up words in the dictionary, Wikipedia, or translator.
You can also crop margins and switch between portrait and landscape.
Note that, as usual, this only applies to PDFs that have been transferred to the Scribe via email or the SendtoKindle app (so that Amazon can do their magic processing/conversion on it). Sideloaded PDFs do not have these features (and you can't write on them, either).
Verdict
This latest update means that the Kindle Scribe is closing the gap between the functionality of its own note-taking software and that of its competitors. Of course, it still has some way to go, but it is headed in the right direction, and I welcome these new features.
The lasso tool and handwriting recognition have been two of the most requested features by Scribe users, so it demonstrates that Amazon is listening to its customers.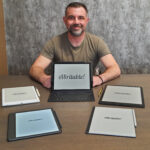 Dan Dutton is passionate about E-ink writing tablets, which bring together the pleasure of writing on paper with the power of digital technology. When he bought his first tablet, he realised that there wasn't a lot of unbiased information available for people that were considering buying an E-ink tablet, and so he built eWritable.