Terms of Use
This website is operated by eWritable.com. Throughout the site, the terms "we", "us" and "our" refer to eWritable.com. eWritable.com offers this website, including all information, tools and services available from this site to you, the user, conditioned upon your acceptance of all terms, conditions, policies and notices stated here.
By visiting our site you engage in our "Service" and agree to be bound by the following terms and conditions ("Terms of Service", "Terms"), including those additional terms and conditions and policies referenced herein and/or available by hyperlink. These Terms of Service apply to all users of the site, including, without limitation, users who are browsers, vendors, customers, merchants, and/ or contributors of content.
If you do not agree to all the terms and conditions of this agreement, then you may not access the website or use any services. If these Terms of Service are considered an offer, acceptance is expressly limited to these Terms of Service.
Any new features or tools which are added to the current website shall also be subject to the Terms of Service. You can review the most current version of the Terms of Service at any time on this page. We reserve the right to update, change or replace any part of these Terms of Service by posting updates and/or changes to our website. It is your responsibility to check this page periodically for changes. Your continued use of or access to the website after posting any changes constitutes acceptance of those changes.
Privacy Policy
eWritable.com is committed to protecting your privacy. We will only use the information we collect about you lawfully (in accordance with the Data Protection Act 2018).
We only collect information about you with your exlicit consent. We will not email you unless you have given us your consent.
The type of information we will collect about you includes your name and email address.
The information we hold will be accurate and up to date. You can check the information that we hold about you by emailing us. If you find any inaccuracies, we will delete or correct it promptly.
The personal information which we hold will be held securely on secure services within the UK.
You may request details of personal information which we hold about you under the Data Protection Act 2018.
Cookie Policy
Cookies are small text files placed on your computer by websites you visit. They are widely used in order to make websites work, or work more efficiently, as well as to provide information to the owners of the site.
We use Google Analytics cookies to track anonymous visitor data for the sole reason to help us improve the performance of our website
From time to time, we may test new features and make subtle changes to how the site is delivered. When we are still testing new features, these cookies may be used to ensure that you receive a consistent experience whilst on the site whilst ensure we understand which optimisations our users appreciate the most.
The information stored in our cookies can only be read by us and is not used for any other purpose. Most web browsers automatically accept cookies, but if you prefer you can change your browser to prevent that or to notify you each time a cookie is set.
Earnings Disclaimer
We believe in transparency on the web, which is why we are disclosing that certain products and links on this site may earn us an affiliate commission should you decide to make a purchase.
Our goal is to educate our visitors on the options for e-ink tablets and be a useful resource. We only recommend products we have used, tested, and truly believe in. We may also use affiliate links to products that we have not yet tested or do not recommend; however, this will be made clear.
By using our affiliate links, you're helping to support this website so that we can continue to bring value. Thank you!
Mediavine Programmatic Advertising (Ver 1.1)
The Website works with Mediavine to manage third-party interest-based advertising appearing on the Website. Mediavine serves content and advertisements when you visit the Website, which may use first and third-party cookies. A cookie is a small text file which is sent to your computer or mobile device (referred to in this policy as a "device") by the web server so that a website can remember some information about your browsing activity on the Website.
First party cookies are created by the website that you are visiting. A third-party cookie is frequently used in behavioral advertising and analytics and is created by a domain other than the website you are visiting. Third-party cookies, tags, pixels, beacons and other similar technologies (collectively, "Tags") may be placed on the Website to monitor interaction with advertising content and to target and optimize advertising. Each internet browser has functionality so that you can block both first and third-party cookies and clear your browser's cache. The "help" feature of the menu bar on most browsers will tell you how to stop accepting new cookies, how to receive notification of new cookies, how to disable existing cookies and how to clear your browser's cache. For more information about cookies and how to disable them, you can consult the information at All About Cookies.
Without cookies you may not be able to take full advantage of the Website content and features. Please note that rejecting cookies does not mean that you will no longer see ads when you visit our Site. In the event you opt-out, you will still see non-personalized advertisements on the Website.
The Website collects the following data using a cookie when serving personalized ads:
IP Address
Operating System type
Operating System version
Device Type
Language of the website
Web browser type
Email (in hashed form)
Mediavine Partners (companies listed below with whom Mediavine shares data) may also use this data to link to other end user information the partner has independently collected to deliver targeted advertisements. Mediavine Partners may also separately collect data about end users from other sources, such as advertising IDs or pixels, and link that data to data collected from Mediavine publishers in order to provide interest-based advertising across your online experience, including devices, browsers and apps. This data includes usage data, cookie information, device information, information about interactions between users and advertisements and websites, geolocation data, traffic data, and information about a visitor's referral source to a particular website. Mediavine Partners may also create unique IDs to create audience segments, which are used to provide targeted advertising.
If you would like more information about this practice and to know your choices to opt-in or opt-out of this data collection, please visit National Advertising Initiative opt out page. You may also visit Digital Advertising Alliance website and Network Advertising Initiative website to learn more information about interest-based advertising. You may download the AppChoices app at Digital Advertising Alliance's AppChoices app to opt out in connection with mobile apps, or use the platform controls on your mobile device to opt out.
For specific information about Mediavine Partners, the data each collects and their data collection and privacy policies, please visit Mediavine Partners.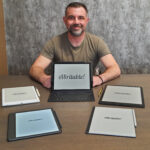 Dan Dutton is passionate about E-ink writing tablets, which bring together the pleasure of writing on paper with the power of digital technology. When he bought his first tablet, he realised that there wasn't a lot of unbiased information available for people that were considering buying an E-ink tablet, and so he built eWritable.