June 7, 2023 – Thoroughly decent (in my opinion) e-ink tablet manufacturer Ratta Supernote has just announced a special $20 discount for military personnel, first responders, and teachers, expanding its commitment to support a wider range of deserving individuals. This offer is an addition to the existing $20 discount already provided to college and university students (although they cannot be combined).
Ratta Supernote has been a pioneer in the industry, producing some of the finest e-ink digital note-taking tablets. This latest initiative is seen as an extension of the company's drive to support those who serve society in essential roles.
Military personnel and their families, first responders, and teachers based in the United States can take advantage of this offer through an automatic verification process set up on the Supernote website. Upon verification, a $20 discount is applied on the purchase of any Supernote E-ink tablet.
For the global community of military personnel, first responders, and teachers, Ratta Supernote has not left you behind. Although the verification process isn't automatic, individuals from countries outside the U.S. are still eligible for the discount. To benefit from this discount, proof of identification must be emailed to Supernote for verification.
With a steadfast dedication to supporting individuals in these essential roles, Ratta Supernote continues to position itself as more than just a tech company. Through such initiatives, it demonstrates an ongoing commitment to appreciating the efforts of the real-life heroes who contribute so much to our communities, both in the United States and around the world.
Please note that this discount can't be combined with other offers or discounts, and terms and conditions apply.
For more details, please visit the Ratta Supernote website or get in touch with their customer service for any questions regarding the verification process.
And, if you're interested, you can check out my Supernote A5 X review here.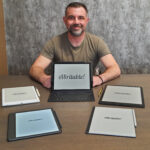 Dan Dutton is passionate about E-ink writing tablets, which bring together the pleasure of writing on paper with the power of digital technology. When he bought his first tablet, he realised that there wasn't a lot of unbiased information available for people that were considering buying an E-ink tablet, and so he built eWritable.