Today reMarkable released version 3.8 of their software, which has some interesting enhancements.
Straight Lines
Echoing a recent enhancement in Boox's software, reMarkable also allows you to draw straight lines in notebooks. By holding the stylus on the page after drawing a freehand line, the software will automatically straighten it.
A nice additional touch is that after the line has straightened, you can drag the stylus to adjust the angle and length of the line. This perhaps makes line-drawing more precise than with a Boox tablet.
However, reMarkable's implementation does not extend to drawing shapes, as is possible with Boox (however you can draw each of the lines of a shape individually).
Checkboxes
Another nice feature is the option to add 'tickable' checkboxes to your notebooks. These are text-based, so require you to be in the text layer to use them. After they've been added, you can tap a checkbox with your finger to mark a task as complete.
One of the most common uses of e-ink tablets is for TODO lists, so it's quite surprising that no other e-ink tablet manufacturer has thought to add this functionality yet (although I do believe that it is something that Supernote are working on, but don't quote me on that!)
Improved Eraser
reMarkable have overhauled the eraser function so that it is more precise and less prone to ghosting.
Selection Tool in Desktop App (Connect Users Only)
Functionality has been added to the desktop app so that you can do an area select within your notebooks to select.
After selecting handwriting/sketches, you can then move, rotate, scale and delete your selection.
Note that this feature is only for the desktop app (Windows or MacOS) and is only available for users that are subscribed to reMarkable's Connect subscription.
Verdict
The last few firmware updates from reMarkable have been quite underwhelming but I have to admit that version 3.8 has added some neat features – nothing game-changing but they are rather nice.
I really like the new line drawing tool, and I think this feature will be very useful for sketching out concepts that require straight lines.
And the checkbox tool is also a nice little addition that I'm sure will get a lot of use by reMarkable users – as I said before, I'm not sure why other manufacturers are yet to implement this handy feature.
I can't say I've noticed a big difference with the eraser, but that is most likely because I don't use my reMarkable all that much and so I'm not familiar with how it behaved before – I can't remember having any difficulty with the original eraser functionality.
And I can't really comment on the selection tool for the desktop app because I don't use it (I don't have a Windows/Mac to install it on).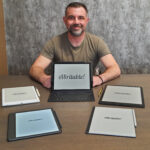 Dan Dutton is passionate about E-ink writing tablets, which bring together the pleasure of writing on paper with the power of digital technology. When he bought his first tablet, he realised that there wasn't a lot of unbiased information available for people that were considering buying an E-ink tablet, and so he built eWritable.