I recently had an issue synchronising between my Boox tablet and the sendtoboox app. Although the files synced, my notes were blank, as shown in the screenshot below:
At first, I thought there may be something wrong with the browser-based viewer, but the PDFs were still blank even after downloading.
It took a bit of playing around, but this is how I fixed it…
1. New version of data
First, ensure New version of data is selected in the sendtoboox app.
2. Check firmware
Next, make sure that your Boox device is using the latest firmware.
You can access this through Settings -> Firmware update.
If you're not running the latest firmware, choose to update it – this may take a few minutes and require a reboot of your tablet.
3. Sync Notepads
Finally, click the synchronise button (shown below) from the Notepads home screen to synchronise all your notepads.
Now, if you refresh the sendtoboox app, your notepads should be working 🙂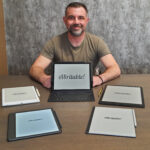 Dan Dutton is passionate about E-ink writing tablets, which bring together the pleasure of writing on paper with the power of digital technology. When he bought his first tablet, he realised that there wasn't a lot of unbiased information available for people that were considering buying an E-ink tablet, and so he built eWritable.