Last updated: September 2023
The Supernote A5 X and the Boox Tab Ultra are two of the most popular e-ink tablets on the market (and are both in my Top 5 recommendations).
But which one is best?
In this article, I will be taking an in-depth look at each of the devices and rating them in a number of different criteria to help buyers decide which one is right for them.
Design & Build
Both the Supernote and the Boox Tab Ultra have more of a 'blocky' feel to their design when compared to other devices, such as the reMarkable 2 and the Kindle Scribe. By this, I mean that the edges run at 90-degree angles to the front and rear panels, making them more analogous to a pad of paper than an electronic tablet. In contrast, the Scribe and reMarkable have smoother contours and more rounded edges.
Although the screen size of both tablets is the same, when laid out side-by-side, the footprints are different. The Supernote is about 1.5cm taller but the Tab Ultra is slightly wider. They both have a similar thickness of around 7mm.
The Tab Ultra has a metallic chassis, which means that the stylus and folio cases can snap to the tablet magnetically (and it provides a very firm hold). The Supernote chassis is plastic and the folio is held in place using a plastic runner/clip, which slides into a groove on the Supernote's rear panel. Again, this provides a strong, albeit more mechanical attachment. The Supernote's stylus slots into a fabric loop on the right side of the folio.
The lack of magnetism on the Supernote means that a folio is very much a necessity to keep the stylus and tablet together.
A folio for the Tab Ultra is also a necessity but for a completely different reason; the built-in camera protrudes from the rear panel by a few centimetres so without a folio, the tablet won't lie flat and will wobble when you write on it. Although I always recommend a folio or cover to protect your e-ink tablet, to me, the camera not being flush with the rear panel is a massive design flaw of the Tab Ultra.
As well as a standard book-type folio, the Tab Ultra also has the option for a keyboard folio, which I will talk about more in the Hardware section.
The Supernote's plastic chassis and minimalistic design mean that it is one of the lightest e-ink tablets in its class, weighing just 375g. In contrast, the Tab Ultra is one of the heaviest 10.3″ tablets, weighing 480g, with more weight being added by the optional keyboard folio. The difference in weight is striking and it is far more comfortable to hold (and carry) the Supernote than the Tab Ultra.
A nice design element of the Supernote is that there is a touch slider on the right bezel. I will discuss this further in a later section but a swipe down with your finger brings up a quick-access menu and a swipe up refreshes the screen to remove any ghosting.
Personally, I much prefer the lightweight minimalistic design of the Supernote, which is easy to carry around and does not have flaws, such as the camera bump.
Design & Build

RATTA SUPERNOTE A5 X

ONYX BOOX TAB ULTRA
Hardware Specs & Features
When it comes to hardware specs, the Tab Ultra is the clear winner.
It has a better CPU (1.8GHz octa-core compared to the Supernote's 1.3GHz quad-core), more RAM (4Gb compared to the Supernote's 2Gb, and more storage capacity (128Gb compared to the Supernote's 32Gb).
In addition, it has a dedicated graphics processor (GPU), frontlight, speakers, microphone, 16Mp camera, MicroSD Card slot and G-sensor (to automatically orientate the screen between landscape and portrait). The Supernote has none of these hardware features.
The Tab Ultra supports an optional keyboard folio (a cover/case with an integrated keyboard), which makes adding typed text to notes or other apps a breeze. The Supernote does support the connection of Bluetooth keyboards but the experience is not as seamless as the Tab Ultra and it suffers from noticeable lag. Both the Supernote and Tab Ultra support WiFi and Bluetooth.
In the Supernote's favour, they use a unique ceramic nib on their pens, which means that they never wear down. They are the only e-ink tablet manufacturer to have implemented this technology – all other manufacturers use softer plastic nibs that need to be replaced every few months. This nib is also finer, which makes mark-making feel more accurate. This precision on the Supernote is also related to lack of a frontlight because it feels as though you are actually writing on the surface of the screen. In contrast, with the Tab ultra, there is a small but noticeable gap between where the pen touches and where the mark is made, almost as if you are writing underneath the screen.
Also, as mentioned in the previous section, the Supernote has a touch slider on the right bezel that brings up a quick-access menu when you slide your finger over it in a downward motion. Because it requires you to slide your finger about 6cm along the bar, there is virtually no chance of accidentally activating, as is the case with buttons, which can be inadvertently pressed. An upward slide does a quick refresh of the screen if you are experiencing ghosting (faint imprints of previous screens). However, ghosting is something that I have very rarely encountered on the Supernote.
Both the Tab Ultra and Supernote have a 10.3″ screen with a resolution of 1404×1872 and 227dpi, however, the Supernote uses e-ink's Mobius Carta technology, which is made from lighter and more flexible plastic, which is potentially less prone to damage. In contrast, the Tab Ultra uses a heavier glass Carta screen.
Overall, the Supernote has some nice hardware innovations, such as the ceramic nib and side touch slider, but the hardware specs of the Tab Ultra mean that, in general, it will have better performance and the additional hardware features mean that the device is more versatile.
Hardware

RATTA SUPERNOTE A5 X

ONYX BOOX TAB ULTRA
Organisation
This section relates to the organisational features of the Supernote and Boox ecosystems. This includes the organisation of documents and notebooks within each proprietary file system, organisational features within notebooks themselves and the ease of transferring files to and from the tablet.
Both the Supernote and Tab Ultra use a hierarchical folder/subfolder system for storing notebooks and files. Folder contents can be sorted by name and date. You can also search files and notebooks based on filename and tagged keywords. On the Supernote, you can also search by filetype and for any documents where you have drawn a five-pointed star (more on this in the note-taking section). On both devices, you can search all your notebooks for text or handwriting.
Both the Supernote and Tab Ultra support linking within notebooks to other notebooks/notebook pages and websites. They also both support tagging handwriting with text keywords (which can be searched). A very useful organisational feature of the Supernote is that you can tag handwriting as a heading, which is then saved in a table of contents – this can make navigation around your notebook very slick. You can also draw a five-pointed star and Supernote will maintain an index of these pages for you. Also on the Supernote, the touch slider can make navigating around your notebooks, documents and apps very swift.
Both the Supernote and Tab Ultra can export notebooks as PDF and PNG. The Supernote can also export as DOCX and TXT files. A great feature of the Tab Ultra is that you can configure an option to automatically export notebooks as PDFs when you exit the app – in contrast, on the Supernote, you have to manually export each time. You also have to manually sync the Supernote with the cloud by pressing the sync button – the Tab Ultra syncs automatically.
The Supernote and Tab Ultra both support integration with their own proprietary clouds, Google Drive, and Dropbox. The Tab Ultra however, supports several more third-party clouds including OneDrive, Evernote and NutStore. In addition, the Tab Ultra can be configured to sync with multiple clouds, whereas the Supernote only supports syncing with one cloud at a time.
Both the Supernote and Tab Ultra support transferring files to the tablet via:
Proprietary clouds (accessed through web browser or Android/iOS apps)
Supported third-party clouds
USB-C cable
LAN sharing
Sharing via special link/QR code (uploaded to respective proprietary clouds)
Email
The Boox proprietary phone apps are no longer available on the Play Store but you can download the APKs from the Internet and install them manually. However, the Boox app (and web browser interface) really aren't that great and with so many other ways to transfer and access your files, you really do not need to use them. The Supernote Partner app is far from perfect but is better than Boox's offering.
Boox does offer a Chrome extension (Send2Boox) which can send webpages directly to your tablet (in PDF format) for reading later. You can also use the camera on the Tab Ultra to take a photograph of a paper document and convert it to text.
The Tab Ultra and Supernote are two of the best e-ink tablets with regard to organisation. They both have a variety of methods to get files to and from the tablet and Boox's cloud synchronisation is the best. However, for me, Supernote's title/keyword/star tagging and intuitive navigation makes it the leader in this category.
Organisation

RATTA SUPERNOTE A5 X

ONYX BOOX TAB ULTRA
Note-taking
Before I delve into the features of each tablet's native note-taking app, I want to talk about the writing experience.
I can't quite put my finger on exactly why, but the tactile feel of writing on the Supernote just feels really pleasing – like writing with a gel pen on a plastic on a plastic sheet. The distance between where the nib of the stylus touches the screen and where the mark is made is very small and there is almost imperceivable latency. Although the screen feels smooth, there is just the right amount of friction when writing that prevents it from feeling slippy. The hard ceramic nib also makes a satisfying tapping noise as you write.
In contrast, the softer nib and glossier screen of the Tab Ultra create a 'slippier' feel. It is not unpleasant, but for me, it does not feel as nice as the Supernote. In addition, there is a subtle but noticeable distance between where the nib of the stylus touches the screen and where the mark is made. On the plus side, the Tab Ultra implements pressure and tilt sensitivity much better than the Supernote, so you do have a bit more control over the weight and style of your strokes when writing/sketching.
The Tab Ultra also has several more brushes to choose from in the native note-taking app (pen, ballpoint pen, pencil, paintbrush and marker). The Supernote just has a ballpoint pen, needlepoint pen and marker.
In addition, the Tab Ultra supports inserting text into notebooks either through the On-Screen Keyboard (OSK), Bluetooth keyboard or keyboard folio. The native note-taking app on the Supernote does not support text input (although Bluetooth keyboards are supported).
Both the Supernote and Tab X apps have a lasso selection tool, which can then be used to move, resize, cut/copy/paste, and rotate handwriting. The Tab Ultra also has the option to flip handwriting 180 degrees horizontally or vertically. I've already mentioned previously that both devices support keyword tagging and the Supernote supports heading-tagging and 'stars'. Both devices also support linking handwriting to other notebooks, specific pages in notebooks and websites. The Supernote also supports selecting and adding handwriting to your calendar. With the Tab Ultra, you can also insert images, attachments and voice recordings into your notebooks, as well as draw lines and shapes, all of which are not possible with Supernote.
Both tablets also have a separate native Word Processing app. The Supernote implementation relies on using the stylus to manipulate text (e.g. drawing a line through text deletes it), whilst the Tab Ultra supports text input using a keyboard. Supernote's implementation saves these documents in the DOCX format, however, the Tab Ultra only exports as a TXT file.
However, because the Tab Ultra runs Android, other Word Processing applications, such as MS Word, can be installed or accessed over the web browser (e.g. Google Docs).
Both the Tab Ultra and Supernote support up to 5 layers, and have several in-built templates to choose from (( occupy the bottom layer). However, it is important to note that layers are only supported on the Supernote in Standard Notebooks…basically, when you create a new notebook on Supernote, you have to choose whether it is Standard or Real-time recognition. Standard notebooks support layers but not handwriting recognition. Conversely, Real-time recognition notebooks support handwriting recognition but not layers. Once the type of notebook is chosen, there is no way to switch if you change your mind. This makes the Supernote's native notebooks feel a little clunky – personally, I always choose real-time recognition because handwriting search is more important to me than layers.
Overall, both e-ink tablets have very good note-taking capabilities. I prefer the writing feel on the Supernote and really love some of the features, such as title-tagging and 'stars', but in terms of versatility, both in the native note-taking app, and the ability to install other note-taking apps, the Tab Ultra wins this category.
Note-taking

RATTA SUPERNOTE A5 X

ONYX BOOX TAB ULTRA
Reading
The Supernote has a pretty decent reading app that can open PDF, EPUB, DOC, DOCX, PNG, JPG, CBZ, FB2, and XPS files. You can also scribble notes on them and annotate them. To annotate, you can draw square brackets around the text, and this will be saved to your reading digest to view later. You can perform a text search on documents and change a few settings, such as font size/type, spacing and margins on EPUBS.
Whilst the Supernote is pretty good for basic reading tasks, Boox devices come pre-installed with Neoreader, which, in my opinion, is one of the best native reading apps for e-ink tablets. It opens more filetypes (PDF, EPUB, MOBI, CBZ, CBR, AZW, AZW3, DJVU, TXT, HTML, RTF, FB2, DOC, PPT, CHM) and has several advanced options, such as text-to-speech, custom dictionaries, and auto page turn. You can also view documents in split-screen mode – so, for example, you can have a document open on the left-hand side of the screen and a notebook open on the right-hand side, so that you can make notes as you read.
For additional reading features, you can install the Kindle app on both the Supernote and the Tab Ultra, however, the Tab Ultra goes one step further because you can install any e-reader available from the Google Play Store.
Overall, both e-ink tablets are good for reading documents but the Tab Ultra (and other Boox devices) have more options because Neoreader is a very comprehensive reader and other e-reader apps can be installed.
Reading

RATTA SUPERNOTE A5 X

ONYX BOOX TAB ULTRA
Versatility
The Boox Tab Ultra and Supernote A5X both have additional capabilities beyond the core functions of reading and note-taking.
The Supernote has a built-in email client so you can read and write emails directly from the tablet. There is also a native calendar/schedule, which can be synced with both Google and Outlook calendars. The calendar also supports handwritten annotations (although these are not synchronised).
I've already mentioned Supernote's Word Processor, which can be used to create and edit DOCX files – it's not really practical for writing long-form documents but is adequate for quick updates and revisions once you learn how to manipulate the text with pen strokes.
The Supernote also has the option to install the Kindle app, and there is a pretty decent web browser pre-installed (but it is hidden).
Although the Supernote has these additional professional productivity apps installed, users are still limited to only using software that the Supernote team release via software updates.
In contrast, the Tab Ultra runs Android 11 with full access to the Google Play Store – this means that you can install virtually any Android app onto the tablet. For example, some of the apps I've installed are the Chrome web browser, Clickup, Kindle, and Audible. However, don't be fooled into thinking any and all Android apps will work well with an e-ink screen – most apps are designed and optimised for LCD displays and may not work as expected on e-ink. Boox's Super Refresh technology does mean that you can configure the screen refresh rate on a per-application basis, which gives you some control over an app's performance on an e-ink screen.
Both the Supernote and the Tab Ultra support screen sharing. Supernote's screen share can be accessed by any device with a web browser but only works on a local network, so screens can't be transmitted over the Internet. Boox's native screen share only works with devices running the Windows operating system, however, with access to the Google Play Store, it may be possible to install a third-party app to provide this functionality. You can take PNG screenshots on both the Boox and Supernote, and the Tab Ultra also supports screen recording (MP4 format).
Overall, both e-ink tablets have extended functionalities beyond reading and note-taking. The Supernote has a limited suite of additional apps that are aimed at professionals (email, scheduling etc.), whilst the Tab Ultra has access to literally millions of apps from the Google Play Store (although some will not work as expected). Along with its additional hardware capabilities (speakers, frontlight, microphone, camera, expandable storage etc.), the Tab Ultra is one of the most versatile e-ink tablets on the market.
Versatility

RATTA SUPERNOTE A5 X

ONYX BOOX TAB ULTRA
Customer Service
Supernote and Boox both have a 30-day return policy on their tablets and have a 1-year warranty.
In my experience, Boox provides good customer support and will work hard to resolve any issues. However, because their support team are not native English speakers, sometimes there can be misunderstandings. Therefore, it is useful to explain the issue in short sentences using plain-and-simple English to ensure that you are understood. You may find that responses are very direct and may be perceived as blunt or even rude – be aware that this is due to the differences in the Chinese culture and language and should not be taken personally. On the whole, I have found Boox support to be helpful and competent.
Whilst Boox provides good customer service, my experience with Supernote is even better – in fact, I would go as far as to say that they provide the best customer experience of all the e-ink tablet manufacturers that I've communicated with. You get the sense that they genuinely care about their products and their customers and they appreciate and value any feedback that they receive. They are also the only manufacturer to have publicly published a roadmap of the software features they plan to implement.
Both Boox and Supernote release regular software updates for their devices to provide additional features and fix bugs. Supernote tends to release more incremental and feature-rich updates throughout the year, whilst Boox tends to release one big update annualy with smaller bug fixes in between.
With regards to product lifecycles, Boox tends to release a new generation of products each year, which means that their devices are on the cutting-edge of technology. Software updates are still provided for older devices for at least three years. In contrast, Supernote tends to take a more sustainable approach, with new products being launched about every four years, which allows them to focus on improving their existing products through software updates. They are very clear about their commitment to the sustainability of their products.
Overall, Boox customer support is good but Supernote customer support is the best.
Customer Service

RATTA SUPERNOTE A5 X

ONYX BOOX TAB ULTRA
Verdict
The Supernote and the Tab Ultra are both excellent e-ink writing tablets, but they serve different markets/use cases.
The Tab Ultra is about as close as you can get to a regular Android tablet/laptop (but with an e-ink screen rather than an OLED/LCD screen). With the release of the colour-screened Tab Ultra C, the gap between E-ink and LCD has become even smaller. The hardware features and open Android operating system means that there is more likelihood of it fitting into your existing workflows. The native reading app and note-taking are both excellent.
The Tab Ultra is for users that want to shift the maximum number of their day-to-day computer-based tasks to the comfort of an e-ink display.
The Supernote is primarily designed for note-taking and the entire note-taking experience (particularly the tactile feel of writing) has been designed to be practical, pleasurable and even zen-like. The reading experience is also good and with the addition of tools such as email, calendars, and basic word Processing, it could be compared to a modern-day Filofax.
The Supernote is for professional knowledge workers (e.g. lawyers, psychologists, entrepreneurs etc) that will primarily use the tablet for writing notes and organising their thoughts but also require access to a few other sources of information, such as their email and schedule.
Because of the versatility of the Supernote and particularly the Tab Ultra, there is a steeper learning curve to becoming familiar with the various features. If you are looking for something simpler, you may wish to consider the Kindle Scribe or the reMarkable 2 which have a more limited feature set but are very good at the core functions (reading on the Scribe and note-taking on the reMarkable).
If you have the budget, you may also consider the Boox Tab X, which has a 13.3″ (A4-sized) screen. The larger screen is great for reading documents (particularly PDFs) and also provides a larger canvas for your writing. Using split-screen mode you can read a document on one half of the screen whilst taking notes on the other half – it's a bit like having two Tab Ultras side-by-side!
Overall Rating

RATTA SUPERNOTE A5 X

ONYX BOOX TAB ULTRA
Side-by-side spec comparison
To search, filter, and compare ALL e-ink writing tablets, check out my comparison table here.
PRODUCT
SUPERNOTE A5 X
BOOX TAB ULTRA
Specs & ratings info

👍 Recommended

👍 Recommended

My Rating
Price (approx)
$525


Limited availability

$500

Manufacturer
Ratta
Onyx Boox
Release year
2020
2022
SCREEN
SUPERNOTE A5 X
BOOX TAB ULTRA
Screen type
Mobius Carta
Carta HD
Screen size
10.3"
10.3"
Screen resolution (B/W)
1404 × 1872
1404 x 1872
Screen density (B/W)
226dpi
227dpi
Colour

⨯

⨯

Screen resolution (Colour)
n/a
n/a
Screen density (Colour)
n/a
n/a
Frontlight

⨯

Wacom compatible
Buy
HARDWARE
SUPERNOTE A5 X
BOOX TAB ULTRA
CPU
1.3 GHz quad-core
1.8 Ghz octa-core
RAM
2Gb
4Gb
Storage
32Gb
128Gb
Battery
3800mAh
6300mAh
Super Refresh

⨯

Keyboard folio

⨯

Speakers

⨯

Microphone

⨯

G-Sensor

⨯

Ceramic Tip

⨯

Bluetooth
Fingerprint scanner

⨯

SD card slot

⨯

Rear camera

⨯

Front camera

⨯

⨯

Waterproof

⨯

⨯

USB-C
Width
178mm
184.5mm
Height
245mm
225mm
Thickness
7.2mm
6.7mm
Weight
375g
480g
Buy
SOFTWARE
SUPERNOTE A5 X
BOOX TAB ULTRA
Operating system
Chauvet (Android-based)
Android 11
Google Play Store

⨯

Kindle support
Handwriting search
Handwriting conversion
Insert shapes

⨯

Insert images

⨯

Split screen

⨯

Custom templates
No. templates
25+
40+
Brush types
Needlepoint, Ink Pen, Marker
Fountain Pen, Paintbrush, Ballpoint Pen, Pencil, Marker
Screen share
ADE support

⨯

⨯

File formats
PDF, EPUB, DOC, DOCX, TXT, CBZ, FB2, XPS
PDF, EPUB, DOC, DOCX, PPT, PPTX, TXT, HTML, RTF, FB2, CBZ, CBR, AZW3, MOBI, PRC, DJVU, CHM, ZIP
File formats (image)
PNG, JPG, WEBP
PNG, JPG, TIFF, BMP
File formats (Audio)
-
WAV, MP3
Buy
BUY
SUPERNOTE A5 X
BOOX TAB ULTRA
Where to buy
Ratta Supernote
Supernote EU (not UK)
Supernote Outlet
eBay AU
eBay CA
eBay DE
eBay ES
eBay FR
eBay IE
eBay IT
eBay UK
eBay US

Boox Euro Shop
Boox Shop
Amazon BE
Amazon FR
Amazon IT
Amazon PL
Amazon UK
eBay AU
eBay CA
eBay DE
eBay ES
eBay FR
eBay IE
eBay IT
eBay UK
eBay US

PRODUCT
SUPERNOTE A5 X
BOOX TAB ULTRA
More Supernote Blog Posts
More Boox Blog Posts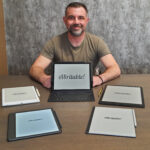 Dan Dutton is passionate about E-ink writing tablets, which bring together the pleasure of writing on paper with the power of digital technology. When he bought his first tablet, he realised that there wasn't a lot of unbiased information available for people that were considering buying an E-ink tablet, and so he built eWritable.