Software update for the Supernote A5 X and the Supernote A6 X.
The popular E-ink note-taking device Supernote has just received a new operating system update that includes some great new features!
With this update, you can now link between notes internally and externally, making it easier to keep all your notes organized.
In addition, Chauvet 2.6.19 now supports more handwriting recognition languages, so you can use the app no matter what language you write in and one-finger page turning makes it even easier to flip through your notes.
Internal and External Linking between Notes
One of the best features of the new Supernote update is the ability to link between notes internally and externally. This means that you can easily organize all your notes in one place and access them quickly and easily.
For students, this feature is great for organizing lecture notes by topic. You can easily create links between different topics to find what you're looking for without manually searching through all your notes.
Professionals will also find this feature useful for keeping track of meeting minutes and linking to relevant projects or files. No matter how you use it, the new linking feature will make it easier to keep your notes organized!
More Handwriting Recognition Languages
The Chauvet 2.6.19 update also supports several more handwriting recognition languages.
This means that no matter what language you write in, Supernote will be able to recognize and index your writing so that you can search for it later.
System default languages are English, Simplified Chinese, Traditional Chinese and Japanese, but additional language packs can be downloaded. Currently supported languages are:
Afrikaans – South Africa
Albanian – Albania
Armenian – Armenia
Azeri – Azerbaijan1
Basque – Spain
Belarusian – Belarus
Bosnian – Bosnia
Bulgarian – Bulgaria
Catalan – Spain
Cebuano – Philippines
Chinese Simplified
Chinese Traditional
Croatian – Croatia
Czech – Czech Republic
Danish – Denmark
Dutch – Netherland
English – Canada
English – Philippines
English – South Africa
English – United Kingdom
English – United States
Estonian – Estonia
Filipino – Philippines
Finnish – Finland
Dutch – Belgium2
French – Canada
French – France
Irish – Ireland3
Galician – Spain
Georgian – Georgia
German – Austria
German – Germany
Greek – Greece
Hungarian – Hungary
Icelandic – Iceland
Indonesian – Indonesia
Italian – Italy
Japanese – Japan
Kazakh – Kazakhstan
Korean – Korea
Latvian – Latvia
Lithuanian – Lithuania
Macedonian – Macedonia
Malagasy – Madagascar
Malay – Malaysia
Mongolian – Mongolia
Norwegian – Norway
Polish – Poland
Portuguese – Brazil
Portuguese – Portugal
Romanian – Romania
Russian – Russia
Serbian (Cyrillic) – Serbia
Serbian (Latin) – Serbia
Slovak – Slovakia
Slovenian – Slovenia
Spanish – Colombia
Spanish – Mexico
Spanish – Spain
Swahili – Tanzania
Swedish – Sweden
Tatar – Russia
Turkish – Turkey
Ukrainian – Ukraine
Vietnamese – Vietnam
One-Finger Page Turning
Another great new feature in the latest Supernote update is one-finger page turning. This makes flipping through your notes even easier to find what you're looking for quickly and easily.
Summary
The new Supernote update includes great new features that make note-taking even easier! With internal and external linking between notes, more handwriting recognition languages supported, and one-finger page-turning, Supernote has demonstrated that they are committed to its software feature roadmap.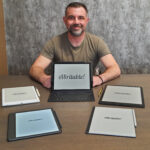 Dan Dutton is passionate about E-ink writing tablets, which bring together the pleasure of writing on paper with the power of digital technology. When he bought his first tablet, he realised that there wasn't a lot of unbiased information available for people that were considering buying an E-ink tablet, and so he built eWritable.