We have some interesting news from the digital note-taking world. Ratta, the well-regarded manufacturer of Supernote e-ink tablets, has recently announced an intriguing new venture, which could potentially provide some value for those seeking their products.
The Concept of Supernote's Open Box Sale
Supernote has introduced an 'Open Box' sale on their website.
In this trial, they are offering products that have been opened and returned, and consequently, can no longer be classified as brand new.
This move presents an opportunity for customers to purchase their devices at potentially lower prices – at the time of writing there was a Supernote A5 X with pen and folio available with more than a $100 discount!
The Condition of 'Open Box' Products
While 'Open Box' implies that these products aren't brand new, it doesn't necessarily indicate a compromised quality.
It's important to note that these products might have minor to moderate cosmetic signs of usage. However, Supernote states that these visual signs will not affect the performance of the devices.
Returns
Instead of the regular 30-day return period, the 'Open Box' items have an extended 45-day return window. This gives customers an extra 15 days to decide if they're satisfied with their purchase.
Geographic Limitations of the Sale
One caveat of this Open Box sale is that it is currently limited to customers based in the United States.
Supernote's rationale for this geographical restriction isn't entirely clear. It remains to be seen whether this initiative will be expanded to include customers outside the US in the future.
Final Thoughts
Supernote's Open Box sale is an experiment that provides an alternative for customers interested in their devices.
While these 'Open Box' items are not brand new, Supernote maintains that their performance remains uncompromised although they may have minor cosmetic signs of use.
Let me know your thoughts on this new venture from Supernote. Are the potential discounts enough to sway you towards purchasing an 'Open Box' Supernote?
Here's the link to the Open Box Sale.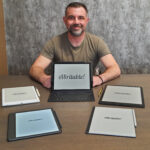 Dan Dutton is passionate about E-ink writing tablets, which bring together the pleasure of writing on paper with the power of digital technology. When he bought his first tablet, he realised that there wasn't a lot of unbiased information available for people that were considering buying an E-ink tablet, and so he built eWritable.