Pros
Fantastic writing/sketching feel
Frontlight
Solid & robust
Great reading software
Handwritten sticky notes
Backed by a major corporation
Cons
Limited note-taking app
Clunky file transfer/conversion process
Uncomfortable to hold for longer periods
Location of power button
Templates are notebook-wide
The Amazon Kindle Scribe is a great e-reading device but the note-taking app lacks many features that are standard on competitor's tablets.
Last updated: September 2023
In this article, I will be reviewing the Amazon Kindle Scribe e-ink tablet. My review is split into seven categories; Design & Build, Hardware, Note-taking, Reading, Organisation, Versatility, and Customer Service.
There's no doubt this is the most feature-rich Kindle on the market, but how does it compare to similar writing tablets from manufacturers such as reMarkable, Supernote and Boox? Surely the powerhouse that is Amazon, with its near-infinite resources, will have produced something that will completely destroy the competition!?
Well, not quite…read on to find out more…
Design & Build
My first impressions of the tablet were that it was good-looking and solidly built.
The plastic screen is flush with the bezel, and it is encased in an aluminium 'tray' which covers the rear and sides of the device. The bezel is thicker on the left (or the right because the screen will auto-rotate if you turn it 180 degrees). On the edge of the side with the thicker bezel are the power button and a USB-C port for charging and file transfer.
However, the premium feel of the metal casing (along with the larger screen size) does have a caveat – it makes the tablet quite heavy. For those that have read my unboxing report, you may remember I was a little concerned that the Scribe's 433 grams may cause some discomfort if it was being held for long periods. Last night, I started to feel the strain in my arm and wrist after holding it for around 20 minutes.
Another issue I had was with the location of the power/sleep button on the left-hand edge. Because this is where I hold the device, there were quite a few occasions where I'd accidentally press the button and knock the tablet into sleep mode, which became a bit frustrating.
The Scribe's Premium Pen is really rather nice.
It's almost cylindrical with a flat edge that snaps magnetically to the tablet's right edge. In my unboxing, I noted how it can sometimes be a little fiddly to attach because it has to be centrally aligned – a little too high or too low, and it doesn't stick. However, after almost 24 hours of using the tablet, I've found that I now snap it to the right place without thinking.
It's fairly well-weighted and has a lovely scratchy feel whilst writing (although that is perhaps more to do with the Scribe's screen than the stylus).
The premium pen also has a spring-loaded eraser at the top end and a highlighter button on the shaft. The button can also be reconfigured as an eraser or to open a sticky note – since this original review, there are now options to configure the button to switch to any of the pen types.
This might just be me (in fact, it must be me because I had the same issue with the LAMY Al-Star pen) but I found that the button on the shaft is positioned exactly where I apply pressure with my fingers whilst writing, which meant there were lots of accidental button pushes that interrupted my flow. This became a little frustrating at first, but I'm beginning to get used to it, and inadvertent presses are becoming less frequent.
Hardware
Compared to other e-ink tablets, particularly those made by Boox, the Kindle Scribe does not have a particularly high hardware specification.
It has (what I believe to be) a 1GHz CPU and 1Gb RAM, along with storage options of either 16Gb, 32Gb, or 64Gb. There's no expandable storage.
However, the Kindle e-reading software is so well developed (and the note-taking software so basic) that it can comfortably handle most operations with no detriment to the performance.
In terms of hardware features, there's a frontlight (with temperature setting) and a G-Sensor for auto-rotation. It also supports audio via Bluetooth headphones.
The Scribe is currently the only A5-sized (around 10″) tablet that has a screen density of 300dpi. This makes it very crisp and sharp and great for reading. NOte: Since the original review, more tablets have been released with 300ppi, including the Boox Tab Ultra C and Bigme Inknote Color+.
Organisation
Transferring files to and from the Kindle Scribe can be a bit of a pain. Unlike its peers, there's no integration with Google Drive, Dropbox, or other third-party clouds. And all of your files must be processed by Amazon before showing up in the Kindle app.
This means that you either have to email your files to your unique Kindle address or use the SendtoKindle browser app or Chrome extension. It is possible to transfer files directly to the Kindle over USB-C, however, this method prevents Amazon from performing their 'processing' and sometimes results in things not working as expected. For example, if you transfer a PDF over USB-C, you are unable to make handwritten notes on it.
There are also maximum limits of file sizes that can be sent (50Mb via email and 200Mb via SendtoKindle) and a short waiting period whilst Amazon 'process' the files.
Notebooks can be organised into hierarchical folders and searched by file/folder name, however there is no option to categorise notebooks with tags or add to favourites.
Books and documents in your Kindle library cannot be organised with folders, however they can be added to collections, which is essentially grouping documents with custom tags.
Notebooks are accessible from other devices that have the Kindle app installed, however, handwritten sticky notes and scribbled-on PDFs are only accessible on the Scribe itself (see below). Notebooks can also be shared via email as either a PDF attachment or a TXT attachment (following handwriting-to-text conversion).
All-in-all, it is a bit of a convoluted system and other e-ink tablets provide simpler options for getting files to and from your tablet and organising your documents. So, in this regard, the Scribe is quite primitive.
Note-taking
There are three ways to make handwritten notes on the Kindle Scribe; dedicated notebooks, PDF annotation and 'sticky notes' or 'post-its' embedded into Kindle books.
The notebook app has a very basic set of tools. You can select a pen or highlighter, both of which have five options for stroke thickness. There is an eraser, and there are undo and redo buttons.
And that's it!
You can't insert links or images, draw lines or shapes, select objects for moving or resizing, convert your handwriting into text, or any other features provided by competing products.
NOTE: Since this review, Amazon have release a number of software features, which have included additional note-taking features (see below).
The first update for the Kindle Scribe introduced more pen tools; the pencil, fountain pen, and marker.
There's a nice set of templates that come built into the notebook app (lined, grid, dots, checklist, schedule etc.), but I've not been able to find any way to add my own custom templates. An annoyance with the template system is that they are set for the whole notebook. If you change the template on one page, it changes it for every other page in the notebook!
On the plus side, the tactile writing experience is very nice indeed – I'd go as far to say one of the best on the market. There's indiscernible latency and just the right amount of friction/scratchiness to make it feel pretty close to real paper. In a recent update, Amazon also introduced pressure and tilt sensitivity for the pencil tool.
Reading
Apart from the heaviness of the tablet, and the location of the power button which I frequently inadvertently press, the reading experience is terrific.
The 300dpi screen looks crisp and sharp and is very easy on the eyes. There are controls from the pull-down menu to change the brightness and temperature of the screen so that books can still be read in dim or dark conditions, and an option to automatically control the brightness based on the ambient light
And, of course, the Kindle app is one of the best e-readers available and provides easy access to your Kindle and Audible libraries.
If you open a PDF in the Kindle app then you can scribble notes on it, and these annotations will be saved on the Kindle Scribe. However, if you go to open the same PDF through the Kindle app on another device, the annotations will be missing. If you want to share your annotations with other devices or people, you will have to export the PDF via the email sharing feature.
NOTE: PDF annotation only seems to work when you transfer them to the device using email or the SendToKindle app (which has a file size limit of 200Mb). If files are sideloaded via the USB-C cable, they can not be annotated.
You can also make notes in other Kindle books, but rather than scribbling directly onto the document, you insert sticky notes within the text. These notes can be text-based or handwritten, however, like PDF scribbles, any handwritten notes will not be accessible through the Kindle app on other devices. So far, I've been unable to find any way to access handwritten sticky notes from anywhere other than the Kindle Scribe – hopefully, that will change in future.
You can find a more in-depth discussion of Kindle's e-reading software here.
Versatility
Other than the core e-ink tablet functions of reading and writing, the Amazon Kindle Scribe cannot be used for much else. The operating system is closed, so additional apps cannot be installed.
Under the More menu option is a web browser, but it is absolutely awful! It's simply unusable, and Amazon would have been better off just not having a menu option for it because it is dreadful and only worsens the experience of using the device – I think I would have been slightly more impressed with the Scribe if I hadn't even tried to use the browser!
When a webpage is loaded, it is zoomed out too far to read clearly, so you try to pinch and zoom, and it goes too close and then zooms out too far again, whilst constantly refreshing the screen. Some websites I went to were unreadable because the browser was using some dodgy fonts.
I appreciate that e-ink devices are not really designed for web browsing (although the Boox Tab Ultra does a pretty good job of it) but how this abomination got through quality control is an absolute mystery to me!
Final verdict
The Amazon Kindle Scribe is one of the few e-ink writing tablets from which I can earn affiliate commissions if someone clicks on the link on my website and makes a purchase. So I was hoping I could promote this device to the moon and earn some cash to buy my next review unit.
However, in the interests of my own and eWritable's integrity, I have to say that there are currently better products on the market, such as the Supernote A5 X and Boox's Tab Ultra and Tab X.
That's not to say the Scribe is bad – it is my favourite device for reading academic books and making notes as I read – but in my opinion, it's just not the best e-ink tablet on the market. The Scribe does have two things going for it that no other competing product has.
Firstly, it has 300dpi on a 10″ screen (other 10″ devices have 227dpi). Whilst this may seem a great enhancement, I struggled at first to discern the difference, even when I had two tablets side-by-side. However, the more I have used the Scribe, the more I have come to appreciate the quality of the screen. NOTE: As I mentioned earlier, since the time of writing, other manufacturers have released 10″ tablets with 300dpi.
Secondly, the Scribe can embed handwritten sticky notes into Kindle books – whilst sticky notes are available on some other e-ink tablets, they are limited to text input only (using the on-screen keyboard). Although this feature is pretty neat, handwritten notes are only available on your Kindle Scribe. So, if I access my Kindle Library from my phone or laptop, I won't be able to view any handwritten notes I've made. Hopefully, this will change in the next update to the Kindle app.
As an e-reader, the Scribe is brilliant, but unless you need the 10.2″ screen, you'd probably be better off getting a smaller, lighter Kindle without the note-taking functionality.
If note-taking is important to you, there are far more competent products on the market from Boox, Supernote, and others. These devices have a wider variety of features, such as handwriting search, layers, custom templates, shape/line drawing, and many other things that the Scribe currently does not do. You can even install the Kindle app on Boox and Supernote devices to get the same reading experience, albeit without the handwritten sticky notes.
That being said, the above manufacturers have been in the e-ink writing tablet market for several years and have released several iterations of their software.
Overall, the Kindle Scribe is currently let down by the software. I am hopeful Amazon will provide regular updates to add more functionality over the coming months and get up to speed with the competition.
It feels to me that Amazon has rushed out a fairly decent tablet with unfinished software in the run-up to Xmas, intending to gauge customer reaction and then push new features and functionality during 2023. At least, I hope this is the case because right now, in terms of note-taking features, the Amazon Kindle Scribe is far inferior to other tablets on the market.
NOTE 1: A week or so after my initial review, I reassessed my opinions of it.
NOTE 2: Although Amazon have released several updates to improve the note-taking functionality of the Kindle Scribe, it is still a few iterations behind the top competition. When it was first released, note-taking was very poor. Now, it is okay, but not great, and I have updated my ratings to reflect this.
Click here to check prices for the Kindle Scribe (goes to the Amazon Store)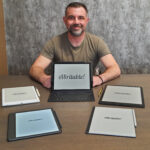 Dan Dutton is passionate about E-ink writing tablets, which bring together the pleasure of writing on paper with the power of digital technology. When he bought his first tablet, he realised that there wasn't a lot of unbiased information available for people that were considering buying an E-ink tablet, and so he built eWritable.