This is an objective information page for the Meebook P78 Pro e-ink tablet, with details of hardware and software specs, features, and capabilities.

My subjective review can be found here.
DATASHEET
PRODUCT
MEEBOOK P78 PRO
Specs & ratings info

Okay

My Rating
Price (approx)
$330

Manufacturer
Meebook
Release year
2022
SCREEN
MEEBOOK P78 PRO
Screen type
Carta HD
Screen size
7.8"
Screen resolution (B/W)
1404 x 1872
Screen density (B/W)
300dpi
Colour

⨯

Screen resolution (Colour)
n/a
Screen density (Colour)
n/a
Frontlight
Wacom compatible

⨯

Buy
HARDWARE
MEEBOOK P78 PRO
CPU
1.8 GHz quad-core
RAM
3Gb
Storage
32Gb
Battery
3200mAh
Super Refresh

⨯

Keyboard folio

⨯

Speakers
Microphone
G-Sensor

⨯

Ceramic Tip

⨯

Bluetooth
Fingerprint scanner

⨯

SD card slot
Rear camera

⨯

Front camera

⨯

Waterproof

⨯

USB-C
Width
138mm
Height
197.2mm
Thickness
8mm
Weight
267g
Buy
SOFTWARE
MEEBOOK P78 PRO
Operating system
Android 11
Google Play Store
Kindle support
Handwriting search

⨯

Handwriting conversion

⨯

Insert shapes

⨯

Insert images
Split screen

⨯

Custom templates
No. templates
20+
Brush types
Fountain Pen, Ballpoint Pen, Pencil, Marker
Screen share
ADE support

⨯

File formats
PDF, EPUB, DOC, DOCX, TXT, HTML, FB2, CBR, CBZ, MOBI, PRC, DJVU, RTF, PRC
File formats (image)
PNG, JPG, GIF, BMP
File formats (Audio)
WAV, MP3
Buy
PRODUCT
MEEBOOK P78 PRO
BEST FOR…?
Anyone looking for an inexpensive Android e-reader with basic note-taking capabilities.
HARDWARE
1.8GHz quad-core CPU and 3GB RAM
7.8″ (A6-sized) screen with resolution of 1404×1872 (300dpi)
32 GB of local storage space
3200mAh Internal battery
Frontlight (both warm and cold light can be adjusted)
Micro-SD card slot for extra storage
Wifi and Bluetooth connectivity
Integrated speakers and microphone
USB-C for charging and additional hardware expansion via an OTG connector (Flash drive etc.)
Capacitive (touch-sensitive) button on bottom bevel that serves as a 'Back' button
STYLUS
The Meebook Active Capacitive Pen is NOT included with the tablet – it must be bought separately
The Meebook Pen has two buttons on the shaft for stroke erasing and selection erasing
Neither the Meebook tablet nor the pen is magnetic, so the pen cannot attach to the tablet magnetically
The Meebook pen has a hard nib, which does not appear to wear down or need replacing
The Meebook Pen requires a single AAAA (Quadruple A) battery, which is included
The Meebook uses Active Capacitive technology for writing
The stylus supports some pressure sensitivity
The Meebook Pen does not use Wacom EMR technology, so other Wacom-compatible pens cannot be used.
Similarly, the Meebook Pen cannot be used with other e-ink tablets
OPERATING SYSTEM
Android 11
Basic Android interface with tabs at the bottom for 'Notepad' (your notebooks), 'Read' (your book library), and 'Apps' (installed apps)
Top toolbar has icons for Home, Back, Screen refresh, Frontlight, Wifi, Battery, Time, and Task switcher.
A swipe down from the top brings up several additional settings, including the option to change the screen refresh rate to A2 mode, which provides a better experience for some applications (e.g web browsing)
Native apps that are built into the O/S are:

Notepad – Digital notetaking app
MEE OS Reader – Reading and annotation app

Full access to the Google Play store, so any Android app can be installed.
Performance of Android apps can be variable because most will not have been optimised for the lower refresh rates of e-ink screens
FILE TRANSFERS
Notebooks can be exported as PDF, PNG or HTML file formats
Notebooks on the local Meebook tablet, to the Youdao cloud or to another device via a QR code
The Meebook P78 Pro has support for Google Drive, Baidu and Dropbox cloud drives – this means files can be copied between the local system and the cloud (however there is no native method of file synchronisation between the two)
As there is access to the Google Play Store, there are also options to connect to other clouds using third-party apps.
Files can be transferred to and from the Meebook over local WiFi via the tablet's in-built web server.
Files can be transferred to and from the Meebook via a USB cable
Files can be transferred to and from the Meebook via the MicroSD card slot
READING & ANNOTATING
MEE OS Reader is Meebook's native reading and annotation app
MEE OS Reader can be used to open and annotate several file formats including PDF, EPUB, MOBI, DJVU, CBR, CBZ, TXT, DOC, HTML, FB2, RTF and PRC
Meebook does not have native support for DRM-protected files, however, you can download an alternative e-reader from the Google Play Store (e.g. Kindle, Kobo etc.)
However, third-party reading apps do not support handwritten annotation
Handwritten annotations can be saved in several file formats for viewing on your Meebook, however, only annotations using the PDF file format can be saved/exported for viewing on other devices
The Meebook P78 Pro also supports opening MP3 files with their audio player – other audio apps (such as Audible) can also be installed
The Meebook P78 Pro supports split-screen view so, for example, you can have a book on the left and a notepad on the right
DIGITAL NOTE-TAKING
Notebooks are stored in a flat structure with no folder/subfolder hierarchy (although you can search for notebooks)
Meebook Notepad is the native note-taking app
Notes are organised using multi-page notepads. Notepads can be organised with folders.
Brushes include Fountain Pen, Ballpoint Pen, Pencil, and Highlighter. There is also an eraser.
There are also tools to draw straight lines, rectangles, circles, and triangles
The lasso selection tool allows elements (such as handwriting and shapes) to be moved, resized, and copied
There is no layer support, but there is a selection of 20 templates to choose from, including blank page, lined, squared, and todo list.
Typed text and images can be inserted into notes
There is no handwriting recognition
CUSTOMER SERVICE
The Meebook brand was created by the Chinese company HAOQING Technology Co Ltd
Haoqing was formed by the executives of another Chinese company (Boyue) that went out of business – the Meebook is based on the Boyue Likebook
Meebook's customer support is very difficult to get hold of (they don't even have much of a website)
It is difficult to get support if there are any hardware defects (it will usually be a return to the reseller)
Meebook does not release regular firmware updates
BUYING OPTIONS
The only online presence of Meebook is haoqingtech.com and their Facebook page (facebook.com/BoyueLikebook)
There are several distributors of the Meebook P78, however, the best bet is usually AMAZON because of their 30-day return policy
MEEBOOK P78 PRO BLOG POSTS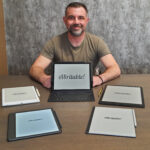 Dan Dutton is passionate about E-ink writing tablets, which bring together the pleasure of writing on paper with the power of digital technology. When he bought his first tablet, he realised that there wasn't a lot of unbiased information available for people that were considering buying an E-ink tablet, and so he built eWritable.