This is an objective information page for the Mobiscribe Origin e-ink tablet, with details of hardware and software specs, features, and capabilities.

My subjective review can be found here.
DATASHEET
PRODUCT
MOBISCRIBE ORIGIN
Specs & ratings info

Not yet rated

My Rating
Price (approx)
$240


Limited availability

Manufacturer
Mobiscribe
Release year
2021
SCREEN
MOBISCRIBE ORIGIN
Screen type
Carta ?
Screen size
6.8"
Screen resolution (B/W)
1080 x 1440
Screen density (B/W)
265dpi
Colour

⨯

Screen resolution (Colour)
n/a
Screen density (Colour)
n/a
Frontlight
Wacom compatible
Buy
HARDWARE
MOBISCRIBE ORIGIN
CPU
1.8 GHz quad-core
RAM
2Gb
Storage
32Gb
Battery
2050mAh
Super Refresh

⨯

Keyboard folio

⨯

Speakers

⨯

Microphone

⨯

G-Sensor

⨯

Ceramic Tip

⨯

Bluetooth

⨯

Fingerprint scanner

⨯

SD card slot
Rear camera

⨯

Front camera

⨯

Waterproof

⨯

USB-C
Width
132mm
Height
173mm
Thickness
9.65mm
Weight
228g
Buy
SOFTWARE
MOBISCRIBE ORIGIN
Operating system
Android 8.1
Google Play Store

⨯

Kindle support
Handwriting search
Handwriting conversion
Insert shapes
Insert images
Split screen

⨯

Custom templates
No. templates
50+
Brush types
Pencil, Fountain Pen, Paintbrush
Screen share
ADE support

⨯

File formats
MOBI, PDF, EPUB, TXT
File formats (image)
PDF, EPUB, TXT, FB2, AZW3, MOBI, PRC
File formats (Audio)
PNG, JPG
Buy
PRODUCT
MOBISCRIBE ORIGIN
BEST FOR…?
Anyone looking for a small and very inexpensive e-ink tablet.
HARDWARE
1.8 GHz quad-core CPU and 2GB RAM
6.8″ (<A6-sized) screen with a resolution of 1440×1080 (227dpi)
32 GB of local storage space
Wifi connectivity
MicroSD card slot
2050mAh Internal battery
USB-C for charging and file transfer
Frontlight (both warm and cold light can be adjusted)
STYLUS
Included with the tablet is a proprietary Mobiscribe stylus.
Three replacement tips and a tip remover are included.
The stylus requires tips to be changed (rate depends upon usage).
The stylus does not have batteries or need charging.
The stylus has an eraser on the top.
The device allows for 4,096 levels of pressure.
Other Wacom-compatible styluses can be used.
OPERATING SYSTEM
Android 8.1
The Google Play store is not supported; however, APK files can be installed (e.g. using APKPure), and some additional apps are available in the MobiStore (including Kindle)
The Home screen display shows your recent files, and there are buttons for your ebooks and notebooks – these buttons can be customized.
Primary native apps that are built into the O/S are:

Notes – Digital notetaking app
Books – Reading and annotation app
Calendar – Standard app

Other pre-installed apps:

Files – a file explorer for the device featuring a folder structure.
Images – image viewer for files imported onto the device.
MobiStore – featuring reading apps such as Kobo and Kindle, a small selection of tools including Dropbox, and 10 downloadable classic novels.
FILE TRANSFERS
There is native support for backing up notebooks to Dropbox, Evernote, and the proprietary MobiCloud services.
Files may be imported via Dropbox or Evernote.
As there is access to the Google Play Store, there are also options to synchronize with other cloud services using third-party apps.
Digital notepads can be exported as PDFs. Single pages can be exported as a PNG files.
Files can be transferred to and from the Mobiscribe Origin device via a USB cable.
Notebook files can be shared via e-mail as PDF or PNG files.
READING & ANNOTATING
Books is the native reading and annotation app.
Books can read MOBI, PDF, EPUB, and TXT formats.
Books does not have native support for DRM-protected files, however, you may be able to download an alternative e-reader from the Google Play Store.
There does not appear to be a way to export annotations outside of the device.
Kobo and Kindle apps can be installed
DIGITAL NOTE-TAKING
Notes is the native note-taking app.
Notes are organized using multi-page notepads. Notepads can be organized with folders.
Notes can be formatted in either portrait or landscape orientations.
Brushes include ballpoint pen, pencil, mechanical pencil, fountain pen, brush, and highlighter. There is also an eraser. Most brushes include 6 Eink greyscale colors and there are 15 options for line thickness.
There are 4 different shapes which can be inserted into a note such as line, square, circle, and triangle.
Multiple layers (5 in all) are supported. Various templates are included, which are effectively the bottom layer.
Various elements can be inserted into notes, including text, images, tables, and a hyperlink within or between notebooks.
Handwriting can be converted into text and searched via OCR technology.
Notes can be exported as PDF or PNG files.
CUSTOMER SERVICE
Mobiscribe products are supplied with a 1-year warranty that covers materials and workmanship.
Mobiscribe releases updates for their firmware.
Mobiscribe is a company headquartered in the United States (San Jose, California) with a subsidiary in Germany.
BUYING OPTIONS
The official Mobiscribe website is MOBISCRIBE.COM
The return policy is 30-days and requires the buyer to pay for shipping. Opened items will be charged a minimum 15% restocking fee.
Mobiscribe devices can be purchased from other vendors, such as Amazon, where other return policies and procedures will apply.
MOBISCRIBE ORIGIN BLOG POSTS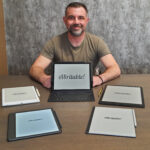 Dan Dutton is passionate about E-ink writing tablets, which bring together the pleasure of writing on paper with the power of digital technology. When he bought his first tablet, he realised that there wasn't a lot of unbiased information available for people that were considering buying an E-ink tablet, and so he built eWritable.