Pros
Great hardware specs
Very versatile
Sophisticated native reading & note-taking apps
Pleasant writing feel
Handwriting search/conversion
Google Play Store
Frontlight
Audio (speakers and microphone)
Fingerprint Scanner
Cons
Expensive
Steeper learning curve
Variable performance of Android apps
Limited availability
The Boox Note 5 has a solid hardware spec, with some awesome native apps and the option to extend functionality by installing apps from the Google Play Store. However, the Boox Note Air2+ trades the fingerprint scanner for a bigger battery and g-sensor. It also costs less and is more widely available, so would be a better choice for most users.
Last updated: September 2023
The Boox Note 5 was released at around the same time as the Boox Note Air2+, has a very similar spec and uses the same software.
Therefore, to avoid duplication, please check out my full review of the Note Air2+ because 99% of the information also applies to the Note 5.
There are a few small differences (which are discussed in detail here) but, essentially, the Note 5 has a smaller capacity battery, uses a lighter and more flexible Mobius Carta plastic screen (in contrast to the glass screen of the Note Air2+) and has a fingerprint scanner but no g-sensor.
There are also buying differences…
The Note Air2+ is one of Boox's flagship products and is more readily available through Boox's distribution channels. Whilst the Note Air2+ is readily available from several outlets, you may have a hard time locating a Note 5 for sale.
In addition, the Note 5 is (at the time of writing) about $100 more expensive than the Note Air2+.
So, I would argue that although the Note 5 is a fairly decent tablet, unless having a fingerprint scanner is a deal-breaker for you, the Note Air2+ would be a more prudent choice.
Click here to buy/check prices for the Boox Note Air2+ (goes to Boox Store/Amazon).
Click here to buy/check prices for the Boox Note 5 (goes to Boox Store).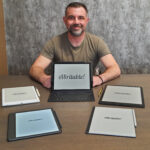 Dan Dutton is passionate about E-ink writing tablets, which bring together the pleasure of writing on paper with the power of digital technology. When he bought his first tablet, he realised that there wasn't a lot of unbiased information available for people that were considering buying an E-ink tablet, and so he built eWritable.