This is an objective information page for the Boox Tab Ultra e-ink tablet, with details of hardware and software specs, features, and capabilities.

My subjective review can be found here.

The Tab Ultra is currently on my Top 5 Best E-ink Tablet List
DATASHEET
PRODUCT
BOOX TAB ULTRA
Specs & ratings info

👍 Recommended

My Rating
Price (approx)
$500

Manufacturer
Onyx Boox
Release year
2022
SCREEN
BOOX TAB ULTRA
Screen type
Carta HD
Screen size
10.3"
Screen resolution (B/W)
1404 x 1872
Screen density (B/W)
227dpi
Colour

⨯

Screen resolution (Colour)
n/a
Screen density (Colour)
n/a
Frontlight
Wacom compatible
Buy
HARDWARE
BOOX TAB ULTRA
CPU
1.8 Ghz octa-core
RAM
4Gb
Storage
128Gb
Battery
6300mAh
Super Refresh
Keyboard folio
Speakers
Microphone
G-Sensor
Ceramic Tip

⨯

Bluetooth
Fingerprint scanner
SD card slot
Rear camera
Front camera

⨯

Waterproof

⨯

USB-C
Width
184.5mm
Height
225mm
Thickness
6.7mm
Weight
480g
Buy
SOFTWARE
BOOX TAB ULTRA
Operating system
Android 11
Google Play Store
Kindle support
Handwriting search
Handwriting conversion
Insert shapes
Insert images
Split screen
Custom templates
No. templates
40+
Brush types
Fountain Pen, Paintbrush, Ballpoint Pen, Pencil, Marker
Screen share
ADE support

⨯

File formats
PDF, EPUB, DOC, DOCX, PPT, PPTX, TXT, HTML, RTF, FB2, CBZ, CBR, AZW3, MOBI, PRC, DJVU, CHM, ZIP
File formats (image)
PNG, JPG, TIFF, BMP
File formats (Audio)
WAV, MP3
Buy
PRODUCT
BOOX TAB ULTRA
BEST FOR…?
Anyone wanting to take advantage of cutting-edge features and technology (such as Super Refresh, keyboard support and the OCR camera) and intends to use it for more than simply reading and note-taking.
HARDWARE
Qualcomm 1.8GHz CPU and 4GB RAM
Onboard GPU and Boox Super-Refresh (more comfortable for tasks that were previously unusable on e-ink tablets such as web browsing and video)
10.3″ (A5-sized) screen with monochrome resolution of 1404×1872 (227dpi)
128 GB of local storage space
6300mAh Internal battery
Frontlight (both warm and cold light can be adjusted)
Two rear-facing speakers and an in-built microphone
Wifi and Bluetooth connectivity
USB-C for charging and additional hardware expansion via an OTG connector (Flash drive etc.)
Micro-SD card slot
16Mp rear-facing camera
G-sensor (for auto-rotation)
Magnetic keyboard cover (sold separately)
Fingerprint scanner
STYLUS
Included with the tablet is the Boox Pen2 Pro
Boox Pen2 Pro has an eraser at the top
Boox Pen2 Pro is magnetic and can snap to the Tab Ultra
Boox Pen2 Pro requires tips to be changed (around once every 6 months, depending on usage)
Boox Pen2 Pro does not have batteries or need charging
Other Wacom-compatible styluses can be used
OPERATING SYSTEM
Android 11.0
The user interface has been redesigned to make the Boox Tab product line (Boox Tab Ultra C, Boox Tab X, Boox Tab Mini C etc.) more customizable than previous generations of Boox tablets
The Home screen supports the addition of buttons and widgets (like a regular Android phone/tablet)
A swipe down from the top of the screen brings up the Control Center, which includes options for frontlight adjustment (warm and cold), screen refresh, screenshare, screenshot, screen recording, page orientation and split screen
A swipe up from the bottom brings up the E-ink Center for configuring the refresh mode
Native apps that are built into the O/S are:

Boox Notes – Digital note-taking app
Boox Neo Reader – Reading and annotation app

Other pre-installed apps include:

Boox Drop – for pushing files to Boox devices.

Calendar Memo – tracks the notes and documents you accessed day-by-day

Gallery – view and open local image files
Music – view and open local audio files

Neo Browser – Boox's Internet browser
Push read – RSS feed reader
Recorder – Record voice and other audio

Full access to the Google Play store, so any Android app can be installed.
Performance of Android apps can be variable because most will not have been optimised for the lower refresh rates of e-ink screens
However, the onboard GPU, coupled with Boox's proprietary Super Refresh technology on the Boox Tab product line does mitigate this to some extent
The drawback of having an onboard GPU is that it uses more power than less versatile tablets
Screen refresh rate can be configured on a 'per-application' basis – so, for example, you can set a lower refresh rate for reading ebooks and a faster refresh rate for browsing websites
FILE TRANSFERS
There is native support for synchronising notebooks and files with Boox Cloud, Dropbox, Google Drive, Microsoft OneDrive, Baidu Cloud, Nutstore, and other WebDAV-compatible cloud services.
Notebooks are exported as PDFs.
You can also browse cloud drives from the tablet
In addition, notebooks only (not documents) can be synchronised with Microsoft OneNote, Evernote, and Youdao Cloud Note.
As there is access to the Google Play Store, there may also be options to synchronise with other clouds using third-party apps.
Notebooks can be manually exported as Bitmap or Vector PDFs, or in Boox's proprietary .note file format. Single pages can be exported as a PNG.
Notebooks can also be manually exported directly to third-party apps (e.g. GMail, Google Keep etc.) that are installed on the tablet via Android's 'share' functionality.
There is also an option to manually share notebooks on Boox's cloud server which can be viewed on other devices using a QR code (link expires after 24 hours).
Documents, books and webpages can be pushed to your Boox device using the SendtoBoox website and Chrome extension. Files can also be transferred from the Boox device via this method.
Files can be transferred to and from a Boox device over local WiFi and Bluetooth.
Files can be transferred to and from a Boox device via a USB cable (this includes flash drives and SD card readers via an OTG cable).
Digital copies of paper documents can be captured and converted to text using the integrated 16Mp camera
READING & ANNOTATING
Boox Neo Reader is the native reading and annotation app
Boox Neo Reader can be used to open and annotate a large number of file formats including PDF and EPUB.
Boox does not have native support for DRM-protected files, however, you may be able to download an alternative e-reader from the Google Play Store.
Boox Neo Reader has a lot of configuration options for layout, font size, contrast etc.
Annotation can be handwritten directly onto the file. There is also support for text highlights, and text-based sticky notes attached to a text highlight
Handwritten annotations can be saved for viewing on your Boox device, however, only annotations in the PDF file format will embed the handwriting so that it can be exported for viewing on other devices
Boox Neo Reader supports custom dictionaries and text search
Boox Neo Reader support text-to-speech (TTS)
With access to the Google Play Store, other e-reading software can be installed, such as Kindle and Kobo, however these apps do not support annotation
The Boox Tab Ultra supports opening WAV and MP3 files with their audio player
The Boox Tab Ultra supports split-screen view so, for example, you can have an open book on the left and a notebook on the right to take notes as you read
Paper documents can be scanned into the tablet and the text extracted via OCR
Boox Neo Reader also supports extracting text from documents via OCR
DIGITAL NOTE-TAKING
Boox Notes is the native note-taking app
Notes are organised using multi-page notebooks (called notepads by Boox).
Notebooks can be organised with folders.
Brushes include fountain pen, ballpoint pen, pencil, paintbrush and marker. There are 16 colours to choose from (which will be displayed as various shades of grey on the Tab Ultra's monochrome screen) and line width can be set between 1 and 20.
Pressure sensitivity is supported with the fountain pen, pencil and paintbrush tools.
There is also an eraser and undo/redo buttons
The lasso-select tool supports moving, copying, resizing, rotating, and flipping (180 degrees) handwriting. You can also add 'tags' and links to handwriting and change the colour.
Various shape and line drawing tools are included.
Notebook pages can be moved and copied within and between notebooks
Multiple layers are supported.
Over 40 templates are included (which are effectively an uneditable bottom layer) and you can add custom templates
Various elements can be inserted into notes, including text, voice recordings, images, file attachments, internal links and links to webpages.
Handwriting can be converted into text and then inserted into the note or copied/pasted elsewhere.
Handwriting search is also supported.
CUSTOMER SERVICE
Boox products are supplied with a 1-year warranty that covers any hardware defects (not caused by the customer)
Boox releases regular firmware updates for their products
Boox is a Chinese company whose support team are not native English speakers, so some patience may be required.
BUYING OPTIONS
The official Boox website is BOOX.COM, and their official store is SHOP.BOOX.COM
Boox do not have an Amazon Store in Canada, but the authorised reseller E-READER.CA has very good reviews
When buying from the official Boox Store, returns must be sent to one of the Boox distribution centres (US, Germany or Hong Kong), and the customer must pay return shipping costs and customs tariffs. There may also be a restocking fee.
The returns policy is often quicker, cheaper and simpler when buying from Amazon (usually a 30-day return to an Amazon warehouse in the customer's country for a full refund or replacement)
However, the official Boox Store often has slightly better deals, such as special offers or free/discounted cases with the purchase of a tablet
There is usually an additional cost for the keyboard folio or regular folio.
ONYXBOOX.COM is NOT an official Boox store (although they are an authorised US reseller)
BOOX TAB ULTRA BLOG POSTS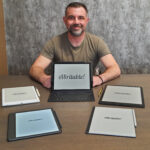 Dan Dutton is passionate about E-ink writing tablets, which bring together the pleasure of writing on paper with the power of digital technology. When he bought his first tablet, he realised that there wasn't a lot of unbiased information available for people that were considering buying an E-ink tablet, and so he built eWritable.