This is an objective information page for the Supernote A5X e-ink tablet, with details of hardware and software specs, features, and capabilities.

My subjective review can be found here.

The Supernote A5X is currently on my Top 5 Best E-ink Tablet List
DATASHEET
PRODUCT
SUPERNOTE A5 X
Specs & ratings info

👍 Recommended

My Rating
Price (approx)
$525


Limited availability

Manufacturer
Ratta
Release year
2020
SCREEN
SUPERNOTE A5 X
Screen type
Mobius Carta
Screen size
10.3"
Screen resolution (B/W)
1404 × 1872
Screen density (B/W)
226dpi
Colour

⨯

Screen resolution (Colour)
n/a
Screen density (Colour)
n/a
Frontlight

⨯

Wacom compatible
Buy
HARDWARE
SUPERNOTE A5 X
CPU
1.3 GHz quad-core
RAM
2Gb
Storage
32Gb
Battery
3800mAh
Super Refresh

⨯

Keyboard folio

⨯

Speakers

⨯

Microphone

⨯

G-Sensor

⨯

Ceramic Tip
Bluetooth
Fingerprint scanner

⨯

SD card slot

⨯

Rear camera

⨯

Front camera

⨯

Waterproof

⨯

USB-C
Width
178mm
Height
245mm
Thickness
7.2mm
Weight
375g
Buy
SOFTWARE
SUPERNOTE A5 X
Operating system
Chauvet (Android-based)
Google Play Store

⨯

Kindle support
Handwriting search
Handwriting conversion
Insert shapes

⨯

Insert images

⨯

Split screen

⨯

Custom templates
No. templates
25+
Brush types
Needlepoint, Ink Pen, Marker
Screen share
ADE support

⨯

File formats
PDF, EPUB, DOC, DOCX, TXT, CBZ, FB2, XPS
File formats (image)
PNG, JPG, WEBP
File formats (Audio)
-
Buy
PRODUCT
SUPERNOTE A5 X
BEST FOR…?
Anyone looking for a top-quality digital replacement to their paper-based journals and notebooks with lots of extremely useful features.
HARDWARE
PX30 1.3GHz Quad-core Cortex-A35 CPU and 2GB RAM
10.3″ (A5-sized) Mobius Carta screen with resolution of 1404×1872 (226dpi)
32 GB of local storage space
3800mAh Internal battery
Wifi and Bluetooth connectivity
USB-C for charging and additional hardware expansion via an OTG connector (Flash drive, keyboard etc.)
Plastic chassis and screen
Capacitive (touch) 'swiper' on the right-hand side for bringing up the quick access menu and refreshing the screen
No frontlight, g-sensor or audio
STYLUS
Included with the tablet is the Standard Pen
Also available is the Heart of Metal 2 Pen, the LAMY AL-star Pen and the LAMY Safari Pen (reviewed and compared here)
Supernote pens (apart from the LAMY AL-Star) have ceramic nibs that never need replacing
Supernote's ceramic nibs have a harder and finer tip than the nibs of other styluses, which makes writing feel more precise
Supernote pens have been designed to look more like real pens than digital styluses
Supernote pens (apart from the LAMY AL-Star) have no buttons or an eraser at the top,
However, Supernote has integrated a quick software erase gesture into their software (hold two fingers on the screen and circle the area you wish to erase with the pen)
Supernote pens are magnetic but the tablet is not magnetic, so they cannot be snapped to the side (official folios have a fabric loop to slot the pen into)
Supernote pens do not have batteries or need charging
Other Wacom-compatible styluses can be used
Although Supernote Pens can technically be used on other Wacom-compatible tablets (e.g. Boox Tab Ultra C, reMarkable 2, Kindle Scribe etc.), this is not recommended because the harder nibs could potentially scratch the screen (Supernote screens have a self-healing film on their surface)
OPERATING SYSTEM
Chauvet (Android/Linux based)
Does not support the installation of third-party apps other than the Kindle app (no access to the Google Play Store)
Pull-down bar at the top for accessing Wifi settings, Wifi file transfer, Screen share, Synchronisation (with cloud), Screenshot, Global search, and settings
Side-swipe bar on the right bezel for quick and easy navigation, including fast access to recent files, new note creation, last opened note and document, files, digest, e-mail, calendar, settings, and the Kindle app (if installed). There's also a customizable 'Quick access' area where you can add custom links to regularly used folders and notebooks. This bar can also be used to manually refresh the screen.
Native apps that are built into the O/S are:

Notes – Digital notetaking app
Reader – Reading and annotation app
Word Document Editor
Digest – Quickly access your reading notes/annotations from your ebooks and documents
Word Document Editor – Create and edit Word Documents (using handwriting recognition)
Email – Access to email
Calendar – Access to and synchronisation with Google or Outlook calendars

There is also a very basic (and hidden) web browser
FILE TRANSFERS
There is native support for synchronising notebooks and files with the Supernote Cloud, Google Drive, and Dropbox (only one cloud can be configured for synchronisation)
Notebooks are synchronised to the cloud as proprietary .note files that can only be viewed on Supernote devices (or through the Supernote Partner app, if the Supernote cloud is used)
However, notebooks can also be manually exported as PDF, PNG, TXT, and DOCX files – exported files go into an EXPORT folder, which is also synchronised with the cloud
Cloud drives cannot be browsed using the Supernote
There is also an option to manually share notebooks on Supernote's cloud server which can be viewed on other devices using a QR code (link expires after 24 hours).
Files can be transferred to and from the Supernote using the browser app and Supernote Partner app (providing the Supernote Cloud is being used)
Files can be transferred to and from the Supernote over local WiFi and Bluetooth (Bluetooth direct transfer requires the Supernote Partner app to be installed)
Files can be transferred to and from the Supernote via a USB cable
Files can be transferred to and from the Supernote via email
Synchronisation with cloud servers is not automatic – you have to manually initiate a synchronisation
Digital notebooks can be exported as PDF, PNG, TXT and DOCX
READING & ANNOTATING
Supernote's reading app can be used to open and annotate several file formats including PDF and EPUB.
Supernote does not have native support for DRM-protected files, however, you can install the Amazon Kindle app to access your Kindle library (handwritten annotation is not supported in the Kindle app)
Annotation can be handwritten directly onto the file. There is also support for text highlights, and text-based sticky notes attached to a text highlight, as well as adding snippets of text to the Digest
You can also draw a five-pointed star in one stroke on any page to flag it as important
Handwritten annotations can be saved for viewing on the Supernote, however, only annotations in the PDF file format will embed the handwriting so that it can be exported for viewing on other devices
Custom dictionaries are not supported
Documents and ebooks can be searched for text
There are basic configuration options for fonts/layout etc. but Supernote's reading app is not as sophisticated as those provided by other manufacturers, such as Boox, Kindle, and Kobo
The Supernote has a dedicated Word Document viewer/editor (see below)
DIGITAL NOTE-TAKING
Notes are organised using multi-page notebooks.

Notebooks can be organised with hierarchical folders

.
Brushes are limited to a needle-point pen (10 thicknesses), an ink pen (3 thicknesses) and a marker.
There are four colour/shade options for the brushes; white, light grey, dark grey, and black
Stylus pressure is supported but is not as sensitive as other devices, such as the Kindle Scribe or reMarkable 2
There is also an eraser and undo/redo buttons.
When creating a new notebook, you can select either a standard notebook or a real-time recognition notebook.
The standard notebook supports up to five layers but does not support handwriting recognition, handwriting search or handwriting-to-text conversion – however, it is better for battery life
The real-time recognition notebook supports handwriting recognition, handwriting search and handwriting-to-text conversion but does not support layers. These notebooks also consume more power.
The lasso-select tool supports moving, copying, resizing, and rotating handwriting.
You can also flag selected handwriting as a Heading (which automatically builds a Table of Contents), add keywords, make a link (to another notebook/page or a website), or add it as an event to your calendar
Drawing a five-pointed star in one stroke also adds a page to the index box.
Notebook pages can be moved and copied within and between notebooks
Almost 30 templates are included and you can add custom templates.
PDF files/templates can be imported into a notebook, retaining any embedded links
Handwriting can be converted into text and then inserted into the note
Converted handwriting can be exported in TXT or DOCX format
Handwriting search is also supported.
New Word Documents can be created, and handwriting can be converted into text. There are also special pen strokes to make editing Word documents easier.
CUSTOMER SERVICE
Supernote are a small values-based brand focusing on transparency, innovation, and sustainability
Supernote releases regular firmware updates for their products

Supernote ship their products worldwide, usually within 5-10 working days

and import duties/taxes are included in the price
Supernote products are supplied with a 1-year warranty that covers any hardware defects (not caused by the customer)
Supernote accepts returns within 30 days of receiving the goods, however, if there are no hardware defects, there are additional charges for shipping and handling. Pre-paid customs fees will not be refunded.
Supernote releases regular updates for its firmware and has published a roadmap showing their intentions
Support is provided via their online knowledgebase and email. They are also very active in their Facebook and Reddit groups.
BUYING OPTIONS
The official supernote website is SUPERNOTE.COM
Although Supernote ships worldwide, their pricing is in USD
Supernote has an authorised reseller in Europe (Supernote.EU – France). They serve all of Europe (except the UK) and some African and Middle Eastern countries.
SUPERNOTE A5X BLOG POSTS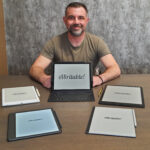 Dan Dutton is passionate about E-ink writing tablets, which bring together the pleasure of writing on paper with the power of digital technology. When he bought his first tablet, he realised that there wasn't a lot of unbiased information available for people that were considering buying an E-ink tablet, and so he built eWritable.