This is an objective information page for the reMarkable 2 e-ink tablet, with details of hardware and software specs, features, and capabilities.

My subjective review can be found here.

The reMarkable 2 is currently on my Top 5 Best E-ink Tablet List
DATASHEET
PRODUCT
REMARKABLE 2
Specs & ratings info

👍 Recommended

My Rating
Price (approx)
$380

Manufacturer
reMarkable
Release year
2020
SCREEN
REMARKABLE 2
Screen type
CANVAS with Carta
Screen size
10.3"
Screen resolution (B/W)
1404 x 1872
Screen density (B/W)
226dpi
Colour

⨯

Screen resolution (Colour)
n/a
Screen density (Colour)
n/a
Frontlight

⨯

Wacom compatible
Buy
HARDWARE
REMARKABLE 2
CPU
1.2Ghz dual-core
RAM
1Gb
Storage
8Gb
Battery
3000mAh
Super Refresh

⨯

Keyboard folio
Speakers

⨯

Microphone

⨯

G-Sensor

⨯

Ceramic Tip

⨯

Bluetooth

⨯

Fingerprint scanner

⨯

SD card slot

⨯

Rear camera

⨯

Front camera

⨯

Waterproof

⨯

USB-C
Width
187mm
Height
246mm
Thickness
4.7mm
Weight
403.5g
Buy
SOFTWARE
REMARKABLE 2
Operating system
Linux (Codex)
Google Play Store

⨯

Kindle support

⨯

Handwriting search

⨯

Handwriting conversion
Insert shapes

⨯

Insert images

⨯

Split screen

⨯

Custom templates

⨯

No. templates
45+
Brush types
Ballpoint, Fineline, Pencil, Mechanical Pencil, Highlighter, Marker, Calligraphy, Paintbrush
Screen share

⨯

ADE support

⨯

File formats
PDF, EPUB
File formats (image)
PNG, JPG
File formats (Audio)
-
Buy
PRODUCT
REMARKABLE 2
BEST FOR…?
Anyone looking for an aesthetically pleasing and minimalistic note-taking tablet.
HARDWARE
1.2 GHz dual-core ARM CPU and 1GB RAM
10.3″ (A5-sized) screen with resolution of 1404×1872 (226dpi)
8 GB of local storage space
3000mAh Internal battery
Wifi connectivity
USB-C for charging (USB file transfers are currently experimental)
No frontlight, g-sensor or audio
Metallic chassis with glass screen
Magnetic keyboard folio (sold seperately)
STYLUS
Included with the tablet is the reMarkable Marker
The Marker has no buttons or eraser
The Marker is magnetic, so it can snap to the reMarkable tablet
The Marker requires tips to be changed (around once every 6 months, depending on usage)
The Marker does not have batteries or need charging
Optional upgrade to the Marker Plus, which has an eraser at the top and is slightly heavier (everything else is the same as the basic Marker)
Other Wacom-compatible styluses can be used
OPERATING SYSTEM
Codex (custom Linux build)
Does not support the installation of third-party apps
The Home screen display is essentially a list of your files (notebooks, PDFs, and Ebooks/EPUBs etc.)
A toolbar at the top of the home screen has buttons for creating new folders and notebooks, a search (by filename) function and the Menu.
The Menu bar has options for filtering the view of your files by type (notebooks, PDFs or documents), favourites, and tags. You can also browse your cloud drives, read user guides, access the trash (files you have deleted) and go to the device's Settings.
Native apps that are built into the O/S are:

Notebooks – Digital note-taking app
E-reader – Essentially, a cut-down version of the note-taking app with a PDF or ePUB as the bottom layer/template
FILE TRANSFERS
There is native support for synchronising notebooks and files with the reMarkable Cloud only
Although reMarkable has integrations with third-party clouds (Google Drive, Dropbox, and OneNote), this only allows you to manually browse the drive, download documents, and export notebooks as PDF (there is no automatic synchronisation)
Notebooks are synchronised with the reMarkable cloud as proprietary files that can only be viewed on the reMarkable tablet or through the reMarkable companion app (unless exported)
Notebooks can be exported via email in PDF, PNG, or SVG formats
Files can be transferred to and from the reMarkable using the desktop/mobile app and browser app
Webpages and Microsoft Word and Powerpoint files can be sent to the reMarkable using the 'Read on reMarkable' Chrome browser extension – they are converted to PDF.
Files can be transferred to and from the reMarkable via a USB cable. This is an experimental feature and does not use conventional USB file-sharing protocols.
If you do not pay for reMarkable's Connect subscription, any files that have not been used and synchronised during the previous 50 days will be deleted from reMarkable's cloud (they will remain locally on the reMarkable tablet, so you won't lose them)
READING & ANNOTATING
The native e-reader supports viewing and annotating PDF and EPUB files only
The e-reader is essentially the note-taking app with some features removed(such as handwriting-to-text conversion) but with the PDF/EPUB as the bottom layer/template
reMarkable does not support DRM-protected files
Documents can be annotated with handwriting directly on the page or using the highlighter pen.
When text is highlighted, the reMarkable auto-straightens it to make it look neater
However, there is no way to search or view or export a summary/digest of your highlights or handwritten annotations
Annotated documents are synchonised with the reMarkable cloud, and can be exported via email as PDF, PNG, or SVG files
EPUBs and PDFs can be searched for text
EPUBs have configuration options for font, font size, justification, margins, and line spacing
PDFs have configuration options adjusting the view and setting to landscape mode
There is no dictionary support
reMarkable does not support Amazon Kindle books and the Kindle app cannot be installed
DIGITAL NOTE-TAKING
Notes are organised using multi-page notebooks.

Notebooks can be organised with hierarchical folders

and tags
Brushes include ballpoint pen, fineliner, marker, pencil, mechanical pencil, paintbrush, highlighter and calligraphy pen.
There is a choice of three thicknesses for brushes
Brush colours are black, grey, and white. Red and blue can also be selected but will only be visible on export because the reMarkable has a monochrome screen.
Stylus pressure and tilt are supported.
There is also an eraser and undo/redo buttons.
Text can also be added using the on-screen keyboard
reMarkable has recently (2023) introduced the Type Folio, which is a cover with an integrated keyboard for typing text into notebooks
Using reMarkable's companion app, you can add and edit text in your notebooks from your computer, tablet or phone (Connect subscription required – see below)
The lasso-select tool supports moving, copying, and resizing handwriting.
Notebook pages can be moved within the notebook but not across multiple notebooks
There is support for layers, with almost 50 templates included and you can add custom templates.
Handwriting can be converted into text and then inserted into the note as an additional page
Handwriting search is not supported directly, but you can convert your handwriting to text and then perform a text search
Converted handwriting can be exported as text via email
Notebooks have an infinite vertical scroll option, so that you can create a single long page rather than multiple pages
Pinch to zoom is supported
CUSTOMER SERVICE
The reMarkable 2 is supplied with a 1-year warranty that covers any hardware defects (not caused by the customer)
With a Connect subscription, the warranty is extended to three years
In 2001 reMarkable put some of its features behind a monthly subscription paywall (reMarkable Connect). This included unlimited cloud storage, integration with third-party clouds, handwriting recognition and screen sharing.
This did not go down well with customers, and in 2022 they backtracked, making most features available again without a subscription.
The current reMarkable Connect service is cheaper ($3 per month rather than $7 per month), provides unlimited cloud storage, an extended 3-year warranty, and access to exclusive offers and features.
Currently, the only additional feature with the Connect subscription is the ability to add and edit text from your computer or mobile
When reMarkable released the Type Folio, there was a discount for Connect subscribers.
They are currently offering a 1-year free trial of Connect (usually $2.99 per month) with every reMarkable 2 purchase
reMarkable are currently the only e-ink tablet manufacturer that hide some features behind a paywall

reMarkable releases regular updates for their

software
reMarkable offer a 100-day satisfaction guarantee on the reMarkable 2, during which time you can return the tablet for a full refund
reMarkable provide support via its online knowledgebase and support helpdesk. They aim to respond to support requests within 24 hours.
BUYING OPTIONS
The official reMarkable website is REMARKABLE.COM.
reMarkable ship their products all over the world – shipping and taxes/customs duties are included in the selling price
In the UK, the consumer electronics outlet CURRYS stocks the reMarkable 2
REMARKABLE 2 BLOG POSTS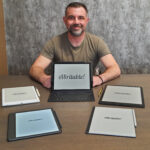 Dan Dutton is passionate about E-ink writing tablets, which bring together the pleasure of writing on paper with the power of digital technology. When he bought his first tablet, he realised that there wasn't a lot of unbiased information available for people that were considering buying an E-ink tablet, and so he built eWritable.