Last updated: September 2023
E-ink writing tablets (also called eNotes and ePaper) use a special type of screen that is not backlit like regular LCD/OLED screens.
This means the surface is reflective, rather than emissive, can feel easier on the eyes, and makes the writing experience as close to traditional pen and paper as possible. In addition, they can be viewed clearly outside in broad daylight.
Because of the low power consumption of e-ink screens, the batteries on these tablets can last for weeks without a recharge.
These devices are ideal for people that prefer to write down their thoughts and ideas (rather than typing) but do not want to have lots of notebooks and scraps of paper lying around their desk.
The downside of e-ink tablets is that they are primarily monochrome (although there are a few colour devices on the market) and the screens are quite expensive, which ramps up the cost of the device.
In a previous article, I looked at what I felt are the best e-ink tablets on the market. In this article, I will be looking at the top e-ink tablets that have a more affordable price tag ($350 USD or below).
1. Kindle Scribe ($340)
Pros
Fantastic writing/sketching feel
Frontlight
Solid & robust
Great reading software
Handwritten sticky notes
Backed by a major corporation
Cons
Limited note-taking app
Clunky file transfer/conversion process
Uncomfortable to hold for longer periods
Location of power button
Templates are notebook-wide
The Amazon Kindle Scribe is a great e-reading device but the note-taking app lacks many features that are standard on competitor's tablets.
The Kindle Scribe is the only 10″ (around A5-sized) tablet on this list, and has only recently been added to this list because Amazon reduced it's price just below the $350 mark.
It comes with decent hardware specs, including a frontlight, and has one of the best styluses on the market. The tactile writing feel is also one of the best and you get the fantastic reading experience that Kindle is famed for.
However, the note-taking features (despite recent improvements) are not as comprehensive as what you will find on more mature eNote devices, such as those manufactured by Boox or Supernote.
It can also be awkward to transfer ebooks and other files between the Scribe and other devices. Sideloading is possible via USB cable but files like epubs have to be 'processed' (read: converted) by Amazon first, which means they will only work when transferred via email or the SendtoKindle app. Similarly, PDFs can only be annotated with handwriting when transferred to the Scribe using this method.
Overall, it is very reasonably priced and you get a lot of value for your money.
2. Onyx Boox Nova Air2 (£340)
Pros
Great hardware specs
Very versatile
Sophisticated native reading & note-taking apps
Pleasant writing feel
Handwriting search/conversion
Google Play Store
Frontlight
Audio (speakers and microphone)
Portable
Cons
Small screen size
Steeper learning curve
Variable performance of Android apps
The Boox Nova Air2 has a solid hardware spec, with some awesome native apps and the option to extend functionality by installing apps from the Google Play Store.
The Boox Nova Air2 is a 7.8″ (A6-sized) e-ink writing tablet with impressive hardware specs and features, and decent native software for both reading and writing.
Under the hood are a 1.8Ghz Octacore processor, 3Gb RAM and 32Gb storage. It has a frontlight, speakers, and microphone, and supports file transfers via USB-C OTG.
The native reading application is Boox Neoreader, which supports several file formats, as well as the ability to annotate directly onto the documents.
The native writing app (Boox Notes) is the best note-taking app of all the devices in this list, with functionalities which include handwriting recognition, layers, shape-drawing, and the recording of voice notes.
The Nova Air2 also runs an open version of Android 11, which means that additional apps can be installed via the Google Play Store.
I was very undecided about whether to put the Nova Air2 in first position and the Scribe in second because of the better native software included and ability to install third-party apps. However, after much deliberation, I finally decided on putting the Scribe at the top because of its larger screen size and pleasant writing feel – but it was a very close call!
3. Kobo Sage ($300)
Pros
Lightweight
Affordable
Great e-reader
Waterproof
Read DRM-protected ebooks (via ADE)
Innovative advanced notebooks
Frontlight
Good handwriting recognition
Page-turn buttons
Backed by a major corporation
Cons
Sub-par writing experience
Not very versatile
Stylus requires batteries
Cannot export highlights/annotations
Feels a bit 'clunky'
The Kobo Sage may be thought of as a smaller, waterproof version of the Kobo Elipsa 2E. It is a lightweight 8" e-reader with some innovative note-taking features but the tactile writing experience is lacking, and the whole ecosystem feels a bit 'clunky'.
The Kobo Sage has a slightly bigger screen than the Nova Air (8″ rather 7.8″), and therefore a slightly higher resolution (1440 x 1920 rather than 1404 x 1872).
This is one of only two e-ink devices currently on the market that are waterproof (the other being the Mobiscribe Wave – see below).
Like the Nova Air, there is a frontlight and USB-C, but there is no microphone or speakers. However, you can listen to audio on the Sage by connecting a pair of Bluetooth headphones. The sage also has a built-in accelerometer, which means that the screen orientation will change automatically when the tablet is rotated.
Kobo Reader is a great reading app that has a lot of functionality and can open a lot of different file formats. And, if you're familiar with the Kobo ecosystem, you will most likely be keen to stick with what you are familiar with.
The native note-taking app has some cool and unique features, such as straightening the edges of shapes/lines that you draw, and formatting mathematical equations, however it uses its own proprietary writing technology (not Wacom EMR, which has become the standard) and I found the actual tactile writing experience to be rather unpleasant.
Although the Sage has the same 32Gb of storage capacity and processor speed as the Nova Air, it has a lot less RAM – Kobo does not provide the actual numbers but it is somewhere between half a gig and 1Gb. The battery is also smaller and can run down quite quickly.
4. Mobiscribe Wave Color ($350)
Pros
Small
Lightweight
Inexpensive
Waterproof (IPX7)
Frontlight
Speakers
Decent native note-taking app
Handwriting search
Handwriting-to-text conversion
Cons
Small canvas size
Sunken screen
Stylus (see below)
Screen size limits reading capabilities
Not as 'snappy' as more premium tablets
The Mobiscribe Wave is compact, lightweight, portable and inexpensive. In addition, it is one of the few E-ink writing tablets that is waterproof.
Like the Kobo Sage, the Mobiscribe Wave Color is waterproof. It uses a 1.5GHz quad-core processor and has 32Gb RAM and 64Gb of storage capacity.
The screen is 7.8″ (A6-sized) and it has a frontlight and speakers.
The native reading app is not all that good, however the writing app is pretty decent and includes a handwriting search feature.
However, the unique feature of the Wave is that it is the only writing tablet with a color screen in this price range. Colors do look more less bright and more washed-out than they would on an LCD screen, however this is currently the norm for all color e-ink displays and an issue reserved for the Wave.
It also runs Android 12, and so third-party apps from the Google Play Store can be installed on it.
Note that Mobiscribe also manufacture a monochrome version of the Wave, which is available for around $285, making it one of the least expensive e-ink tablets on the market.
Overall, the Wave should be considered primarily as a very capable writing device – although it can be used as a reader, the experience is not all that satisfying.
5. Meebook P78 Pro ($330)
Pros
Inexpensive
Android 11
Google Play Store
Frontlight (inc. warmlight)
MicroSD Card Slot
Speakers and Microphone
Nice little e-reader
Cons
Small screen
Poor customer support
Poor tactile writing feel
O/S is a little 'clunky'
Some bad translations from Mandarin
Limited note-taking capability
The Meebook P10 Pro is a budget 7.8" Android-based E-ink tablet. It's pretty good for reading and okay for writing, but there is virtually no customer support.
The Meebook P78 Pro is a 7.8″ (A6-sized) is a budget Android writing tablet.
As a reader, it is okay but the writing software is not all that great – sort of the opposite to the Mobiscribe Wave.
Like the Sage, it uses proprietary stylus technology, which means that you have to buy the Meebook pen for an additional cost (this has been included in the $330 pricing above).
The hardware specs are okay and it runs Android, so there is the option to install third-party apps, however customer support is difficult to get hold of if you have an issue. They do not have a website, other than a basic presence behind the Great Firewall of China, so the best way to get support is via their Facebook page. But even then, there are no native English speakers, so communication can be difficult.
For slightly more money than the $350 budget used for this article, there is also the larger 10.3″ Meebook P10 Pro.
Summary
If you're looking for an affordable e-ink writing tablet, you will, unfortunately, have to make some compromises.
In my mind, the Kindle Scribe is the best device in the $350-or-less price bracket because it is backed by a massive company, has a larger 10.2″ screen, and has fantastic reading software. Although the software is not as advanced as some of its competitors in this arena, it is slowly gaining ground with fairly regular software updates.
Slightly more expensive 10″ tablet: reMarkable 2 ($390)
In a close second-place is the Boox Nova Air2 because of its fantastic hardware specs, features, software and versatility. The only real compromise here is the smaller screen size compared to the Scribe.
Slightly more expensive writing tablet: Supernote A6 X ($350)
The Kobo Sage is also a nice little device, but does not have the power and flexibility of the Nova Air2. Unless you need a waterproof device or have an attachment to the Kobo ecosystem, I feel it would be better to pay the extra money and get the Boox.
Slightly more expensive Kobo tablet: Kobo Elipsa 2E ($400)
If you need a budget-friendly e-ink tablet with a color screen, then the Mobiscribe Wave is really your only option. However, if color is not a necessity, I would stick with a monochrome device.
Slightly more expensive color tablet: Boox Nova Air C ($400)
Finally, although the Meebook P78 Pro is slightly cheaper than the Nova Air2 and Mobiscribe Wave, the latter two are simply better and I can see no reason to choose the Meebook over them. Similarly, if Android is not important then get the Kindle Scribe or if price is your main concern, then get the Kobo Sage.
Slightly more expensive Android tablet: Meebook P10 Pro ($390)
Notable Omissions
There are only a couple of other devices that fit into the category of e-ink tablets that cost £300 or less. They could have made the list but didn't – I've summarised why below:
Supernote A6 X ($350)
I don't hide the fact that I am very fond of the Supernote range of tablets and use the Supernote A5 X as my daily driver. And I would love to recommend the smaller Supernote A6 X here, however, at the time of writing this device was no longer being manufactured and is very hard to get hold of. A replacement (the Supernote A6 X2) is due to be released before the end of the year.
Mobiscribe Origin ($245)
The Mobiscribe Origin is the predecessor of the Mobiscribe Wave. This was not included because it is approaching the end of its lifecycle, however, it is a nice little device (and very cheap) if your budget is very small.
Topjoy Butterfly ($235)
The Topjoy Butterfly was a Kickstarter campaign that raised money through crowdfunding to develop an ultra-cheap colour e-ink tablet. The project got delayed many times, backers weren't kept up-to-date with what was going on and many backers did not receive their units. The ones that did receive a unit reported that it was a very poor-quality device.
You can find more e-ink tablets that fit your budget by using my Search & Comparison matrix.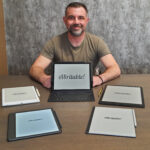 Dan Dutton is passionate about E-ink writing tablets, which bring together the pleasure of writing on paper with the power of digital technology. When he bought his first tablet, he realised that there wasn't a lot of unbiased information available for people that were considering buying an E-ink tablet, and so he built eWritable.