Last updated: September 2023
I wrote this post because every now and again I get a message from somebody asking me if I know when the reMarkable 3 will be released.
The honest answer is that I don't know – I have no insider knowledge from reMarkable themselves and there aren't any whispers on the regular e-ink rumour mills either.
But, if I were to make an educated guess (and this is pure speculation), I would say that reMarkable is unlikely to release a third iteration of their e-ink tablet in 2023.
My reasoning is below…
rM2 already fits in perfectly with reMarkable's vision
The first reason for this prediction is because the existing reMarkable 2 is already gorgeously designed and performs its core function (note-taking) exceedingly well. I really can't see how they might improve on the hardware or the build without moving away from their core values.
For example, if the reMarkable 3 had a frontlight, this would increase the pen-to-ink distance, having a detrimental effect on the writing experience. If it had speakers or a microphone, it would no longer be a distraction-free focused note-taking tablet. Although the core hardware (CPU, RAM etc.) might be upgraded, there wouldn't be much point to it because note-taking processes do not need a lot of resources.
reMarkable has always taken a 'less is more' approach, and many of the weaknesses of the reMarkable 2 (such as a substandard e-reading experience) could be resolved with better software rather than better hardware.
Similarly, as smart as reMarkable's marketing team is, they are unlikely to want to promote anything that doesn't have significant advantages over its predecessor.
Returns en masse
The second reason for my doubt is due to reMarkable's 100-day free return guarantee. As you can imagine, the moment the reMarkable 3 goes on sale, almost everyone that bought a reMarkable 2 in the last 3 months is going to send it back – this is going to be a logistical and financial nightmare for reMarkable.
reMarkable has a very shrewd sales and marketing team who are likely to put a plan in place to mitigate this risk. I'm guessing that there will probably be some alterations made to their returns policy as a precursor to the release of the rM3.
As a comparative case study, we can perhaps look at what is happening right now with Supernote. They have announced a successor to their Supernote A6 X (which will be called the A6 X2) to be launched in November 2023. Consequently, over the last several months, manufacture of the A6 X has ceased and it is no longer available to buy on their website as they prepare to release the newer product.
No new FCC applications
A Reddit user also mentioned that there are no new applications to the Federal Communications Commission (FCC) from reMarkable to approve a new device for wireless technologies, which is further evidence that they probably do not have anything in the pipeline.
For transparency, I don't know enough about the FCC processes to say how strong of an indication this is, however, other manufacturers (such as Boox) usually put forward FCC applications two or three weeks before they release a new product.
In addition, the company's strategic direction seems to be based around improving the existing experience, particularly in relation to their desktop/mobile app, which I feel is needed to justify the $3-per-month Connect subscription.
reMarkable 3 alternatives
The reMarkable 2 already fits neatly into the role it was designed for – a focused and distraction-free e-ink note-taking device. It is aesthetically pleasing and has a great tactile writing feel but it doesn't really do anything else.
If you are looking for an e-ink tablet that is more versatile, you might want to check out the Supernote A5X or the Boox Note Air 2 Plus, both of which also support email, calendars and Kindle.
To view my top e-ink tablet recommendations, click here.
You can also compare e-ink tablets here.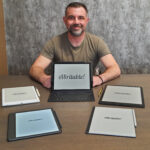 Dan Dutton is passionate about E-ink writing tablets, which bring together the pleasure of writing on paper with the power of digital technology. When he bought his first tablet, he realised that there wasn't a lot of unbiased information available for people that were considering buying an E-ink tablet, and so he built eWritable.