Boox has recently released the Page – a 7″ e-reader which seems to be a natural successor to the Leaf2.
On paper, both devices look to be very similar, so in this article, I want to highlight the differences between them.
Similarities
But first, what are the similarities?
Both the Page and the Leaf2 are 7″ monochrome e-readers, with a screen resolution of 1264×1680 and a pixel density of 300dpi.
They both have a storage capacity of 32Gb, which can be expanded via the MicroSD card slot.
They have a built-in frontlight (with warmlight), speakers, a microphone, a g-sensor, Bluetooth, Wifi, touchscreen, and page-turn buttons. In addition they both run on Android 11.0 and have (virtually) the same firmware.
Finally, both e-readers have the same physical dimensions.
Differences
Now, let's take a look at the differences…
The processor on the Page has double the number of cores (an octa-core CPU, compared to the Leaf2's quad-core). It also has 3Gb RAM compared to the Leaf2's 2Gb. This squares to better performance during more intensive tasks.
The battery on the Page also has a slightly higher capacity than the Leaf2 (2300mAh compared to 2000mAh). However, this is unlikely to mean better battery life because the more powerful processor will use up more power – in fact, it could mean poorer battery life but I cannot be 100% sure as I haven't yet carried out any tests.
The Page has a metal chassis, which means that it can snap magnetically to its specially-made folio – the Leaf2 attaches mechanically to its cover. This does mean that the Page (195g) is heavier than the Leaf2 (170g/185g).
In terms of price, at the time of writing, the Boox Page is $250 USD and the Boox Leaf2 is $200 USD, so there is a $50 price difference. In addition, the Page is currently only available from the official Boox Store, whereas the Leaf2 is available from other outlets, such as Amazon. However, I expect the Page to be available via other channels over the next few weeks.
Boox Page vs Boox Leaf2
PRODUCT
BOOX LEAF2
BOOX PAGE
Specs & ratings info

Not yet rated

Not yet rated

My Rating
Price (approx)
$200

$250

Manufacturer
Onyx Boox
Onyx Boox
Release year
2022
2023
SCREEN
BOOX LEAF2
BOOX PAGE
Screen size
7"
7"
Screen density (B/W)
300dpi
300dpi
Colour

⨯

⨯

Screen density (Colour)
n/a
n/a
Frontlight
Buy
HARDWARE
BOOX LEAF2
BOOX PAGE
Storage
32Gb
32Gb
Super Refresh

⨯

Speakers
Microphone
G-Sensor
Bluetooth
SD card slot
Waterproof

⨯

⨯

Page Turn Buttons
Width
137mm
137mm
Height
156mm
156mm
Thickness
6mm
6mm
Weight
185g
195g
Buy
SOFTWARE
BOOX LEAF2
BOOX PAGE
Operating system
Android 11
Android 11
Google Play Store
Kindle support
ADE support

⨯

⨯

File formats
PDF, EPUB, DOC, DOCX, PPT, PPTX, TXT, HTML, RTF, FB2, CBZ, CBR, AZW3, MOBI, PRC, DJVU, CHM, ZIP
PDF, EPUB, DOC, DOCX, PPT, PPTX, TXT, HTML, RTF, FB2, CBZ, CBR, AZW3, MOBI, PRC, DJVU, CHM, ZIP
File formats (image)
PNG, JPG, TIFF, BMP
PNG, JPG, TIFF, BMP
File formats (Audio)
WAV, MP3
WAV, MP3
Additional notes
Buy
BUY
BOOX LEAF2
BOOX PAGE
Where to buy
Boox Store

Boox Store

PRODUCT
BOOX LEAF2
BOOX PAGE
Use the comparison table to compare the e-readers. Note that there are two versions of the Leaf2 – the Black version has a flush screen and is heavier than the white version.
Verdict
For general reading, there really isn't an awful lot of difference between the Boox Page and the Boox Leaf2.
Where the Page really excels is when carrying out more intensive tasks, such as web browsing.
So, if you are only looking for an e-reader, the Leaf2 would perhaps be a better choice (although I would hold off for a little while because it is likely to fall in price a little more over the coming weeks). If you are looking for a more multifunctional 7″ Android e-reader, then it is definitely worth spending the extra $50 on the Page.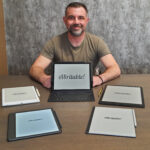 Dan Dutton is passionate about E-ink writing tablets, which bring together the pleasure of writing on paper with the power of digital technology. When he bought his first tablet, he realised that there wasn't a lot of unbiased information available for people that were considering buying an E-ink tablet, and so he built eWritable.