When I first installed Audible on my Boox Max Lumi 2, it used a dark theme, which made it difficult to navigate on a monochrome screen. When using apps on my phone, I usually prefer the dark screen, but it wasn't comfortable to look at on an E-ink screen.
It took me a while to find the setting to change it to a light theme, so I thought I'd quickly write up what I did to save others a little time.
The first step is to open Audible and click on the PROFILE button on the bottom right of the screen.
Then, click on the GEAR icon on the top right of the screen.
From here, select THEME and then choose LIGHT.
Finally, press HOME in the bottom left to return to the home screen with the fresh light theme.
And that's it. The light theme is a lot fresher on e-ink devices (but I still prefer the dark theme on LCD devices).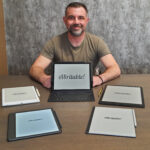 Dan Dutton is passionate about E-ink writing tablets, which bring together the pleasure of writing on paper with the power of digital technology. When he bought his first tablet, he realised that there wasn't a lot of unbiased information available for people that were considering buying an E-ink tablet, and so he built eWritable.