After deciding that you want a Boox e-ink tablet, the next question is usually 'where shall I buy it from?"
In this post, I'm going to lay out the different options available.
Amazon
Amazon is usually the store I recommend for Boox e-ink tablets because returns are free and easy (within 30 days) if there is a hardware issue – or even if you decide that Boox is not really for you after using it. Shipping is usually very fast as well.
However, depending on where you live, your regional Amazon Store may not sell Boox products. I have confirmed that Boox products are available on the following geographical Amazon Stores:
If you live in any of these countries – or even in close proximity – I recommend buying from Amazon for peace of mind.
A note for transparency: I had an email from a reader that asked if the only reason that I recommend Amazon for Boox tablets is because I am an Amazon affiliate and stand to earn a small commission from anyone that makes a purchase after clicking on the links on this website.
All the recommendations on this website are based on what I feel is best, rather than what I can earn the most money from. I recommend Amazon because of the great return policy, decent customer service, and super-fast delivery.
In actual fact I am an affiliate for both Amazon and the Boox official store (below) as well as several other suppliers. And Boox offers me a 4% commission per sale, whilst Amazon only offers 2.5% – so, I would actually stand to earn more from recommending the Boox Store.
Boox Official Store
The good thing about buying directly from Boox is that you can sometimes get a better deal than you would from Amazon. For example, the Boox Tab Ultra comes with a case/folio included for the same price as just the tablet on Amazon.
However, returns can be a bit more costly and difficult, with you having to pay for shipping yourself as well as possible other charges, such as a restocking fee and receipt charge. In addition, some people have experienced difficulties with getting Boox to accept returns due to hardware defects (I've never had a hardware issue myself so do not have first-hand experience of this).
Note: The official Boox website is BOOX.com. Do not confuse them with ONYXBOOX.com – although they are an official Boox distributor, they sell a lot of imported Russian stock that has different firmware.
Boox vs Amazon Real-Life Example
As a real-life example, I recently purchased the Note Air3 C from the official Boox Store.
It cost me £446.70 for the tablet and magnetic cover.
It took ten days to arrive, and I had an additional charge of £68.28 for customs/import duties (charged through their carrier, FedEx).
So, in total, it cost me £514.98 from the Boox Store.
If I had bought the same tablet from Amazon, it would have cost me £499.99, and I would have had to buy the magnetic cover separately for an additional £50.99. However, it would have arrived the next day (or within a couple of days at most).
So, in total it would have cost £550.98 to buy from Amazon.
That's an extra £36 to buy through Amazon, however, the delivery would have been faster and if I was unlucky enough to have been shipped a faulty a unit (or even if I didn't like it) I could have returned it to Amazon quickly, easily, and cost-effectively. If I had to return the tablet to Boox, I would have had to cover international shipping fees myself and would not have got the import duties I paid back. I may also have had additional charges, such as a restocking fee.
So, essentially, for the additional £36 I could have paid to Amazon, I would be buying quick delivery and peace of mind if things went wrong.
Personally, I'm happy to pay a little extra for these benefits, but I appreciate that others are perhaps less risk-averse and value the discount more than the peace-of-mind.
Pre-loved Boox Tablets
If you are looking for an older Boox device or a bit of a discount, you may consider buying second-hand.
Ebay is usually the best place to go – I've seen Boox tablets available from the following geographical ebay stores:
Another place to look is Facebook Marketplace.
You can also sometimes find sellers on the Onyx Boox Reddit group.
Buying Boox in Canada
Amazon Canada does not sell Boox devices, but there are still a few Canadian resellers.
e-reader.ca
The best that I have found is e-reader.ca, who are an official Boox reseller. I've had a few online conversations with Alex, the guy who owns it, and he seems like a decent guy. This is backed up by several reviews from happy customers.
Good E-Reader
I would recommend staying well clear of Good E-reader. I've never used them myself, but they have a lot of poor reviews with regards to customer service and delayed shipping. Trustpilot gives them a rating of 2.3 out of 5 stars.
Summary
In summary, I always advise buying Boox tablets from your local Amazon Store, if available.
The next best choice is the official Boox store.
For used units, check out eBay, Reddit and Facebook Marketplace.
And, if shipping to Canada, you won't go far wrong with e-reader.ca.
If you know of any Boox distributors that I've missed, please let me know in the comments below.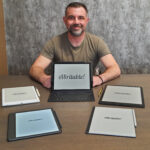 Dan Dutton is passionate about E-ink writing tablets, which bring together the pleasure of writing on paper with the power of digital technology. When he bought his first tablet, he realised that there wasn't a lot of unbiased information available for people that were considering buying an E-ink tablet, and so he built eWritable.