Whilst Onyx Boox distributes its range of e-ink tablets throughout several of the major Amazon Stores, including the US, UK, Germany, and France, perhaps one of the more notable omissions is Amazon Canada.
A couple of Canadian visitors to eWritable contacted me to ask where they might purchase the Boox Tab Ultra C in Canada. With no Boox Store on Amazon CA, they were aware that they might be able to purchase from Amazon US and have it shipped across the border but that could result in additional shipping and tax expenses.
After a little research, I came across e-reader.ca, an authorised distributor of Onyx Boox e-ink tablets and accessories in Canada.
Based in Concorde, Ontario, e-reader.ca ship Boox products throughout the country and offer a price-match guarantee.
I've spoken with the owner, Alex, via email and he seems like a decent guy. The legitimacy of the business is also backed up with a bricks-and-mortar address and several positive reviews, some of which I've reproduced here.
Really great experience. Got the tab ultra and it shipped out next day. Tablet and case were packaged extremely well and everything arrived in great condition. I emailed the shop a couple times and responses were quite quick. The only rough patch was Canada Post but if you're in Canada you know how that goes 😆

I would most definitely buy from them again!

Steve
I purchased an e-reader and chose the pick up option. I'm so glad that I did because I got to meet the owner and his wife, who are incredibly nice and friendly people. They are hardworking people who takes pride in giving good service.
The Boox itself is also everything I hoped it would be. The main reason for getting this is because I try to get my books from the library whenever I can and this is the best e-ink option for that. I also like to compare prices the times I do buy e-books. With this device, I can choose the platform that offers the best price instead of relying on just Kindle or Kobo.

Winghang Wong
I recently purchased a product that unfortunately turned out to be defective. Despite encountering issues even over the weekend, Alex promptly assisted me with troubleshooting it. However, when the problem persisted, Alex kindly offered an exchange.

I'm impressed by the excellent service I received from Alex and grateful for the willingness to go above and beyond. As a consumer, I'm happy to support small businesses like this one!

A. U.
So, if you live in Canada and are looking to buy a Boox e-ink tablet, my current recommendation is to speak with Alex at e-reader.ca.
Their current stocked product range includes: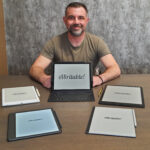 Dan Dutton is passionate about E-ink writing tablets, which bring together the pleasure of writing on paper with the power of digital technology. When he bought his first tablet, he realised that there wasn't a lot of unbiased information available for people that were considering buying an E-ink tablet, and so he built eWritable.