I get a lot of questions about the best place to buy a Ratta Supernote E-Ink tablet, so I wanted to address this in this post by going over all the options that I know of.
The two main factors to consider when you buy a Supernote is which country that you want it shipped to, and whether you want to buy brand-new or second-hand.
Where to buy NEW Supernote tablets?
If you want to buy your Supernote new, there are two main choices:
The Official Ratta Supernote website
The official Supernote website caters primarily for all English-speaking nations, including the US, UK, Canada, Australia, and New Zealand. However, they do ship to other countries around the world as well.
Supernote Europe
Technically, Supernote.com ships all over the world, however, for customers in the EU, they also have a reseller – Supernote.EU (based in France).
Supernote.EU was formally called GorillaScribe.
For some customers, this can make the purchase slightly less expensive because the tablets have already been imported.
As well as countries within the EU, Supernote.EU also ship to:
Europe: Norway, Switzerland, Iceland, Andorra, Liechtenstein, Vatican and Ukraine.
Middle East and Africa: Zambia, Saudi Arabia, Israel, Jordan, Kuwait, Lebanon, Qatar and United Arab Emirates.
Please note that Supernote.EU does not deliver to the UK. Previously, when they were called GorillaScribe, they did ship to the UK. In addition, I, myself, live in the UK and when I purchased my own Supernote A5X, I calculated the cost of buying from Supernote.EU (GorillaScribe) to be slightly more expensive than buying from the Official Supernote Store.
Where to buy SECOND-HAND Supernote tablets?
Used, pre-loved, or second-hand Supernote tablets can also be obtained from various sources.
Supernote "Open-Box" Store
Ratta Supernote has an open-box outlet, whereby returned Supernote tablets can be bought for a small discount.
These are tablets that have been returned by customers after minimal use within the 30-day return period, so they are almost new but may have some minor cosmetic damage. They are discounted because they can no longer sold as new and come with 45-day returns so that you have ample time to trial the device.
Open-Box units are only available to US-based customers.
eBay
A good source of second-hand units is eBay, particularly if you are looking for the Supernote A6 X, which has now been discontinued.
eBay operates in several countries, including those listed below:
Adopt-a-Supernote
Another place to try is the Adopt-a-Supernote groups on Facebook and Reddit.
This can result in additional savings because there is no intermediary brokering the deal – it is simply an agreement between buyer and seller. So, you will not get the same payment protection, warranty, or returns policy that you would by buying new or even going through eBay.
Summary
If you are looking to buy a Supernote, your options are:
I hope this helps, and if you know of any other places to buy a Supernote, please let me know in the comments section below.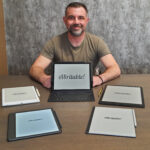 Dan Dutton is passionate about E-ink writing tablets, which bring together the pleasure of writing on paper with the power of digital technology. When he bought his first tablet, he realised that there wasn't a lot of unbiased information available for people that were considering buying an E-ink tablet, and so he built eWritable.