My initial thoughts about Supernote's latest software update (Chauvet 2.9.24) were rather indifferent – whilst I appreciated that there were some cool features and would be welcomed by a lot of people, I didn't feel that they were all that useful to me personally.
Having played around with the new software update on my Supernote A5 X over the weekend, I've decided that I actually really like the PDF template feature, and it is something that I think I'm going to be using quite a lot going forward.
I've never been a fan of PDF planners because I felt they were quite restrictive, however, the new Supernote update has resolved many of these limitations. So, I'm going to give a PDF Planner (HyperPaper) a try for a few weeks.
How PDF Templates Work
Most e-ink tablets come installed with two primary native apps; a note-taking app, and a reading app.
The reading app is used for opening ebooks and documents, highlighting text, making annotations etc. Anyone that has purchased or created a PDF planner in the past would have viewed it in the reading app.
The note-taking app is designed for taking notes (obviously!). The difference is that it has a more comprehensive set of tools and features. Particularly useful features that are in Supernote's note-taking app that are not available in the reading app include:
Page overview (insert, move and copy pages)
Insert titles and links
Search handwriting and handwriting-to-text conversion
Export as PDF, PNG, TXT or DOCX
In contrast, the reading app allows you to text-search the document (not your handwriting), maintains the original PDFs Table of Contents, and supports bookmarks. Both apps support the insertion of keywords and PDF export.
Previously, PDFs could only be opened with the reader app.
With Supernote's new PDF Templates feature, a PDF (such as a planner) can be converted into a template that is imported into your notebook in the note-taking app. This essentially embeds the PDF as the bottom layer of the notebook.
To add a PDF template to a notebook, first copy the PDF to the MyStyles folder, then tap the templates button on the toolbar and find your PDF in the Customization tab. Choose which pages you want to use as a template in your notebook, and tap 'Apply as Template'. The Supernote will then apply your template (this can take a while for large PDFs with hundreds of pages but is a one-off process).
What does this mean?
The biggest benefit of using Supernote's note-taking app to view PDFs is that pages can now be inserted on the fly. For example, if you run out of space on the page for your daily journal/notes, you can simply insert another page straight after.
In addition, you can now search your handwriting within the PDF (although this does come at the expense of being able to search the text of the document itself). Your handwriting can also be converted into text.
Use cases
For people that use PDF planners as their daily driver, the option of using all the features of the note-taking app opens up several new possibilities.
If you don't like the order of pages within the PDF, you can now move them around according to your preferences (and hyperlinks are still retained). Similarly, if you need more writing space, you can add pages wherever you wish. Or if the template comes packaged with additional pages that you won't use, you can delete them.
You can now search your handwriting within your planner to quickly and easily find any notes you've made. What's more, you can also convert your handwriting to text and export it. This was not possible with the reading app – the search feature only searches the text of the PDF itself (not handwriting) and although annotations are recorded, there is no way to convert them to text or export them.
I've also found it useful for reading maths and physics PDF textbooks. Previously, I would read a chapter and then attempt to tackle the questions, problems and exercises. This meant writing in the margins (or any other space I could find) and there would seldom be enough room. Inserting the question (and answer pages) as a PDF template means that I can add as many additional pages as I need to write my solutions.
Verdict
I feel that Supernote's PDF templates are a fantastic feature that will be very useful for individuals that use PDFs that are designed to be written on, such as PDF Planners or forms that require filling out.
However, because searching text in the actual PDF is lost with this method, it is probably not the best choice for PDF ebooks and documents – but that is what the reader is for.
NOTE: Special thanks to Aaron for sending me a copy of HyperPaper, the PDF Planner I used for testing (my review of HyperPaper is here).
Pros
Fantastic substitute for a paper notebook
Ceramic stylus tips that never need replacing
Lovely writing feel
Quick and easy navigation
Well-structured notebooks
Best handwriting search
Excellent after-sales service
Nice range of additional tools (Email / Calendar / Word Doc editor / Kindle etc.)
Cons
Steeper learning curve
Notebooks not easily viewable on other devices when using third-party clouds
Partner app requires more work
No frontlight
No auto-synchronisation
The Supernote A5 X (and smaller A6 X) are perhaps the best digital replacements for paper-based notebooks for those that love to write.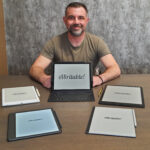 Dan Dutton is passionate about E-ink writing tablets, which bring together the pleasure of writing on paper with the power of digital technology. When he bought his first tablet, he realised that there wasn't a lot of unbiased information available for people that were considering buying an E-ink tablet, and so he built eWritable.