This post was prompted by an eWritable reader that sent me the following email:
I bought the Kindle Scribe so I could annotate PDF files but this only works with some PDF files. On other PDF files, the writing toolbar with the pens just isn't there. Any ideas?

Gray
I've had the same issue myself and here I want to try to explain why this happens and some possible workarounds and fixes. It's a bit long-winded, so please bear with me…
Kindle only really supports 3 file formats natively
In my experience, Kindles only natively support three file formats; KFX, PDF, and TXT.
These are the only filetypes that you can sideload onto a Kindle via USB and then view them instantly in your library.
Bullshit! Kindles now support ePUB files as well
Actually they don't. Well, not natively anyway. Neither do Kindles have native support for DOC/DOCX, HTM/HTML, RTF, JPG, GIF, PNG, or BMP.
But I've opened ePUBs on my Kindle…
Technically, you can transfer an ePUB to a Kindle and read it but you are not actually opening an ePUB.
You are, in fact, opening a KFX file. This is because when you transfer an ePUB to Kindle via email or the Send2Kindle service, Amazon converts the file into its own proprietary KFX format.
What is KFX?
KFX stands for Kindle Format 10. It is an Amazon proprietary reading format and is based on the MOBI/PRC format and, later, the AZW/AZW3 formats.
Any files transferred to your Kindle via email and Send2Kindle go through this conversion to KFX process. This is that reason that ePUBs that are sideloaded onto your Kindle via USB will not show up in your library – Kindle e-readers simply can't read the ePUB format.
Why all this talk of ePUB? Wasn't the original question about PDF?
Apologies for the preamble, but it was necessary to make this point:
Kindle requires books and documents to be in the KFX format for some e-reading features to work properly.
One of these features is handwritten annotation on PDFs (with the Kindle Scribe).
Whilst it is possible to view PDF files natively on a Kindle (without conversion to KFX), you will not be able to write on them and the writing toolbar will not be available.
Check the toolbar isn't hidden first
If you are unable to see the Kindle Scribe writing toolbar, it could be because it is still in PDF format and hasn't been converted to KFX.
However, it's worth quickly checking that its not simply a case of the toolbar being hidden.
To do this, open the file and tap on the top fifth of the screen to bring up the top toolbar. On the toolbar, tap the three dots on the far right. If there is an option to "Show Writing Toolbar", tap it and you should now be able to select a pen and write.
If the "Show writing toolbar" option is missing, then there's a good chance that the PDF has not been converted to KFX.
Why would a PDF not have been converted to KFX?
There are several reasons why conversion to KFX may not have taken place.
Firstly, if a PDF is sideloaded onto the Kindle via a USB cable, it does not get converted to KFX. It will still show up in your Kindle library and you can open it and read it, but you won't be able to add handwritten annotations. Incidentally, you also will not have the button to export it via email either.
To ensure the conversion to KFX, files must be transferred to the Kindle via email or the Send2Kindle service.
However, even if you used this transfer method, files may still not be converted.
For example, any files added to your Kindle library via email/Send2Kindle before 11 November 2022 will not have been converted to KFX.
In addition, PDFs with particular layout or formatting will not be converted and you will get an email from Amazon similar to the one below:
The PDF will still be delivered to your Kindle library in PDF format but, again, you will not be able to write on it because it is not a KFX file.
How to fix PDFs so that they can be written on?
There are a number of ways that you can solve the problem of not being able to write over your PDF files.
1. Hidden writing toolbar
First, check, that the toolbars aren't hidden (as described above).
2. Re-download the PDF
Long-press the file in your library and select Remove download. Then, tap on it again to re-download it and see if you are able to write on it.
3. Re-send the PDF
Resend the PDF to your Kindle library via email or the Send2Kindle app. Then, download the new file onto your Kindle and see if you are able to write on it.
4. Re-format the PDF
If you are getting an email from Amazon saying that "Your Send to Kindle document could not be converted to the latest Kindle format", then open the PDF on your computer and select Print (Ctrl-P). Instead of sending it to a printer, select Save as PDF and click the Save/Print button. This will create a new PDF which you can send to your Kindle via email or Send2Kindle (and hopefully be able to write on it).
Summary
So, to summarise the above points:
Kindle can only natively read KFX, PDF, and TXT files
All other 'supported' files are converted to KFX format when sent to your Kindle library via email or the Send to Kindle service. If they are sideloaded via USB, they will not be shown in your library.
Although there is native support for reading PDF files, these files do not have handwriting support – instead, they must be converted to KFX to enable this feature
PDFs sent to your Kindle library via email and Send2Kindle will automatically be converted to KFX
PDFs sent to your Kindle via USB are not converted to KFX
If you cannot write on a PDF file:

Ensure toolbars are not hidden
Try removing the file from your Kindle Scribe and downloading it again
Try re-sending the file to your Kindle via email or Send2Kindle
Open the PDF on your computer and 'print' it as a new PDF file, then send this new PDF file to your Kindle library via email or Send2Kindle
Whilst the e-reading software on e-readers and e-ink tablets from other manufacturers will natively open a variety of file formats, Amazon Kindle takes a slightly different approach. Instead, it is only capable of opening a handful of file formats and relies on its cloud software to convert other file formats into something it can understand (KFX).
There is a compelling case to be made that Amazon does this purposefully to lock their customers into their own ecosystem and keep as much control as possible on the server-side. Similarly, it could also be argued that Amazon does this to ensure that the remote reading software remains fast and lightweight with much of the processing being performed on the cloud.
I hope this post has been useful and helps to explain why some PDFs cannot be written on, and the steps that you can take to try and resolve the issue. I wouldn't call myself a Kindle expert but this is what I have pieced together from my own experiences, research, and experimentation – I welcome any corrections if any of the information above is inaccurate 🙂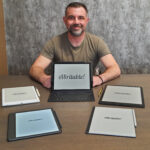 Dan Dutton is passionate about E-ink writing tablets, which bring together the pleasure of writing on paper with the power of digital technology. When he bought his first tablet, he realised that there wasn't a lot of unbiased information available for people that were considering buying an E-ink tablet, and so he built eWritable.