Just lately, I've been getting more and more emails from readers asking me if I have any insider knowledge of whether Boox will be releasing a Tab X C – a colour version of their 13.3″ Tab X e-ink tablet.
Following the third email this week with this question, I felt it would be helpful to write my thoughts here on the eWritable blog. This way, I can simply link my reply to this article rather than having to write individual responses.
TL;DR: I don't know
Do I have insider knowledge from Boox?
The short answer to this is "No, I don't".
Whilst Boox has provided me with advance knowledge of their products in the past, this has not been the case since Spring 2023 (following the release of the Palma). I'm not sure of the reason for this (in all honesty, I haven't followed it up with them, so perhaps they just forgot about me).
But this does give me a certain freedom to speculate that I would not have if Boox were providing me with additional information outside of the public domain – for this sort of relationship, you have to sign an Non-Disclosure Agreement (NDA) and there is an embargo on when you are allowed to release reviews and information.
The upshot is that everything written in this post is pure speculation on my part and not backed up by any concrete information. So you should really "take my ramblings with a pinch of salt". However, it is backed up on my experience with Boox products (and product launches) over the years, and information I have found in the public domain.
Is it possible to build a 13.3″ Kaleido 3 tablet?
I've read some people saying that a 13.3″ Kaleido 3 screen is not possible because it requires 300dpi, which E-Ink Corp does not manufacture. However, on their website, they state:
The E Ink Kaleido 3 module is available in various panel sizes, including 7.8-inch, 10.3-inch, and 13.3-inch. Kaleido 3 features a black and white resolution of 300ppi, and a color resolution of 150ppi, which is an improvement over Kaleido Plus's color resolution of 100ppi.

https://www.eink.com/brand/detail/Kaleido3
So, it seems that the technology is available – however, I'm happy to be corrected if anybody understands these technical capabilities better than I 🙂
Is it likely that Boox will build a Tab X C?
A colour 13.3″ e-ink tablet is something that a lot of people desire, however, the cost of these larger panels does push it outside of the budgets of many potential users.
So, although there is a market, it is a smaller segment than that of 10.3″ devices. Still large enough to warrant a production run, but it is never going to be Boox's priority.
So, I think Boox will announce a 13.3″ colour tablet sometime in the short- to mid-term, I just don't know when.
They tend to release a new 13.3″ tablet every 13 months or so. The Tab X was launched in January 2023, so their next 13.3″ release is likely to be within the first few months of 2024.
Having said that, it is also possible that Boox might not be ready for 13.3″ colour yet, and so may release an upgraded 13.3″ monochrome tablet (e.g. the Tab X Pro) as their yearly large-screened device instead. Although, I'm not exactly sure what they could add to the current Tab X to warrant a new product release – perhaps Android 12, SD Card Slot and improved CPU/Memory, like they did with the Boox Tab Ultra C Pro.
Summary
In summary, I don't have insider information (and wouldn't be able to share it if I did) so, this is all speculation, but I expect Boox to release a new 13.3″ tablet in early 2024, in line with their previous release schedule for this class of e-ink tablet.
I'm hopeful that it will be a colour tablet (Tab X C), but I also acknowledge the possibility that it could be a slightly improved monochrome tablet (Tab X Pro) instead.
What do you think? Do you agree or am I talking bollocks?
Please feel free to add your comments and insights below.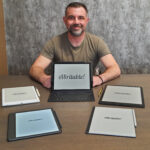 Dan Dutton is passionate about E-ink writing tablets, which bring together the pleasure of writing on paper with the power of digital technology. When he bought his first tablet, he realised that there wasn't a lot of unbiased information available for people that were considering buying an E-ink tablet, and so he built eWritable.