Today, eWritable is proud to announce the launch of a new search and comparison tool for e-ink writing tablets. With this tool, users can easily and quickly compare a wide range of writing tablets from top brands like Boox, Supernote, reMarkable and Kindle on several different criteria, including price, screen size, and audio capabilities.
The new search & comparison merges together the existing search tool with our comparison table, which means that users can now access the features of both search and comparison on a single page.
We hope this makes it easier for users to find the e-ink tablet that is right for them.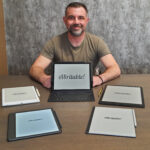 Dan Dutton is passionate about E-ink writing tablets, which bring together the pleasure of writing on paper with the power of digital technology. When he bought his first tablet, he realised that there wasn't a lot of unbiased information available for people that were considering buying an E-ink tablet, and so he built eWritable.