This is an objective information page for the Kobo Elipsa 2E e-ink tablet, with details of hardware and software specs, features, and capabilities.

My subjective review can be found here.
DATASHEET
PRODUCT
KOBO ELIPSA 2E
Specs & ratings info

Okay

My Rating
Price (approx)
$400

Manufacturer
Kobo
Release year
2023
SCREEN
KOBO ELIPSA 2E
Screen type
Carta 1200
Screen size
10.3"
Screen resolution (B/W)
1404 x 1872
Screen density (B/W)
227dpi
Colour

⨯

Screen resolution (Colour)
n/a
Screen density (Colour)
n/a
Frontlight
Wacom compatible

⨯

Buy
HARDWARE
KOBO ELIPSA 2E
CPU
2 GHz
RAM
1Gb
Storage
32Gb
Battery
2400mAh
Super Refresh

⨯

Keyboard folio

⨯

Speakers

⨯

Microphone

⨯

G-Sensor
Ceramic Tip

⨯

Bluetooth
Fingerprint scanner

⨯

SD card slot

⨯

Rear camera

⨯

Front camera

⨯

Waterproof

⨯

USB-C
Width
193mm
Height
227mm
Thickness
7.5mm
Weight
390g
Buy
SOFTWARE
KOBO ELIPSA 2E
Operating system
KoboOS
Google Play Store

⨯

Kindle support

⨯

Handwriting search
Handwriting conversion
Insert shapes
Insert images

⨯

Split screen

⨯

Custom templates

⨯

No. templates
35+
Brush types
Ballpoint Pen, Fountain Pen, Calligraphy Pen, Brush, Highlighter
Screen share

⨯

ADE support
File formats
PDF, EPUB, EPUB3, TXT, HTML, FlePub, CBZ, CBR, MOBI
File formats (image)
PNG, JPG, GIF, BMP, TIFF
File formats (Audio)
Kobo Audiobooks (via Bluetooth)
Buy
PRODUCT
KOBO ELIPSA 2E
BEST FOR…?
Anyone already invested in the Kobo ecosystem that wants an e-reader with writing capabilities. Alternatively, individuals that will make full use of the unique features of Kobo's Advanced Notebooks (mathematical equations, diagramming etc.)
HARDWARE
2GHz CPU and 1GB RAM
10.3″ (A5-sized) screen with monochrome resolution of 1404×1872 (227dpi)
32 GB of local storage space
2400mAh Internal battery
Wifi and Bluetooth connectivity (supports Bluetooth headphones/speakers)
Frontlight (ComfortLight Pro – brightness & colour adjustment)
USB-C for charging and connecting to a computer
G-sensor (for auto-rotation)
STYLUS
Included with the tablet are the Kobo Stylus 2 and 2x replacement nibs
Kobo Stylus 2 has an eraser at the top
Kobo Stylus 2 is magnetic and can snap to the tablet
Kobo Stylus 2 requires tips to be changed periodically
Kobo Stylus 2 is powered by an integrated lithium battery that is charged using a USB-C port on the top of the shaft
Other Wacom-compatible styluses are not compatible with the Kobo Elipsa 2E
The Kobo Stylus 2 is not compatible with tablets that have the more widely-used Wacom layer
OPERATING SYSTEM
The Elipsa 2E runs Kobo's own proprietary operating system
Utilises the Kobo User Interface, with menu items for Home, My Books, My Notebooks Discover, and More
The top toolbar has options for adjusting the frontlight, wifi, battery, synchronisation, and search
Compatibility with Overdrive, Pocket, and Adobe Digital Editions (ADE)
Unsupported beta (experimental) features include a web browser, large print mode, and a few games (Sudoku, Solitaire, Unblock It, and Word Scramble)
Native apps that are built into the O/S are:

Notebooks (Basic & Advanced) – Digital notetaking app
Kobo E-reader – Multiformat book and document reading app

No access to the Google Play Store or the ability to install additional apps
FILE TRANSFERS
There is support for automatically synchronising documents/ebooks and notebooks with the Kobo Cloud
There is also support for Google Drive, and Dropbox
You can browse the 'Rakuten Kobo' folder of your Dropbox/Google cloud drives from the tablet and download ebooks/documents.
You can also export notebooks to your cloud drive – this is a manual process
Notebooks can be viewed on the Kobo Cloud by logging into the website using a web browser, but you cannot edit or export them from here
Notebooks cannot be accessed via the Kobo app
Only ebooks bought from the Kobo Store are synced with the Kobo cloud (and available from the Kobo app on other devices)
Basic notebooks can be exported to Google Drive, Dropbox or to a computer (via USB) as PDF, PNG, or JPEG
Advanced notebooks can be exported to Google Drive, Dropbox or to a computer (via USB) as DOCX, TXT, or HTML
There are no options for tagging or favouriting notebooks
You can search for files or folder names
Files can be transferred to the Kobo via a USB cable
READING & ANNOTATING
The Kobo e-reader supports the following file formats: EPUB, EPUB3, FlePub, PDF, MOBI, JPEG, GIF, PNG, BMP, TIFF, TXT, HTML, RTF, CBZ, CBR
Kobo supports typed 'sticky notes', highlights & handwritten annotations on Kobo ebooks, PDFs, and EPUBs
Kobo provides a summary of all sticky notes, highlights and annotations for quick reviewing on the Elipsa 2E
Handwritten annotations are not accessible via the Kobo app on other devices (text sticky notes and highlights are still synced)
By default, you cannot export highlights – you have to manually edit a configuration file first!
The Kobo e-reader's features include a table of contents, dictionaries, font adjustment (including font size and weight), line spacing, margins, justification, and pinch-to-zoom
Font, line spacing, margins, and justification are not available for PDF files
Only the table of contents and bookmarks are available for PDF files
The Kobo Elipsa 2E does not support split-screen viewing
DIGITAL NOTE-TAKING
Kobo notes are organised using multi-page notebooks. Notebooks can be organised with folders.
There are two types of notebooks; Basic and Advanced
Basic notebooks are multi-page blank canvases that can be filled with writing, doodles, etc.
Advanced notebooks are single-page and infinite-scroll, with options to insert handwriting or 'special blocks' to the page – each block is effectively a separate entity, and they are vertically stacked one on top of another down the page
If you double-tap handwriting in an Advanced Notebook, it will automatically convert to text
Special blocks include:

Drawings (freehand drawing)

Diagrams (double-tapping hand-drawn shapes, text and arrows straighten the edges, which is useful for flowcharts and diagrams)
Math Equations (double-tapping a hand-written math equation converts it to proper notation, and it can even solve it!)

Brushes include a ballpoint pen, fountain pen, calligraphy pen, brush, and highlighter.
There is a choice of five thicknesses and five shades for each brush
Stylus pressure is supported for the fountain pen, calligraphy pen, and brush tools – there is no tilt sensitivity
There is an object eraser (removes whole strokes) and a brush eraser (removes parts of strokes) as well as undo and redo buttons.
There is a lasso selection tool, however, selections can only be moved (no resize, copy, rotate etc.)
In Basic notebooks, handwriting selected with the lasso tool can be converted to text (multiple pages cannot be converted in bulk)
In Advanced notebooks, handwriting can be converted to text with a double-tap.
Handwriting search is supported (single notebook only)
There are almost 15 templates to choose from (lined, squared, dotted, to-do list etc.)
CUSTOMER SERVICE
Kobo are a large corporation, which should give consumers some peace of mind
The Kobo Elipsa 2E is supplied with a 2-year warranty that covers any hardware defects (not caused by the customer)
There is also a 30-day guarantee, during which time buyers can return the tablet for a full refund or replacement
Kobo software updates are fairly regular
Kobo provide support via its online knowledgebase, telephone, live chat, and social media
BUYING OPTIONS
KOBO ELIPSA 2E BLOG POSTS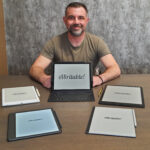 Dan Dutton is passionate about E-ink writing tablets, which bring together the pleasure of writing on paper with the power of digital technology. When he bought his first tablet, he realised that there wasn't a lot of unbiased information available for people that were considering buying an E-ink tablet, and so he built eWritable.