Last updated: November 2023
In this post, I want to discuss 13.3″ e-ink tablets.
I will quickly go over the advantages and disadvantages of these devices, followed by some recommendations of tablets that you may wish to consider.
Finally, I will Iook to the future, and speculate about what might be next for A4-sized e-ink tablets – all the tablets on this list are monochrome (black-and-white) because 13.3″ colour is not yet available to the consumer market, however, there will be some conjecture at the end about the future possibility of such devices.
Advantages of 13.3″ E-ink Tablets
Larger 13.3″ tablets have a screen that is comparable in size to an A4 sheet of paper.
This makes them ideal for reading PDFs because these files are (more often than not) designed to fit on this size layout. And, unlike ePUBs and other e-book formats, PDFs cannot usually be reflowed, which means that you can't customize the fonts to make the text larger. This fixed layout means that PDFs provide more design options for the creator and each page is displayed exactly as the designer intended – in this way, it is akin to print.
Whilst it is possible to view PDFs on a 10.3″ screens (and even 7.8″ at a push), they can be uncomfortable to view if the original font size is small, as is the case with several technical manuals and textbooks I've read. Whilst most reading software allows you to zoom in on PDFs (and some even allow you to view half a page at a time), it is often simpler and more comfortable to view your PDFs on a larger screen.
A larger screen also means a larger canvas size when note-taking (around double the size of a 10.3″ screen). Not only does this mean that you have more space to write, I also find that I write more neatly because I have a larger surface area on which to rest my palm.
Disadvantages of 13.3″ E-ink Tablets
However, there are drawbacks to using a 13.3″ e-ink tablet.
Perhaps the most restrictive is the price point, which is often outside of the budget of potential buyers ($500-$900). Because 13.3″ e-ink tablets only appeal to a small subset of the e-ink tablet market, economies of scale results in them being prohibitively expensive for many people.
Similarly, the smaller market segment also means that many manufacturers do not produce this size of tablet. There are currently only two brands that make 13.3″ e-ink tablets (Fujitsu and Boox). There used to be three, but the third (Quirklogic) went bust at the beginning of 2023. This means that there is not really a lot of choice for A4-sized e-ink tablets.
Finally (and obviously), 13.3″ have a larger footprint than their smaller-screened counterparts, and so take up more space in your bag. Similarly, the larger size means that they are also heavier and not all that comfortable to hold whilst reading and writing (although they are fine on a desk or your lap).
Top 3 13.3″ E-Ink Tablets
As stated previously, there are only two manufacturers that make 13.3″ E-ink tablets, and so I can only provide three recommendations; one from Fujitsu, and two from Boox.
I should note that although I've used both the Boox tablets on this list, I haven't yet had any direct experience with Fujitsu e-ink tablets. However, I have had a lot of correspondence with owners who have provided me with a lot of information and answered my questions (thanks for this, guys).
1. The Best 13.3″ E-Ink Tablet: Boox Tab X
Pros
Large 13.3" screen
Great hardware specs
Very versatile
Sophisticated native reading & note-taking apps
Handwriting search/conversion
Google Play Store
Frontlight
Onboard GPU & Boox Super Refresh Tech
Audio (speakers and microphone)
Cons
Expensive
Steeper learning curve
Larger footprint
Stylus does not magnetically stick to the tablet
GPU/Super Refresh uses more power
The most powerful and versatile 13.3" (A4-sized) tablet on the market.
The Boox Tab X is the most advanced 13.3″ e-ink tablet available.
In addition to its octa-core CPU, 6Gb RAM and 128Gb storage capacity, it also has an onboard GPU, which makes activities such as web browsing feel a lot smoother than was previously possible, using Boox's proprietary Super Refresh technology (BSR). There's also a frontlight, g-sensor, speakers, microphone, as well as Bluetooth and WiFI connectivity.
Boox's e-reading software is very sophisticated. This makes it seem rather complex at first, so there's a bit of a learning curve, but once mastered you have a plethora of options for configuring how you view PDFs. There is also a split-screen option, so you can, for example, view a PDF on one side of the screen and make notes on the other.
In addition, Boox has developed one of the best note-taking apps on the market.
Boox tablets run Android (Android 11 on the Tab X) and have access to the Google Play Store, which extends the possibilities for use. For example, you can install your favourite web browser, word processor, or a multitude of other Android apps.
It also supports Bluetooth keyboards, which means that it can be used for typing as well.
A word of warning, however. Although it is possible to install any Android app on the Tab X, some apps do not work so well with an e-ink screen, particularly third-party drawing/sketching apps.
Overall, the Tab X is the most versatile and powerful 13.3″ e-ink tablet available, but at close to $900, it is also prohibitively expensive for some.
It is available to buy new from the official Boox Store, Boox's Official European Store and Amazon, as well as a few local resellers, such as e-reader.ca in Canada.
2. A Slightly More Affordable Option: Boox Max Lumi2
Pros
Large 13.3" screen
Great hardware specs
Very versatile
Sophisticated native reading & note-taking apps
Handwriting search/conversion
Google Play Store
Frontlight
Audio (speakers and microphone)
Cons
Expensive
Limited availability
Steeper learning curve
Writing feels a little 'slippy'
Larger footprint
Stylus does not magnetically stick to the tablet
The Onyx Boox Max Lumi 2 has a large screen, frontlight and the ability to expand its capabilities with apps from the Google Play Store. But this comes at a cost, with this device being one of the most expensive e-ink tablets on the market. Boox have now ceased production of this model and replaced it with the Tab X
The Boox Max Lumi2 was the very first e-ink tablet I purchased, and as such, I have a lot of fond memories of using it. And I still use it to this day, from time-to-time.
It is the predecessor of the Tab X and the hardware between the two tablets is comparable, except the Max Lumi2 does not have a g-sensor (for auto-rotation) or an onboard GPU/BSR. The omission of the latter means that tasks such as web browsing are a bit more jittery. Subjectively, text and images on the Tab X also appear richer and sharper than the Max Lumi2 but not by a substantial degree.
The Max Lumi2 does have a fingerprint scanner, which is not available for the Tab X, and although it has a smaller capacity battery, I've found (dependent on activities) that I can get longer out of the Max Lumi2 before it needs a recharge – this is most likely due to the additional drain of the graphics processor on the Tab X.
In terms of software, again the Max Lumi2 is comparable to the Tab X. It runs Android 11, has access to the Google Play Store, and has the same native reading and note-taking apps. As stated earlier, the only real difference is that the Max Lumi2 does not have a GPU/BSR, so less apps will work to a usable standard.
Unfortunately, it is difficult to buy the Max Lumi2 brand new, and with it being sold on the Boox store at only $80 less than the Tab X, I would argue that it makes more sense to spend a little more and get the more advanced Tab X instead. And it often goes out of stock as well, so availability can be variable.
The flip side to this is that it is possible to grab a bargain on the Max Lumi2 through the second-hand markets. I've seen pre-loved units sell for around $500 on eBay.
All in all, the Max Lumi2 is still a perfectly usable 13.3″ e-ink tablet. It is not quite as advanced as the Tab X, but it can be obtained at a more affordable price.
3. Less Capabilities, But a More Focused Experience: Fujitsu Quaderno A4
The final 13.3″ e-ink tablet on this list is the Fujitsu Quaderno A4 (second generation).
It has nowhere near the capabilities of a Boox tablet but does have some distinct advantages that may make it more suitable for some users.
Firstly, the software it uses is an older version of Android. It ships with a basic note-taking app and a basic PDF reading app – there is no access to the Google Play Store, so additional apps cannot be installed.
This makes it a device with single (or perhaps dual) functionality; reading and writing PDFs.
I say writing PDFs because all of the notebooks on the Quaderno are saved in PDF format, so there is no need to export as the PDF like you would on Boox tablets. And it only reads PDFs as well – there is no support for other file formats, such as ePub or DOCX, as is the case with Boox.
There's no frontlight. Neither are there speakers, microphone, g-sensor, or BSR. The internal hardware specs are also lower than Boox devices, with a quad-core processor, 4Gb Ram and 32Gb storage.
However, these hardware specs are more than sufficient for running the native reading and writing apps, which is the use case that the Quaderno was designed for.
From conversations I've had with Fujitsu users, the stripped-back hardware of the Quaderno provides two primary advantages over Boox tablets; increased battery life and portability.
Without the need to power sophisticated software (particularly the GPU/BSR on the Tab X), the absence of a frontlight, and lower-spec internal components, the battery life of the Quaderno is fantastic.
And, the Quaderno is almost 5mm thinner than the Max Lumi2 (1mm thinner than the Tab X) and weighs about 200g less than both Boox tablets. This makes it more comfortable to carry, and (I've been told) easier to take notes whilst holding it.
A new Quaderno costs around $500 (on par with a second-hand Max Lumi2), however, outside of Japan it can be difficult to find somewhere that sells it. For western markets, there are usually one or two eBay sellers (based in Japan) that export the tablet, and I believe this to be the best option. There are some western-based e-commerce stores that purport to sell the Quaderno, however, all they do is pass your order on to one of the Japanese sellers, after taking a commission for themselves. So, it is a more expensive option, and often takes even longer to ship.
Overall, the Fujitsu Quaderno A4 might be a consideration for an individual that is looking for a large-screened device for reading PDFs and taking notes only, and is willing to sacrifice the lack of versatility and sophistication for improved portability and battery life.
Final Verdict
13.3″ e-ink tablets provide the best experience for viewing PDFs (in my opinion), however, they are rather expensive, so ensure that you understand the advantages and disadvantages before committing to this screen size.
If PDF-reading will not be one of your primary use cases for your e-ink tablet, or you will not make use of the additional screen real-estate, I'd recommend checking out the best e-ink tablets in the more affordable 10.3″ market instead. And even if you will be reading PDFs, the experience is not so terrible on a 10.3″ screen – it's just better on 13.3″ in my opinion.
With an unlimited budget, the Boox Tab X will be the best option for the majority users.
A second-hand Max Lumi2 is perhaps the best compromise between features and cost for 13.3″ e-ink tablets, offering similar functionality to the Tab X, without quite so much power/versatility but at a more affordable price. However, I would only recommend this tablet if you can buy it at a substantial discount to the price of the Tab X.
Finally, the Fujitsu Quaderno A4 might be a consideration for users that will only be using their e-ink tablet for reading PDFs and writing in notebooks. The increased battery life along with the thin and lightweight chassis might be enough to forsake the flexibility of Boox devices.
Boox Tab X vs Boox Max Lumi2 vs Fujitsu Quaderno A4
The table below can be used to compare the specific features and specs of the three aforementioned products. To compare the full set of e-ink tablets, check out my filterable comparison table.
PRODUCT
BOOX TAB X
BOOX MAX LUMI 2
FUJITSU QUADERNO A4
Specs & ratings info

👍 Recommended

👍 Recommended

Not yet rated

My Rating
Price (approx)
$880

$800


Limited availability

$500


Limited availability

Manufacturer
Onyx Boox
Onyx Boox
Fujitsu
Release year
2023
2021
2021
SCREEN
BOOX TAB X
BOOX MAX LUMI 2
FUJITSU QUADERNO A4
Screen type
Mobius Carta 1250
Mobius Carta 1250
Carta 1250
Screen size
13.3"
13.3"
13.3"
Screen resolution (B/W)
1650 x 2200
1650 x 2200
1650x2200
Screen density (B/W)
207dpi
207dpi
204dpi
Colour

⨯

⨯

⨯

Screen resolution (Colour)
n/a
n/a
n/a
Screen density (Colour)
n/a
n/a
n/a
Frontlight

⨯

Wacom compatible
Buy
HARDWARE
BOOX TAB X
BOOX MAX LUMI 2
FUJITSU QUADERNO A4
CPU
1.8 Ghz octa-core
1.8 Ghz octa-core
1.8 GHz quad-core
RAM
6Gb
6Gb
4Gb
Storage
128Gb
128Gb
32Gb
Battery
6300mAh
4300mAh
0mAh
Super Refresh

⨯

⨯

Keyboard folio

⨯

⨯

⨯

Speakers

⨯

Microphone

⨯

G-Sensor

⨯

⨯

Ceramic Tip

⨯

⨯

⨯

Bluetooth
Fingerprint scanner

⨯

⨯

SD card slot

⨯

⨯

⨯

Rear camera

⨯

⨯

⨯

Front camera

⨯

⨯

⨯

Waterproof

⨯

⨯

⨯

USB-C
Width
228mm
228mm
222.8mm
Height
310mm
310mm
301.1mm
Thickness
6.8mm
10.9mm
5.7mm
Weight
560g
570g
368g
Buy
SOFTWARE
BOOX TAB X
BOOX MAX LUMI 2
FUJITSU QUADERNO A4
Operating system
Android 11
Android 11
Android
Google Play Store

⨯

Kindle support

⨯

Handwriting search

⨯

Handwriting conversion

⨯

Insert shapes

⨯

Insert images

⨯

Split screen
Custom templates

⨯

No. templates
40+
45+
20+
Brush types
Fountain Pen, Paintbrush, Ballpoint Pen, Pencil, Marker
Fountain Pen, Paintbrush, Ballpoint, Pencil, Marker
Ballpoint, Fountain Pen, Fineliner, Marker, Higlighter
Screen share
ADE support

⨯

⨯

⨯

File formats
PDF, EPUB, DOC, DOCX, PPT, PPTX, TXT, HTML, RTF, FB2, CBZ, CBR, AZW3, MOBI, PRC, DJVU, CHM, ZIP
PDF, EPUB, DOC, DOCX, PPT, PPTX, TXT, HTML, RTF, FB2, CBZ, CBR, AZW3, MOBI, PRC, DJVU, CHM, ZIP
PDF
File formats (image)
PNG, JPG, TIFF, BMP
PNG, JPG, TIFF, BMP
-
File formats (Audio)
WAV, MP3
WAV, MP3
-
Buy
PRODUCT
BOOX TAB X
BOOX MAX LUMI 2
FUJITSU QUADERNO A4
Older 13.3″ E-Ink Tablets
There have been a few older 13.3″ e-ink tablets that are no longer in production. Ordinarily, I wouldn't advise buying/using any of these, unless you have a very specific reason for doing so (e.g. someone gave it you for free or there's a particular feature that you need).
The Quirklogic Papyr was a 13.3″ e-ink tablet with proprietary software that had a lot of potential. It was great for tasks like multi-user whiteboarding and presenting. However, the tablet software was closely-integrated with their proprietary cloud software, so when Quirklogic went out of business, their servers went down rendering pretty much all of the features that made them stand out unusable.
Boox has also manufactured other 13.3″ tablets, including the Max, Max2, Max3 and Max Lumi (without the "2"). Although these tablets may still be usable, they are a bit too old to recommend, particularly as they often sell on second-hand markets for around the same price as the Max Lumi2. In addition, I'm not sure if the Max3 is still receiving firmware updates (and even if it is, continued firmware upgrades are unlikely to be available for much longer). NOTE: Scroll down to the comments for additional info about older Boox tablets.
The Next Generation of 13.3″ E-Ink Tablets
In this section, I will be briefly looking ahead to what might be in store for 13.3″ e-ink tablets in the future.
There's a healthy dose of speculation here because very little is known for sure about what e-ink tablet manufacturers have planned. I recently wrote a piece about the likelihood of Boox releasing a 13.3″ colour e-ink tablet. The verdict was that I don't know but I'm hopeful that they will. I also felt that they may release an incremental upgrade for the Tab X (e.g. the Tab X Pro) sometime next year.
There have also been rumours that Fujitsu are primed to release a 13.3″colour Quaderno (generation 3). However, I've been unable to verify this with Fujitsu themselves and most of the speculation has come from Good-E-Reader, which I've found to not be the most reliable source of e-ink news and information.
Less speculative is Supernote's announcement that they are currently working on a 13.3″ tablet, dubbed the Supernote A4X2. However, there is no ETA for this, and Ratta Supernote are known for ensuring that new hardware is not released until they are 100% ready. We are probably looking at 2024-2025 for this.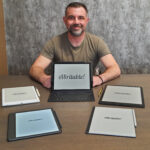 Dan Dutton is passionate about E-ink writing tablets, which bring together the pleasure of writing on paper with the power of digital technology. When he bought his first tablet, he realised that there wasn't a lot of unbiased information available for people that were considering buying an E-ink tablet, and so he built eWritable.