This is an objective information page for the Bigme S6 Color+ e-ink tablet, with details of hardware and software specs, features, and capabilities.

Our subjective review can be found here.
DATASHEET
PRODUCT
BIGME S6 COLOR+
Specs & ratings info

Not yet rated

My Rating
Price (approx)
$460

Manufacturer
Bigme
Release year
2023
SCREEN
BIGME S6 COLOR+
Screen type
Kaleido 3
Screen size
7.8"
Screen resolution (B/W)
1404 x 1872
Screen density (B/W)
300dpi
Colour
(Kaleido 3)
Screen resolution (Colour)
702 x 936
Screen density (Colour)
150dpi
Frontlight
Wacom compatible
Buy
HARDWARE
BIGME S6 COLOR+
CPU
2.3 GHz octa-core
RAM
6Gb
Storage
128Gb
Battery
3000mAh
Super Refresh

⨯

Keyboard folio

⨯

Speakers
Microphone
G-Sensor

⨯

Ceramic Tip

⨯

Bluetooth
Fingerprint scanner
SD card slot
Rear camera
Front camera
Waterproof

⨯

USB-C
Width
137.9mm
Height
196mm
Thickness
7.1mm
Weight
g
Buy
SOFTWARE
BIGME S6 COLOR+
Operating system
Android 11
Google Play Store
Kindle support
Handwriting search

⨯

Handwriting conversion
Insert shapes
Insert images
Split screen
Custom templates
No. templates
15+
Brush types
Pen, Pencil, Brush, Ball Pen, Highlighter
Screen share
ADE support

⨯

File formats
PDF, EPUB, EPUB3, DOC, DOCX, TXT, RTF, HTML, FB2, CBZ, CBR, OEB, AZW3, MOBI, PRC, TXT, ZIP
File formats (image)
PNG, JPG, BMP
File formats (Audio)
WAV, MP3
Buy
PRODUCT
BIGME S6 COLOR+
BEST FOR…
Anyone looking for a versatile device with a deep level of functionality while also featuring a color Eink screen.
HARDWARE
2.3GHz Octa-Core A53 and 6 GB of RAM.
7.8″ (roughly A5-sized) screen with monochrome resolution of 1404 x 1872 (300 ppi) and colour resolution of 702 x 936 (150 ppi).
128 GB of local storage space.
3000mAh Internal battery.
Front Light (both warm and cold light can be adjusted).
Dual speakers
Microphone
Wifi (2.4GHz & 5GHz) and Bluetooth connectivity (5.0).
USB-C for charging and file transfer.
SD card slot for expanded storage.
Front 5 MP camera and rear 8 MP camera.
Fingerprint sensor.
STYLUS
Included with the tablet is a proprietary Bigme stylus that connects to the device via magnet and two pins (for Bluetooth charging).
The stylus only needs to be charged for customizable Bluetooth functions (e.g page turning).
The stylus features three buttons and a laser light pointer.
Writing with the stylus does not require a charge.
The stylus requires tips to be changed (around once every 6 months, depending on usage)
Other Wacom-compatible styluses can be used.
OPERATING SYSTEM
Android 11.
The user interface can be set up as a list of apps or using an 'office' view where the left scrollable bar includes a customized list of apps or shortcuts with the remainder of the screen displaying what is selected in the bar.
The top bar features shortcuts to things like the home screen, Eink center, active apps, app drawer, settings, system shortcut drawer, and other status notifications such as battery level and wifi status.
Full access to the Google Play store, so any Android app can be installed (note: not all Android apps will be optimized for an Eink screen, thus performance will vary).
Google Play can be activated on the device through the System Menu and can take up to a week for registration before being active.
The Eink Center features 5 modes which can be applied to the system as a whole or per each app. There are also additional settings around Full Refresh Frequency (times the screen refreshes per action) and controls for darkness, vividness, and color brightness of items on the screen.
Primary native apps that are built into the O/S are:

Notes – Digital notetaking app.

xReader – Reading and annotation app.

Other pre-installed apps:

App Management – Global app settings.

Calendar – Standard app that also records the day any notes or reading occurred using the native apps only.

Camera – App that allows photos or videos taken from either the front or rear cameras.

ChatGPT – A chatbot with interacts with AI to answer queries and assist in the creation of compositions.

Messaging – Send text or voice messages.
XMail – eMail client.

Additional functions available in the 'office' menu:

Meeting Records – an app to conduct audio recordings of meetings coupled with taking notes.

Library – file interface into the xReader app.

Storage – access to any files/documents on the device.

Scan Document – takes a photo of a document and then applies OCR to identify any readable text.

Office – an app that can interact with DOC, XLS, and PPT documents.

Does not create new documents.

Voice Translation – a tool to translate voice input using 19 different language combos (e.g. Japanese to Chinese). Note: All either translate to or from Chinese.

Bigme Cloud – Way to transfer files from the device to a PC or phone.

Task List – a minimal to-do list app.

WeChat Transfer – way to transfer and update files from WeChat onto the device.

Bluetooth functionality allows for keyboard or earbud connections.
FILE TRANSFERS
Files can be transferred to and from the device via a USB cable.

Files may be backed up using Bigme Cloud services.

As there is access to the Google Play Store, there are also options to synchronize with other cloud services using third-party apps. Notes can be sync'd to Microsoft OneNote.

Notes can be shared as PDF or PNG files and can share via QR Codes.
READING & ANNOTATING
xReader/Library is the native reading and annotation app.

xReader/Library can read TXT, ePub, PDF, MOBI, FB2, ZIP, PRC, RTF, HTML, HTM, DOC, DOCX, AZW, AZW3, OEB, ePub3, and CBR formats among others.

xReader/Library does not have native support for DRM-protected files, however, you may be able to download an alternative e-reader from the Google Play Store.

Annotations can be exported as PDFs via e-mail among other options (long press relevant file in library and to 'Other Share').

With access to the Google Play Store, other e-reading software can be installed, such as Kindle, however these apps do not support annotation.
DIGITAL NOTE-TAKING
Notes is the native note-taking app.

Notes are organized using multi-page notepads. Notepads can be organized with folders.

Brushes include pen, pencil, brush, ball pen and highlighter. There is also an eraser. Most brushes include 16 Eink colors and there are 6 options for line thickness.

There are 4 different shapes which can be inserted into a note such as line, rectangle, circle, and triangle.

19 Templates are available.

The app does not support additional layers.

Various elements can be inserted into notes, including text, and images.

Handwriting can be converted into text.

However, handwriting (or text) cannot be searched.

The lasso selection tool (called Crop) can move or copy a selection.

Notes can be exported as PDF or PNG files.

Notes can be Sync'd with Microsoft OneNote.
CUSTOMER SERVICE
Bigme support can be reached by submitting an issue using the 'Log Report' tab in the systems screen. Just below that, under 'After-sales service', Bigme provides a number of ways to get a hold of them.
BUYING OPTIONS
Products can be bought directly from Bigme at Bigme.vip.
Bigme products are supplied with a 1-year warranty that covers hardware defects.
Bigme releases multiple updates for their firmware throughout the year.
Bigme is a company headquartered in China.
The return policy is 15-days and requires notification to Bigme during this time (hello@bigme.vip). The buyer will need to pay for shipping fees and any applicable duties to return the device.
Bigme devices can be purchased from other vendors, such as Amazon, where other return policies and procedures will apply.
BIGME S6 COLOR+ BLOG POSTS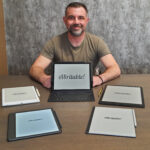 Dan Dutton is passionate about E-ink writing tablets, which bring together the pleasure of writing on paper with the power of digital technology. When he bought his first tablet, he realised that there wasn't a lot of unbiased information available for people that were considering buying an E-ink tablet, and so he built eWritable.